"Clean Ocean Action" Aims to Clean Our Beaches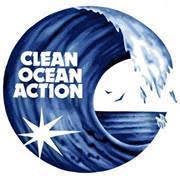 Michelle Abril and students at William Paterson University walked off the bus to hear their beach-sweep captain give instructions. They then headed down the beaches of Sandy Hook, white and black bags in hand, scanning the sand for cigarette butts, straws, plastic bags, Styrofoam and other debris in an effort to remove traces of waste and plastic on New Jersey's shores. Data cards and pencils in their free hand, they started to track the waste and recyclables they gathered.
Abril, a member of the Lambda Tau Omega sorority on campus, is one of thousands of state residents who twice a year gather to sweep the state shores of debris that's deeply affecting the environment.
"There was a whole bunch of cigarette filters and straws," Abril said. "What I've noticed was from previous years is that the [trash] is still high."  In addition, she said her group saw an abundance of e-cigarettes.
There has been an increasing amount of plastic on the shores along with tires and wood refuse, but plastic is the worst because of the way it affects many sea animals on the beaches.
"Plastic is actively being ingested by animals," said Zach Karvelas, an outreach fellow for Clean Ocean Action. "It's very, very prevalent with marine animals. It can strangle them and make them feel full, making them starve to death."
People are now trying to bring change to these beaches.
Clean Ocean Action is a non-profit organization that cleans up New Jersey's beaches to help the environment.
Allison McCarthy, the Coastal Watershed Protection coordinator of Clean Ocean Action, oversees many parts of the beach sweeps, which take place during the summer, and supervises them.
"Each one of those locations has a beach captain, who coordinate the sweep at that site," she said.
People register online for beach sweeps in the location of their choice. The sweeps run for about three and a half hours.
"They just show up and the captain gives out instructions," McCarthy said. "And once they have all that information — what should go into your recycling bag, trash bag and what to fill out" they can hit the beach.
William Paterson University's Lambda Tau Omega sorority went to the Sandy Hook beach sweep this fall for the first time.
"We divided into three groups and went to kind of like a lake sections" said Nejesea Brown, Sister of Lambda Tau Omega and graduate Intern for Campus Activities, Service and Leadership and Student Development. "My group specifically crossed over some rivers, and the dunes area."
Karvelas said he supervised the sites along with other members during the beach sweeps.
"I have heard from beach captains and volunteers that they have found a lot of e-cigarettes," he said. "We haven't sorted through the data. Hopefully it has gone down."
Beach captains have reported high numbers of e-cigarettes on the beaches, he said.
Other staff members have seen animals get caught in plastic items. Clean Ocean Action is also trying to get restaurants to stop using plastic items.
Since the start of the new smoking ban law on New Jersey beaches last summer, people see the progress.
Many beach towns, like Seaside Park, implemented the ban before July, according to Karvelas.
Robert Matthies, mayor of Seaside Park, spoke about how much of the town already had a smoking ban.
"The park already had a smoking prohibited ordinance. This was in park areas, which of course was the beach," he said. "This was since 2011."
Karvelas also said that some towns have tried to implement other bans on plastic items and the amount found on the beaches.
"We went from one site to over 10,000 volunteers," he said. "People see the problems; this is one way to see the solutions, help influence the legislation."