WPTV and Brave New Radio wins at IBS Awards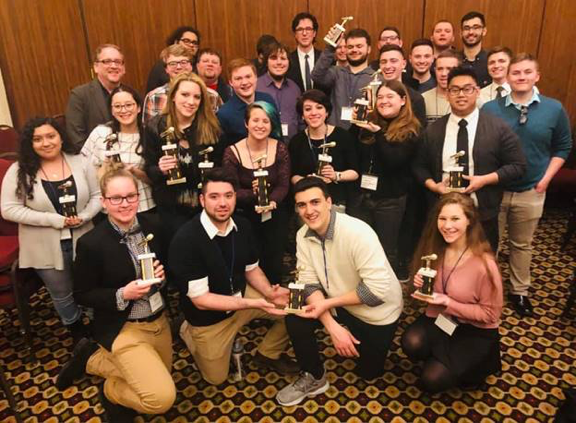 Students from the William Paterson television station and Brave New Radio brought home three big awards for their achievements over the course of the year.
WPTV and Brave New Radio were up for a total of 13 awards. WPTV were up for a total of eight awards, while Brave New Radio was nominated for five awards.
Brave New Radio won Best Press Release and Best Use of Sound Effects.
WPTV won Best Video Sports Program for the show WP Sports Desk. Sports Desk is an on campus show that reports about major league sports and WP sports.
Over the weekend, students attended the Intercollegiate Broadcasting System Awards in New York at the Hotel Pennsylvania. This convention went on all weekend for college students across the nation. It was an opportunity for the students to learn how to improve their college television or radio station and learn new things going on in the industry.
The IBS Awards started in 1940, this year marks the 79th awards. The awards were founded by George Abraham and David W. Borst. The first ever conference was held at Brown University. For the past two years the conference has been held in New York City.
Lindsey Hargrave, President of WPTV, senior, was very proud of the club and all the work that they put into the shows which is something they care so much about.
"I think that despite the results, the amount of nominations and recognition that WPTV got this year, says a lot about how far the station has come and how proud everyone should be of all the work we've done this past year." Hargrave said.
The television station had the most nominations in its history. It was also its first time nominated for best station in the nation.
"I think that next year WPTV will be nominated for more awards including best station again," Hargrave said.
"The work that our shows are putting out there, get better in content and overall quality everyday and as long everyone keeps pushing forward to be better, then we'll earn the recognition that WPTV deserves," Hargrave said.
You can watch shows for WPTV on the WPUNJ Communication Department YouTube page: https://www.youtube.com/channel/UCqc0r4Hif9yyCcIZV66Mswg
You can also listen to Brave New Radio on FM radio 88.7.