Pioneers Offense Flashes Signs of Hope in Loss to Rowan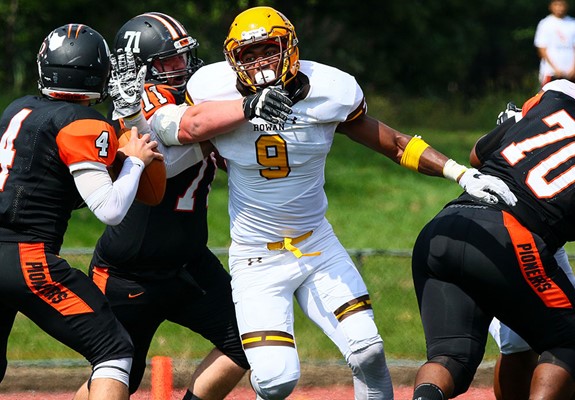 GLASSBORO, N.J. – The William Paterson football team (0-2, 0-1 NJAC) fell in their New Jersey Athletic Conference opener on the hands of Rowan University (3-0, 1-0 NJAC) by a score of 22-6 on Saturday evening under the lights at Richard Wackar Stadium.
Despite the loss and a fair share of penalties called against them, the Pioneers offensive unit put together a handful of successful drives throughout the contest, showing signs of optimism for weeks to come.
WPU Head Coach Dustin Johnson was proud of all the drives his team had on Saturday night.
"Offensively, we moved the ball in spurts," Coach Johnson said.
Johnson also added that the freshman on the roster have shown progress throughout their first two collegiate games and looks forward to continue to see their progression. 
On the heels of a six reception, for 95 yards performance in week one, junior wide receiver, RaeQuawn Bridgeman paced the team again hauling in six catches for 86 yards.
Sophomore wide receiver, Siraj Abdul-Malik added four receptions for 2o yards, while returning four kickoffs for a total of 59 yards.
Senior running back, Kyle Fanning rushed six times for 16 yards and caught three balls out of the backfield for 41 yards, while sophomore tight end, William Frese, hauled in the only score of the game for the Pioneers–a 24 yard strike from junior quarterback, Tracy Fudge late in the fourth quarter. Fudge completed 22 of 40 pass attempts for 227 yards with one touch down and one interception.
The team now has a foundation to build on from the past two weeks, Coach Johnson said.
The Pioneers will take on NJAC foe #7 Wesley College (2-0, 0-0) at Drass Field at Scott D. Miller Stadium in Dover, DE in an afternoon game on Saturday, Sept. 22 at 1 p.m.