Walking dogs during the pandemic
 After being home for a long time before going back to school, I didn't know what to do with myself while being unemployed.
Then I remembered where I got my dog Holly, at Almost Home Animal Shelter, located in Pennsauken, N.J.
"Since its beginning, Almost Home Animal Shelter has been a front line defense for thousands of local unwanted, stray, or mistreated pets," states the Almost Home Animal Shelter website. They are also a no-kill shelter, where they make sure every dog and cat find a new home.
The shelter allows volunteers to walk the dogs. At first I thought it would only be a one-time thing, but that changed after my visit to the shelter.
A blurb by Better Health and Pet First Pet Insurance says that dog walking can reduce stress and that it's good exercise. Plus, you create an enjoyable companionship with the dog you are walking.
I wasn't expecting to keep coming back almost every weekend after that. There was just something that kept drawing me back to the shelter.
Every day of the week, I couldn't stop thinking about the dogs at the shelter. I couldn't help but feel bad that they didn't have a home. I checked the website almost every day to see the new rescues the shelter brought in and see who was recently adopted.
Once work started, I still went, but I couldn't go all the time like I used to. Now that was hard.
It's like the shelter continues to pull you in and make you want to see these dogs again and again. I would always think about the animals and how they were doing.
Betty Lou, one of the longtime dogs living at the shelter, is a very gentle dog just looking for treats. The people in charge say that she can bite or nip once in a while, but I don't think that's true. I walk her every time I come to the shelter and all she wants is treats and to keep on walking. I've built this relationship with her where she feels like my own dog.
She makes me feel happy when I come there. It makes me feel like there's nothing awful happening in the world. After leaving her, she gives me those sad puppy eyes. The ones that make me want to wake up at 8 a.m. on Saturday morning to come back and walk her again.
There are other dogs with who I have a companionship with. They made me so happy when they'd drag the volunteer towards me because they remembered who I was. All they want is tender love and care.
Honey, another dog at the shelter, loves to go out and see me or my mother but has a hard time walking because she gets tired. She'll roll over in the grass and I'll rub her stomach. It gives me and her enjoyment.
There effects of living at a shelter aren't lost on the dogs, including the cats and other animals there. They may feel abandoned or lost because no one is willing to take them home. Trust me, if I could I would take every one of them home.
"[You give] shelter dogs exercise, a chance to potty outdoors, lessons on manners, praise, confidence and the human companionship they greatly missed," said Debbie Sporcich, guest editorial writer for the Bark.
That says it all.
Many dogs who walk into the shelter are found in a litter (puppies or dogs found somewhere all together) and are rescued from an awful place, or found on the street. They have either never interacted with a human or were trained to fight other dogs. They need to be taught manners and obedience before going off to a new family.
I have seen this firsthand at the shelter.
Tito, a chihuahua mix, is a dog that doesn't like to be touched or bothered by humans. When he sees people he will wag his tail, but that doesn't necessarily mean he wants a pet. After a couple of weeks though, he warmed up to my mother and me, and he was excited to see us. It's wonderful to see a change like that in an animal, and I wish I was there to see it every day.
Walking dogs during this pandemic was such a rewarding experience and it's one I don't think I can replace. Dogs bring me so much joy and I was so lucky to walk them.
Almost Home Animal Shelter is holding a Virtual 5K, Rally for our Rescues from September 15 to October 15. The money will go towards the animals! More information is located on their Facebook.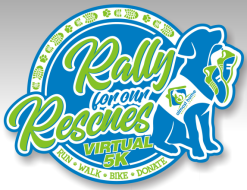 https://www.facebook.com/almosthomeanimalshelter