WPU Fiscal Year 2021 Tuition Hearing with President Helldobler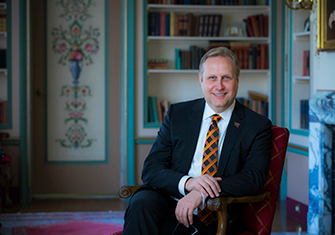 On Thursday, March 26 at 12:30 pm, students were able to attend the William Paterson University Fiscal Year 2021 Tuition Hearing with President Helldobler. The meeting was held over Youtube due to the COVID-19 crisis.
Before the meeting, students could email questions that would be featured in the hearing. During the live remote conference, students posted questions in a chat box concerning 2021 academic year expenses and COVID-19 concerns. 
Josh Powers, seniors VP of academic affairs, Steve Bolyai, senior VP for administration and finance and provost, and Miki Camerata, VP for student development were among those present at the meeting.
President Helldobler had been contacted by many students and families about refunds. He mentioned that the governor's recent freezing of state spending has caused uncertainty in the university budget. However, the Secretary of Higher Education will be notifying the departments in the upcoming days on what is within the university's operating revenue. "Just as there are many financial unknowns for many of you, there are a lot of financial unknowns for the university at this time."
Furthermore, the university's operating revenue will be impacted by the amount expected to be refunded on top of over 80% of the university's budget going towards salaries. Faculty and staff are still being paid as well as federal work-study students who had a job on campus. Any student who worked on campus should have already been notified that they will still be paid, despite the job requiring being on campus. 
On the matter of tuition costs for this semester, since classes are continuing, and despite it being on an online platform, no tuition will be refunded. The standard withdrawal policy still applies, and at this point in the semester, no amount of money should be expected to be refunded. As for the upcoming semester, there is expected to be a slight increase, however, it should not be any more than the traditional 2% that is expected with inflation. Tuition payments are also not expected to be delayed as the critical curve of COVID-19 is expected to end towards the end of May.
In terms of residence life, students should be notified by April 10 about housing and meal plan refunds. If students had any scholarships or grants that covered their meal plans and housing, they will be communicated directly. No money is expected to be rolled over nor the tuition of the spring semester is expected to be reduced as " [the university can't put a credit on [student's] accounts because that would be considered an award and that could impact Title IV funding." Individual plans will also not be negotiated once the policy has been posted. 
Other expenses that are under the question to be refunded for this semester include the parking garage and lab fees, which students should be informed of within the next 30 days. 
As for any concerns about summer courses, there still is a possibility for courses to remain on campus towards the back-half of the summer. Also, normal summer tuition rates are being applied, and dorming can be considered if a student appeals to extenuating circumstances. 
President Helldobler ended the meeting with news on commencement at the Prudential Center still being questioned and on the lively note, "This is a great time to Netflix and chill."
For more, here is the link: