"I Am Not Okay With This" Netflix Review: A Teen with Superpowers in an 80s Time Warp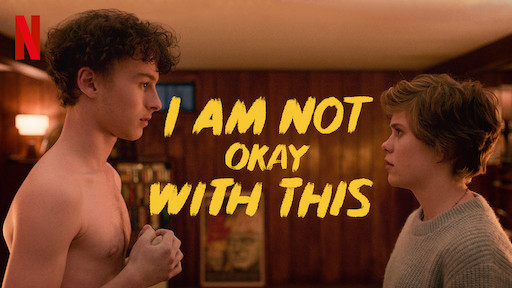 Netflix's new short, but not sweet original series "I Am Not Okay With This" is brought to you by the creator of the popular series "End of the F***ing World." Jonathan Entwistle alongside writer and producer Christy Hall has created a dark, but relatable coming of age story based off a graphic novel by Charles Forsman.
In a small Pennsylvania town Sydney Novak, known as "Syd" by her friends, navigates the struggles of high school while also dealing with the recent suicide of her father. Syd is grumpy, has anger management problems and only has one close friend, Dina.
She and her mom are constantly fighting over little things while ignoring the elephant in the room: that they are both mentally and emotionally damaged by Syd's father's suicide.
Following the narration of Syd's diary given to her by her guidance counselor, viewers are given a front-row seat to Syd's inner angsty monologue.
Syd's very first entry in this diary is "dear diary, go f*** yourself," which sets off the tone of the show with a cynical start.
On top of typical high school drama, Syd quickly discovers that she has some sort of psychic powers that activate when she loses her temper. They first activate when Syd finds out that Dina is dating Brad Lewis, the arrogant star football player of their school. Her anger results in accidentally giving Brad a nosebleed, which is just the beginning of the uncontrollable manifestation of her powers.
Syd also finds herself slowly becoming friends with her neighbor Stanley Barber, who is a quirky, confident and charming character trying to win Syd's affection.
As Syd deals with her confusing feelings towards Dina, she also becomes friends with benefits with Stanley.
Syd starts out as a very typical angsty teen with an "I wanna get out of this dumb town" mood. Set in an ambiguous time-period, everyone dresses like they are from the 80s but at the same time use modern technology.
As Syd's powers become stronger and more uncontrollable, we see her try to make sense of it all.
It is a treat for anyone who is a fan of other works such as "Stranger Things," "End of the F***ing World," or "Life is Strange." The final episode leaves viewers confused, disgusted and astonished with a cliffhanger as Syd does something she can never take back.
With no sight of rumors for a second season announcement, the increasing fan base yearns for more. What's in store for Syd is quite mysterious.