Online classes shake William Paterson students
Students were left frustrated and confused March 20 when president Richard J. Helldobler announced that the university was extending online-only classes through the rest of the semester due to the impact of coronavirus.
Many other universities, such as Princeton and Rutgers, have also moved all classes online as a preventative measure.
The switch garnered mixed reactions on social media. Students expressed concerns about how residential life would proceed, course quality and other complications that might come from online learning. 
On Twitter, Kayla Ferguson, a student from Bluffton University, expressed her concern about classes being moved online.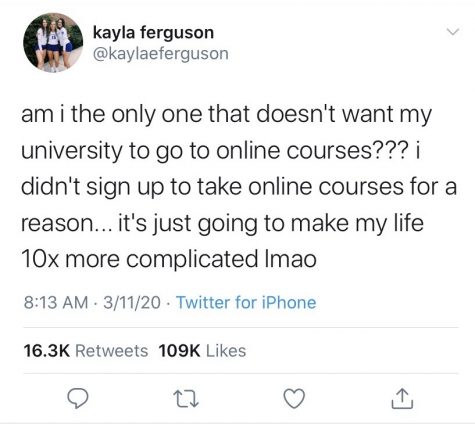 Many William Paterson students believe that online courses might impede their ability to attain a comprehensive education.
"I have a lot of concern for many of my courses moving online, because they are lab-based science courses," said Christie Dix, a senior biology major at the university. "How can I learn to sequence DNA, genetically modify yeast and culture cancer cells from home effectively? I do not think an online format can ever compare to the hands-on learning in these upper-level science courses."
Science majors will have a particularly difficult time adjusting to online courses due to the absence of equipment and materials needed to experiment and do research. Although Helldobler was planning on allowing small laboratory and studio section groups to gather on campus after spring break, now it is uncertain what these groups will do to make up for those studies.
Journalism major Andrew Herbst agreed that it might be difficult for those currently in lab groups.
"I would think science classes would be difficult to take online," he said. "I feel it would be challenging to have labs without being in a classroom setting."
Herbst feels prepared to take on the new course model.
"I manage my time well and won't have any issue getting the assignments done even though we are not meeting in class," said Herbst. "It will be a change for sure, but I don't think it will be hard for me to adapt to going fully online."
However, Dix feels unequipped to go fully online.
"I am not prepared for online courses, but I will have to adapt like everyone else," she said.