Spotlight: WP's Communication Honor Society, Lambda Pi Eta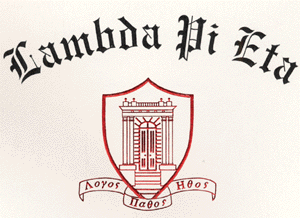 Lambda Pi Eta, known commonly as the Communication Honor Society is a National Society founded by the University of Arkansas in 1985.
Since its introduction as a chapter in 1999, the Communication Honor Society at William Paterson University has created a safe space for students within the Communications Department to grow in their scholastic achievements.
"The Communication Honor society is a group of communication students who are passionate about the field in which they are studying," explained Lambda Pi Eta president Laryssa Durschlag.
Durschlag, a junior, is studying Media Production with a minor in Public Relations.
"I became involved in the honor society because I originally did not plan on becoming a communication major," she said. "I wanted to become more active on campus and this was something I saw. I had no idea what I would have done, but I'm glad and grateful that I decided to [join]."
Lambda Pi Eta (LPH) is the National Communication Association's official honor society at four-year colleges and universities and has more than 500 active chapters nationwide, according to the National Communication Association.
The official mission of Lambda Pi Eta is to: "recognize, foster, and reward outstanding scholastic achievement; stimulate interest in the field of communication; promote and encourage professional development among communication majors; provide an opportunity to discuss and exchange ideas about the field; establish and maintain close relationships and understanding between faculty and students, and explore options for further graduate studies."
The William Paterson chapter implements its mission statement by helping students find their potential within the communications department.
"My favorite thing about being in Lambda Pi Eta is meeting other communication students who share the same goal as I do: to find our passion and goals," Durschlag said.
The university's chapter was founded under the supervision of Dr. Casey Lum, an established professor in the Communications Department, specializing in Media Studies and Professional Communication.
"Dr. Lum has helped this honor society grow." explained Durschlag, "As a mentor, he cares for us and wants each and every one of us to be the best to our potential."
Currently housing six members, Lambda Pi Eta is always accepting applications.
In addition to an active commitment to the field of communications, students must meet a list of requirements in order to be accepted.
According to the Honor Society website, students must have an overall GPA of 3.0 or above, a Communication GPA of 3.25 or above, completed at least 60 college credits, and at least 12 completed Communication credit hours.
"I joined because it will look good on my resume and I'm excited to see the society take the Communication department outside of the school," said Christopher Risco, a recent inductee.
LPH is looking to organize educational field trips to allow students backstage access to local newsrooms and studios, helping them gain exclusive hands-on experience in the field.
Students can learn more by contacting Laryssa Durschlag directly at [email protected] or going to the Department of Communications website and applying online.