Green Day fires back with "Father of All"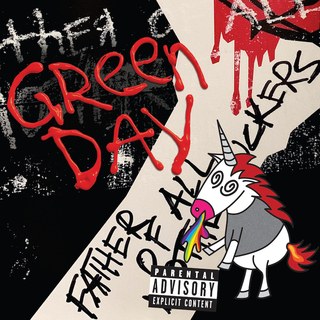 Legendary punk rock band, Green Day, proves punk isn't dead by releasing their new album, "Father of All".
This project is their 13th studio album and their latest release since 2016's "Revolution Radio." The 10-track collection clocks in at just over 26 minutes.
The album cover is a throwback to the "American Idiot" artwork, with a zoomed-in version of the arm holding a heart grenade with graffiti writing and a unicorn throwing up a rainbow. It'll be sure to catch their older fans' attention.
The first three singles, which were released in the fall, received mixed reviews from fans because of how different the band sounded. However, the album shows nothing but improvement. Songs about growing up, falling in love and finding your way is the recipe for a classic Green Day record. If Doo-Wop and Green Day had a baby, you'd get "Father of All".
On an album that projects so much energy, "Junkies on a High" sticks out the most due to its leisurely tune. Other songs start off slow but build up into powerful punk rock jams.
The album starts with the title track, "Father of All." The song is an amazing introduction to the album that's about having fun and living on the edge. Green Day incorporates energy into their music which in return creates captivating tunes. Songs like, "Sugar Youth" and "Graffitia," will have fans dancing to the machinegun punk riffs.  While the song, "Stab You in the Heart," has a Beach Boys influence to it.
With heavy bass, swift drumming skills and deliberate lyrics, the overall production is as classic as ever.
According to the media and other sources, there is a conspiracy theory that's been revolving around it. The theory is, that Green Day and Reprise haven't been on the same terms since 2012. So being that this is their last album with them, Green Day "didn't care" about this record. This is Green Day's last album with Reprise Records who is owned by Warner Records. The band has been with Reprise since 1994.
According to lead singer Billie Joe Armstrong, their contract states their albums must be 25 minutes or longer. "Father of All" is just above 26 minutes. He also claimed that this might be Green Day's first and last album of 2020. He teased the band could release another record with their control towards the end of the year.
Overall, "Father of All," delivers where it matters. The songs are catchy and gratifying and will have fans out of their seats. The lyrics are relatable and well thought out due to Billie Joe's songwriting and the bands professional guitar and drum skills.
Green Day fans old and new will be pleased with this record. It's them stepping out of their comfort zone, but shows nothing but development in the way they create music. It shows how the band has expanded their talents by encompassing the history of rock 'n' roll, only with a Green Day twist.