Artechouse Will Put You in a Satisfying Daze
Since Sept. 6, Turkish media artist and director Refik Anadol had an installation, "Machine Hallucination," that was for viewing at the newly opened Artechouse—a cultural institution that presents immersive digital art in the Chelsea Market.
Taking place beneath the market's never before used boiler room, it was meant to come to a close in December 2019, until they extended the viewing to Feb. 2. 
"Machine Hallucination" is projected on the walls and floor full of luminous and hallucinatory graphics of blueprints, architecture data and buildings of New York City. The exhibit will have you in a trance from the moment you walk in.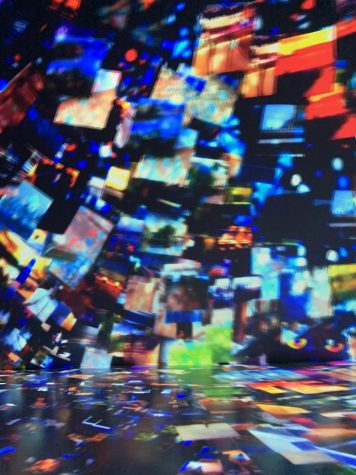 The best part is you don't have to use your time wisely, because you can stay there and soak in the view for as long as you want. 
To invent such captivating artwork, Anadol and his team created an algorithm that would search the web for images of NYC through social media, search engines, digital maps and library sites. The media director kept data privacy in mind when doing so by using a public domain.
According to artnews.com, "Anadol made Machine Hallucination with the aid of twelve studio assistants. 'Data is my medium, and as a team, we've been working with data and algorithms and trying to explore this hidden emotional experience inside this invisible world of data,' he said. His goal in this work was to turn machine learning into a narrative." 
From images of pixelated skyscrapers to rainbow blocks soaring above your head at a swift rate, the main display loops every 30 minutes. With millions of photos, it's hardly noticeable. There are even pillows for you to rest on because you'll want to get cozy. 
Upstairs there are three other displays. One of them is a small, dim room that shows an unedited version of the visuals they received through their data. This exhibit lasted an hour, and it mainly contained portraits of buildings and parks fading in and out with holographic waves. 
The first two you see when entering are 70-by-40-inch screens that repeat every eight minutes. According to Anadol, they're "data paintings" from the same data that have a more subtle, darker color but defined imagery. 
And don't forget to check out their exclusive bar (alcohol-free) with drinks that are inspired by the exhibits. These psychedelic cocktails will have you awestruck. 
At only 35-years-old, Anadol has won six awards and has displayed his exhibitions 80+ times for the last 12 years. They have been seen in different parts of North America, Europe, Asia and made an appearance in Mexico City, Mexico. His immersive installations stem from creating a relationship between architecture and media arts with machine intelligence.
Artechouse is NYC's latest immersive installation at the Chelsea Market. Created by art directors Sandro Kereselidze and Tati Pastukhova, their goal is to shed awareness on digital art and differentiate it from your typical museum and or art gallery. They have two other locations in Washington, DC. and Miami Beach, FL where Anadol's work was shown as well.