Experienced Practitioner Gives Insight at Future Healthcare Professionals Meeting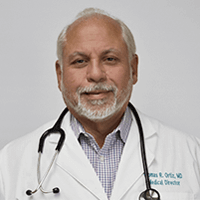 Dr. Thomas Ortiz, a board-certified family physician, was the featured speaker at the most recent meeting of the Future Healthcare Professionals club in Science Hall on Tuesday Nov. 19 at 12:30 p.m.
Dr. Ortiz spent the meeting talking about his experiences working towards medical school up to his present experiences of running his own private practice in Newark, NJ, as well as the psychology and philosophy behind the medical practice.
Dr. Ortiz began with an overview of his history working as a practitioner, explaining how he went to school for a pre-med program, then NJ medical school. Overall Dr. Ortiz has been working as a medical practitioner for 37 years. Dr. Ortiz currently is the medical director at Forest Hill Family Health Associates (FHFHA) in Newark.
"I decided to choose the inner city practice because I felt compelled, I felt called to deal with the poor, disenfranchised population," Ortiz said.
He went on to explain how preventative health measures are the most important strategy in order for people to stay healthy.
"We have too many people that are uninsured. We have too many people that are poor that can't access the health care system properly, and, therefore, they don't."
Dr. Ortiz brought attention to common situations that uninsured people face when there is a problem with their health. "They don't get the interventions they need earlier on, and if you're uninsured, what do you do? You go to the emergency room. Is that the best way to get your health care, in the emergency room?"
He went on to say "it's an abomination that we are the only country in the world that doesn't cover everybody's basic healthcare. Then you got to pay through the nose to get insurance, and then when you get it, they don't want to pay for you and the things that you need." 
Ortiz explained how one of the aims of his private practice is to provide people with the preventative care that could save their lives. "We do 'wellcare.' We help people to stay healthy. When you're sick we come in, we take care of the episode, we get you better, and we go on. We do health maintenance, we do adolescent medicine, we do adult medicine, and geriatric medicine. We don't discriminate on the basis of age, sex or disease entity. We take a holistic approach to health care: body, mind, and spirit."
Ortiz explained how the complex processes of the body can be viewed in a spiritual way. "It's too amazing," he said about the complexity of how the systems in the body interact. He goes on to discuss the spiritual and emotional connection between a physician and a client.
"Communication is very key, and one thing I find in college and medical school, nobody ever talks about communication skills. How do you get them to do what they need to do? How do you overcome the obstacles they may have, or the false ideas, or the fixed ideas that they have about their health or about other things? There are many things that you have to overcome, but the most important thing is the doctor-patient relationship."
Dr. Ortiz also explained the struggle of finding doctors from minority groups that can help those minority groups. "Particularly among minorities, blacks and Hispanics, we're not producing enough practitioners to meet the needs of our community. So our community is now dependent on practitioners from other communities. It's a very important concept to have a doctor that looks and talks like you that you can relate to in order to get the information that you need," he said.
Once Dr. Ortiz was finished discussing the details of being a doctor, he began to explain the business side of having a private practice. "Doctors never learn how to run a business," he explained. "We don't learn finances; we don't learn marketing; we learn about science."
Dr. Ortiz recalled a story from when he was fired from his job as a teenager. "I'm never gonna have a job again where I can get fired," he said in regards to the story. 
President of FHP, Jannat Begum, commented on the event. "I think it was very informative. I particularly like this speaker because he is from a minority, so I thought he would reach out to a lot of students, since this is a minority institution. So I hope that the students were able to take in a lot of value and inspiration."
Dr. Ortiz wrapped up his speech saying, "what's important is what your dream is and how you're going to get there. So go and do it."