Main Points of the Trump Impeachment Hearings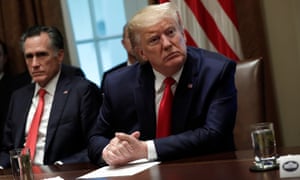 As of Nov. 13, public impeachment hearings have begun for President Trump. The inquiry was initiated because of accusations by an anonymous whistleblower that Trump was withholding financial aid to Ukraine until they announced they would investigate the Bidens, who are political rivals of Trump.
The whistleblower claimed to have overheard a "quid pro quo" taking place between Trump and the president of Ukraine Volodymyr Zelenskiy.
The impeachment process has occurred only three times in our country's history with Presidents Nixon, Clinton, and now Trump.
After both opening statements, top U.S. diplomats Bill Taylor and George Kent were the first to take the stand. Taylor testified about a phone call between Trump and Gordon Sondland, the U.S. ambassador to the European Union.
Taylor said that a member of his staff "could hear President Trump on the phone asking Sondland about 'the investigations' and that Sondland told Trump that the Ukrainians were ready to move forward," according to rev.com.
"Following the call, the member of my staff asked Ambassador Sondland what Trump thought about Ukraine and Sondland responded that Trump cares more about the investigations of the Bidens," Taylor said.
This call took place on July 26, a day after Trump allegedly asked the Ukrainian President to investigate the Bidens, which was the call the whistleblower spoke of.
In addition, Kent testified that he believed that Rudy Giuliani (Trump's personal attorney) was not protecting U.S. interests regarding his activity with Ukraine. Kent also said he thought Giuliani was "looking to dig up political dirt." Bill Taylor said he agreed.
On day 2 of the public impeachment hearings, Marie Yovanovitch, the former U.S. ambassador to Ukraine, was next to testify.
Yovanovitch said that she was the target of a smear campaign lead by Rudy Giuliani, which severely damaged her reputation after serving U.S. interests for more than 33 years.
In the July 25 call with the Ukrainian president, Trump referred to Yovanovitch as "bad news," and said that she was "going to go through some things." She said that she did not know what Trump meant by this, but said that it "didn't sound good."
"I was shocked. Absolutely shocked. And devastated, frankly," Yovanovitch said. She continued to say that it "kind of felt like a vague threat," according to NPR.
While Yovanovitch was testifying, Trump decided to tweet about her.
"Everywhere Marie Yovanovitch turned bad," Trump tweeted. "She started off in Somalia, how did that go?" This was even more discourteous because it came after Republicans continually thanked Yovanovitch for her years of service, according to Time. 
"We are lucky to have you in foreign service," Republican Elise Stefanik said to Yovanovitch.
The most recent of the impeachment testimonies was by Gordan Sondland. In both his opening statement and throughout his testimony, Sondland said he was working with Rudy Giuliani on Ukraine matters at the "express direction of POTUS."
The most significant testimony was from Sondland when he said that there was indeed a quid pro quo and that everyone was in the loop about it.
"I know that members of this committee frequently frame these complicated issues in the form of a simple question: Was there a quid pro quo?" Sondland said. "As I testified previously, with regard to the requested White house call and meeting, the answer is yes."
This testimony corroborated the picture painted by the previous witnesses.
"It's a witch hunt," President Trump responded when asked about these accusations. Regardless of Trump's insistent claims of innocence, the process continues.
"Everyone was in the loop," Sondland continued. "It was no secret," according to CNN.
Most would claim Sondland's testimony was damaging to the President's case, but Trump claimed the opposite. He highlighted Sondland's recollection of a phone call the two men had in September. In this call, Sondland asked the president about his plans for Ukraine.
"I want nothing, Trump said on this call. "I want nothing. I want no quid pro quo. Tell President Zelenskiy to do the right thing."
Trump claims that this call exonerates him.
"I would say that this means it's all over," the president told reporters. However, this call highlighted by the president took place in September, a few months after the accused "quid pro quo" with the Ukrainian president and after the White House learned of the anonymous whistleblower.
However, there are many hearings to come. Former National Security Council staffer Fiona Hill and senior U.S. diplomat David Holmes are set to testify in the coming days.