William Paterson Holds Student Memorial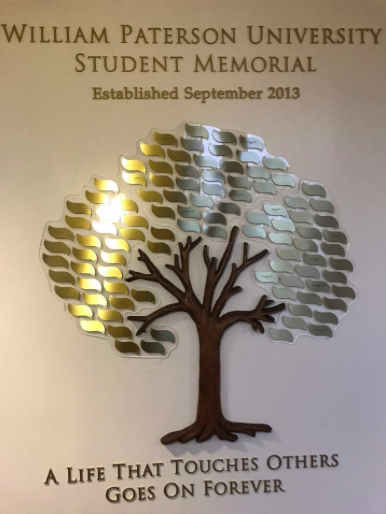 William Paterson faculty held a memorial and unveiling for 17 students and faculty who passed away in the David and Lorraine Cheng Library in the auditorium, Oct. 30 at 5 p.m.
Students, faculty and most importantly, family members gathered together to remember the lives of the departed.
The ceremony started with William Paterson Pres. Richard J. Helldobler giving opening remarks and thanking everyone for attending the memorial.
"Good afternoon, everyone," Helldobler said. "Thank you all for being here as we gather to remember the lives of 17 members of the William Paterson community that were lost far too soon."
He then spoke about the impact all the students had on their community, and how they were all lost too soon.
After Helldobler's remarks, Vice President of Student Development, Miki Cammarata read the names of all 17 students and faculty who passed. A short moment of silence was held for each of the 17 departed. Families and friends were welcome to stand in acknowledgment of their loved ones.
Families were then escorted to a hallway in the library. In the hallway, there was an unveiling of the monument crafted to honor those who passed. Before the new memorial was unveiled, a short poem was read. This was to again give remembrance to those no longer with us.
"Remember me when I am gone, But not with sorrow, pain and grief, Think of me as a turning leaf, That in the winter falls from its branch, To be born again in the spring, And live forever in your heart" -Christine Currah
Then the memorial was unveiled to be a wooden tree with golden leaves that has the names of those passed carved into them. The monument was handcrafted by artists who also attended the service. Along with that, below the tree, the short phrase "A life that touches others goes on forever" was engraved.
Families took pictures of the memorial and shared tears.
One family named their newest daughter after their sister, who was a student of William Paterson.
After pictures were taken, families were invited into another room for refreshments and to share stories of their loved ones.
One family member spoke to Cammarata, uttering the simple phrase of "It means a lot."
Another student who wished to remain anonymous attended the event. She gave her thoughts and feelings on the ceremony.
"I was here to honor my sister, it was nice of them to have this," she said. "It helps to have a place on campus to remember her."
Fellow William Paterson student Luke Delucca gave his sentiment on the proceedings.
"Even though I didn't know them all, it felt like I did. My throat hurt from holding back the tears," Delucca said. "I guess I'm just glad that they were commemorated."
As stores were shared and loved ones were remembered, it was clear everyone appreciated the memorial to commemorate their students, faculty, brothers, sisters, sons, and daughters.  And remember the pioneers who passed.