College of Humanities and Social Science's Eighth Annual Conference "Contexts," Features Six Scholarly Women of Color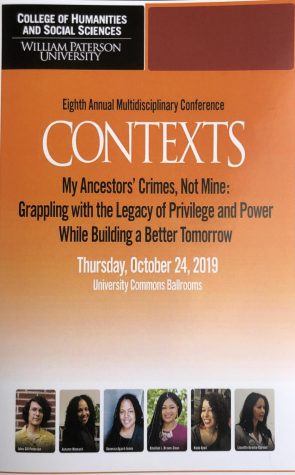 On Oct. 24, the College of Humanities and Social Sciences hosted their eighth annual "Contexts" conference named "My Ancestor's Crimes Not Mine: Grappling with the Legacy of Privilege and Power While Building a Better Tomorrow." Featuring six prominent women of color, the aim was to address pressing questions such as, "what responsibility do people in the present have for dealing with the consequences of our predecessors' actions?," "what does the future of American democracy look like?" and "what can it look like?"
The first three panelists shared their essays about the work they had done addressing these questions, and many more. They discussed themes of identity, the depiction of black lives, toxicity, the management of bodies and detoxing.
Khalilah Brown-Dean, Ph.D., the associate professor of political science at Quinnipiac University and former faculty coordinator of the Health Policy and Advocacy concentration at the Frank H. Netter School of Medicine, talked about identity politics and the future of democracy. She also recently released her book "Identity Politics in the United States."
She asked students to yell out words that came to mind when they thought of democracy. Each student who called out said something with a negative connotation, just as Brown-Dean said she expected them to.
She continued to explain that American democracy has a terrible history attached to it, riddled with pain. However, Brown-Dean claims that the future of American democracy is dependent upon the younger generation and upon students, like those at William Paterson University, who have gained the knowledge to bring them into a better future.
She recalled her family trip to Edmund Pettus Bridge where President Obama spoke and where members of the civil rights movement attended a march across the landmark. The energy in the room shifted as Brown-Dean talked about the lives of those who fought for their civil rights and the ever-moving influence those moments have had and continue to have on the black community and the future of democracy.
She stated that 2020 will determine how American society is able to collectively confront its past and its future. She left off the presentation with the hope that in the future democracy, the people responsible for its future will commit themselves to building bridges instead of walls.
The UC ballroom was filled with listeners looking to gain knowledge and insight into topics and themes that prove relevant to today's society and William Paterson's student population. There was much said that was able to resonate with a multitude of students on many different levels during the conference.