Behind the Scenes of "Overdue," a Student Film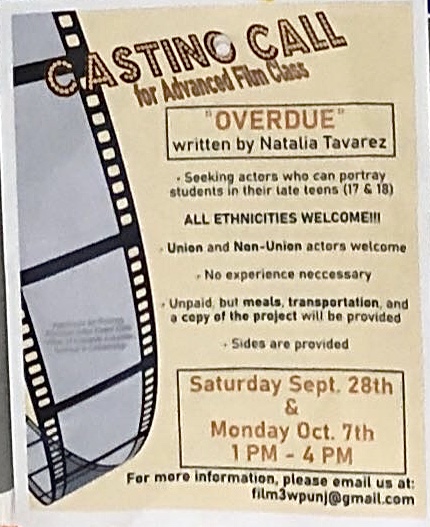 Film production takes an incredible amount of time and effort. It takes a dedicated director, an assistant director, editors and actors to help bring a vision to life.
Creating a student film is a unique challenge. It's different from other forms of media because students involved make their own schedule, don't have to large budget to balance and create projects in weeks as opposed to months or years.
Filmmaking 3 is an elective course offered at the university where students work together to create a 5-10 minute film that will be graded and viewed at the end of the semester. To participate in the advanced class, students must have completed the Filmmaking 1 and Filmmaking 2 courses.
This semester, a few students who take this course are producing a short film called "Overdue." It's about a teenage boy on his last night of high school who works up the courage to tell the girl he has a crush on how he feels.
Film projects have three stages: pre-production, production and post-production.
Pre-production includes casting actors, budgeting, scheduling, setting up catering, location scouting, etc.
"It's a lot of work, but it is fun," Natalie Taverez said via email.
Each student in the small class plays several roles in the film making process.
"If we find any individual not carrying their weight, we can't just fire them; we need them to shape up really quick and get the production done for the sake of the class,"  according to Grace Soriano, assistant director, a media production major.
In the production stage of film making, the project is filmed by the director in one or more locations and scheduled so that everyone knows where to go and when.
The director of a film project decides how and what makes the vision they have for the film come alive through the scenes produced. They, along with the assistant director, decide what interpretations of a story and script work best on screen.
In "Overdue," this is where directors "work closely with actors to get the right performance needed for the film and are deeply involved in the audition process," according to film director Caleb Hughes, a media production major.
Anyone interested in acting in a student film needs to go to a casting call. Casting calls are important because while the fun of hiring friends for a student project may be tempting, they may not be the right fits for the characters.
"We want actors with experience in acting," Soriano said. "Sending out casting calls will bring in people to audition to allow us to cast people who are best for the part, and it teaches us how to seek professional actors for future projects."
An assistant director's job is to "make sure the actors are where they should be when they need to be there and keeping everything on schedule," Soriano said in an email.
The job of assistant director also means keeping things in order and "keeping as much stress off the director as possible," Soriano said.
Students apply for the positions they want to fulfill in the film production.
"Prof. Guerrieri tried to place people in the positions that they have the most experience with and are the most comfortable with," Taverez, working on "Overdue" said, "If someone wanted to be the cinematographer, they had to bring in examples of their work."
Many of the people who respond to casting calls are interested in student film projects so they can create a reel of their work as actors. They can use that reel to produce or add to a resume for getting into larger, paid productions in the future, according to Soriano.