Hip-Hop Dominates Spring Jam Poll
Pioneers Choose Hip-Hop for Spring Jam
Wayne – The votes are in for William Paterson's Spring Jam 2017, and hip-hop has been chosen as the feature music genre.
More than 650 WPU staff and students participated in a poll conducted by the Student Activities Programing Board, Student Government Association, and Campus Activities.
Clear Cut Choice
Hip-hop topped the list with 44 percent of votes with R&B and Pop coming in second and third place. Latin received the least votes, despite Hispanic students making up 27 percent of William Paterson's student body.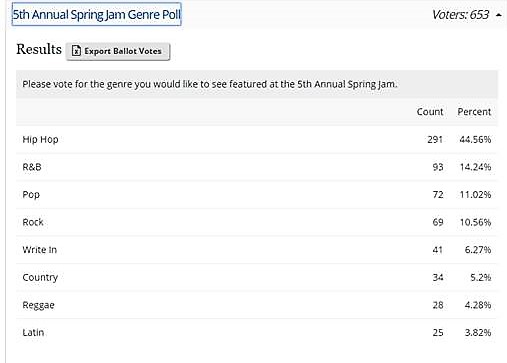 Since its initial showing, William Paterson's Spring Jam has featured relevant musical artists such as Wale, Big Sean, and Rick Ross. William Paterson donates a percentage of every show to local and national charities. Attendance for each event has gone over 1,000 people, with last year's show selling out within weeks of ticket sales opening.
This year, a local talent search will take place in an effort to find an opening act for the headlining artist who has yet to be announced. Students will have the ability to share the stage with some of the biggest names in the entertainment industry, a move the SAPB hopes will give students a chance to showcase their talents. Along with CASL Associate Director Maribel Rodriguez, Khamely Rodriguez, vice president of the SAPB, coordinates with production teams, EMT's, and security to provide Spring Jam attendees with a safe and social night of music.
"There are a lot of hands involved in the promotion and funding and overall coordination for making events like these possible. We may not get the praise or recognition, but we put in a lot of time and effort to make Spring Jam happen," said Rodriguez.
With the poll now closed and the genre chosen, the SAPB will now begin the process of contacting artists to headline the event.
"I want people to enjoy the show, the artists, and I want the student body to feel engaged in this new style of Spring Jam. I really hope that adding this new twist of adding student talent engages the students so that they can see how involved they can be with the show," said Rodriguez.
Details for who will be headlining the event will be released in March 2017. For tickets and information, contact the office Campus Activities.