Barbara Poma opens LGBTQ celebrations at William Paterson University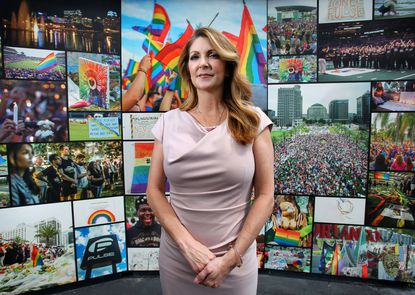 On June 12, 2016, 49 people were brutally murdered and 53 were severely injured after a terrorist attack at gay night club, Pulse, in Orlando, Florida. William Paterson students had the opportunity to hear from Pulse's owner, Barbara Poma, who founded the onePULSE Foundation for the LGBTQ community.
Poma told her story to students and staff Oct. 8 at 12:30, during common hour. She was the opening speaker for the LGBTQ celebrations on campus this month.
Poma described how her life changed the day of the attack. She received the call while on a graduation trip with her daughter in Egypt. Poma said she could hear the shots through the phone. Since the incident concerning The Pulse 49, Poma made it her mission to honor the lives and legacies of those who were lost to the act of hate. She felt inspired to replace hate with love and understanding by talking about her experiences.
Through the pain of loss, a strong and inspiring community was formed all over the world after the shooting. People of all nationalities and ethnicities banded together to support the LGBTQ community, and those who lost family and friends in the attack.
With the help of her husband, Poma started the onePULSE Foundation out of a desire to serve the LGBTQ community. According to the onePULSE website, the foundation's mission is "to create and support a memorial that opens hearts, a museum that opens minds, educational programs that open eyes and endowed scholarships that open doors." She wanted to create a community where everyone would feel accepted and have fun no matter what sexual orientation, age, gender expression or ethnicity.
Her passion also stems from her relationship with her older brother John, who passed away at the age of 26 from HIV/AIDS. She described him as flamboyant, funny, and full of life. He would often dress her up and bring her to unsafe areas where his community partied and had fun. She mentioned that in the 1980's,  in order to be with openly LGBTQ people, many individuals had to seek out events in areas with high rates of crime.
The foundation is working on a scholarship program for LGBTQ youth, where 49 students will be awarded money annually, in honor of the 49 people who died.
The Pulse Interim Memorial in Orlando was created by the foundation as a place where people can come to pay their respects to the victims of the Pulse Nightclub shooting. This was the first of many projects that advocate for the LGBTQ community. Poma is working toward building a permanent memorial for the victims.