Students alerted to lock their dorms on campus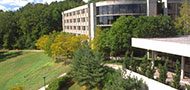 An alert was posted a week ago by a student to the Wildfire community app, warning residents of the Overlook South dorms about how three intoxicated strangers forced their way into her room, attempted to make her drink alcohol, and engage in physical contact. 
The Wildfire app is a web application that allows students to share opinions and news to other students. The student explained how the three men forced their way into her dorm and started "hugging and rubbing [her] side a little too long." The three men left swiftly thanks to her roommate and her suitemate intervening. The post does not specify if the three men were students or not.
The message has not been officially confirmed by the university. While no police report was filed, a student did verify that the incident was reported to an RA in the building. This event reportedly occurred on the G floor of Overlook South.
More students have reported that people have been forcefully banging on their doors throughout the building. Two roommates shared their experiences. 
"I was annoyed!" one William Paterson student said. "I was worried about my suitemate. They're alone," another WP student said. Both students wished to remain anonymous for their safety, as to not draw attention to themselves.
Nubiyah Tanner, a WPU student, commented on her concerns. "I don't dorm, but hearing about this makes me scared to stay over my friend's for the night. I mean, who even does that stuff? Get a life man."  
Tanner's fear demonstrates the amplified concern for student safety that can result from these types of alerts.
"Random people are disturbing my peaceful time with my friends, and the next time they do that, I'm going to be angry," WPU student Antonio Baldassare said.
While Baldassare does not live in the Overlook South building, he has witnessed people banging on doors and claims that it disturbs the peace of the building. 
There has been no word from the University on whether a formal investigation will be conducted or not. No official suspects have been identified by the University due to limited camera surveillance. The dorms in the Overlook South building have no cameras watching the residence halls in order to protect student privacy.  
If a student feels unsafe, they should not hesitate to report an incident to an RA or call the campus police.