Art Historian Dr. Diana Linden Gives Insight on Ben Shahn's Works
Diana Linden provides a detailed presentation about one of Shahn's murals in the late 30s.
Dr. Diana Linden, art historian of American art, gave a lecture at Ben Shahn Hall in the University Galleries on Thursday regarding the current exhibition, which is dedicated to the artist that is the namesake of the building. The exhibition can be viewed in the South Gallery until Dec. 11. She started off the presentation by announcing her favorite Shahn quote, "All facts are lies. All stories are true," depicting Shahn's desire to represent the working class in his art.
Big white walls and bright lights surround striking artwork in the South Gallery of Ben Shahn Hall. Ben Shahn, an artist that created multiple pieces from the early 1930s to the late 1960s, is honored in the exhibit,  "The World Through My Eyes: Celebrating the Legacy of Ben Shahn."
Ben Shahn's pieces relate to humanity and speak of serious themes. From a sketch of Martin Luther King to French workers providing warnings on slavery, and pieces depicting starvation and death, Shahn's work is based on people's experiences. A Lithuania native, Shahn migrated to America in 1906 and was regarded as "perhaps the most important social-realist artist to have emerged in the early 1930s in the United States," according to art historian and professor of art history Dr. Alejandro Anreus, another scholar who had previously spoken about Shahn's work during the opening of the gallery.
According to Linden, Shahn was a "Jewish immigrant who came to the country at 8-years-old with his family. His background made him empathetic with other marginalized groups. It was a tool or vessel by which he connected with others who were not like Henry Ford."
"His work changed stylistically after World War II," Linden said. "He really wanted to communicate and have an intense commitment to his art."
In the middle of the gallery there are two islands that hold black and white photos named: "Of Whitman, Workers, and Censoring Priests: Ben Shahn's Murals for the Bronx Central Post Office (1938 –39)" These photos were used by Shahn to inspire the "Bronx Central Post Office Mural", a mural depicting Americans working hard in production jobs, to show the collaboration of workers to create a finished product.  
"Shahn himself was quite a storyteller," Linden said. "Years after he made the murals he went to look at them. A man told him he didn't like them but said it makes the people feel welcomed and comfortable at the post office."
During the early 1930s, President Franklin Roosevelt introduced a new deal to help America recover from The Great Depression. The Works Progress Administration's mission was to create jobs and put unemployed Americans back to work. When Shahn became well-known for his art in NYC, the government hired him several times through anonymous competition to paint murals. A huge project he was given was the Bronx Central Annex Post Office and Social Security murals.
The WPA wanted Shahn to paint a local industry, but Shahn went against their desires and painted New York, in what he believed to be its true form. 
One important detail Linden pointed out about Shahn's work is that the workers always had large detailed hands. It represents how much time and energy they put into their physical labor jobs. 
Linden provided brief explanations of some of Shahn's works:
The Resources of America 
A 13-panel mural with the help of his wife of America's industrial and rural workers. They are people who labored in factories and fields. Depicted are steelworkers, textile workers, cotton picking and a range of labor work. 

The Riveter, 1938 
An African American man in the industrial industry.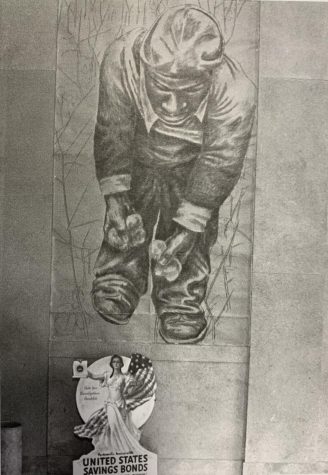 TVA Engineer 
A blue-collar worker bringing electricity into the homes of Tennessee.
Woman at the Mills 
A woman locked into place working away, absorbed in her work.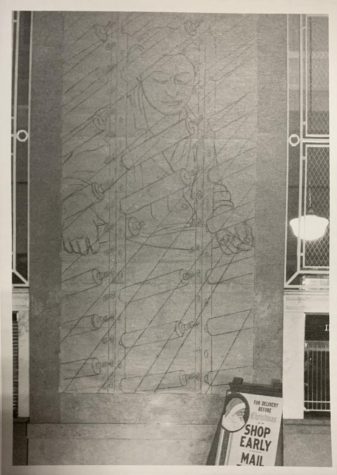 "Shahn has a distinct style of using a heavy outline of shaping/marking the body to identify body marks," said Linden, when showing the photo. "His intention was to make her look held back, in-depth in her work."
Linden calls it "Madonna of the Mills" because the photo has an angelic look. 
When Shahn passed away in March of 1969 in New York, the Ben Shahn Galley Hall was created on campus that same year and named in his honor. Through Galleries like "The World Through My Eyes: Celebrating the Legacy of Ben Shahn," students are able to continue to experience and interpret Shahn's Art.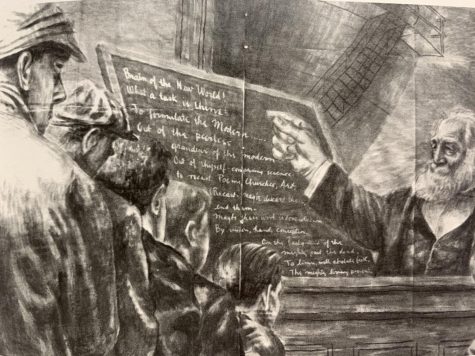 "Untitled" (documentation of Ben Shahn, Walt Whitman in "Resources of America", 1938-1939)