Nicki Minaj announces "retirement", then says new album is coming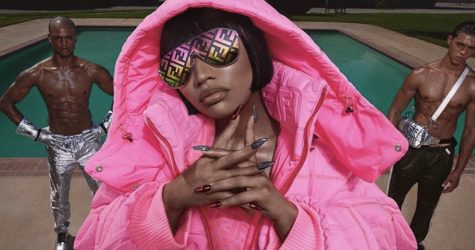 On Sept. 5, the female rapper Nicki Minaj announced her retirement on her Twitter account.
"I've decided to retire & have my family. I know you guys are happy now. To my fans, keep reppin me, do it til da death of me, X in the box – cuz ain't nobody checkin me. Love you for LIFE," tweeted Minaj.
Her fan-base, also known as "Barbz," was not satisfied with this decision. This resulted in Minaj deleting the tweet and issuing an apology.
"I'm still right here. Still madly in love with you guys & you know that. In hindsight, this should've been a Queen Radio discussion & it will be," tweeted Minaj. "I promise u guys will be happy. No guests, just us talking about everything. The tweet was abrupt & insensitive. I apologize babe".
The artist has rarely been active on Twitter since she confronted her fans. She's only been talking about her Fendi print collection that is being released on Oct. 14. 
On Thursday, male rapper PnB Rock released "Fendi", featuring Murda Beats and the queen herself, three weeks after she announced her retirement. She couldn't leave everyone on a bad note. In the hit, she sounds very content with her life and her boyfriend Kenneth "Zoo" Petty.
"I don't even look sexy, but he still tryna sex me ain't gotta get all done up for my dude my attitude is the baddest thing that's on me, boo," rapped Minaj.
Male rapper, DaBaby, released his album "Kirk" at midnight on Friday. Minaj is featured on the song "iPhone."
Almost two weeks after her retirement tweet, the Queens native did an interview with Elle Magazine USA where she revealed that she is currently working on a new album.
"It's probably the most excited I've been about an album release in a really long time. I'm happy that we're not making my fans wait for another album like I've done in the past," said Minaj. "This one incorporates all the things people love about Nicki, but it also just has a way bigger sound, so it goes perfectly with the collection."
This will be Minaj's fifth album. Her most recent, "Queen," was released on August 2018. It peaked at number two on the Billboard 200 chart.
Her previous albums, "Pink Friday," and "Pink Friday: Roman Reloaded," peaked at number one and "The Pinkprint" peaked at number two. Popular hit "Chun Li" was the only single from "Queen" to reach the top 10 on the Billboard hot 100 charts.  
The female rap scene in the last few years has grown tremendously. When Minaj first entered the industry, she was the only female rapper for years. Recently, with the rise of artists like Cardi B, Megan Thee Stallion, Saweetie and Cupcakke, she's had quite the competition. 
Nicki Minaj has created a legacy for herself in the realm of female rap. From releasing mixtapes to becoming the most popular female rap artist, she truly has given female rap a name.