Out With The Old In With The New
For the first time in nearly 15 years  Eli Manning, Drew Brees and Ben Roethlisberger  did not suit up for their teams. Since all of those quarterbacks are well passed their primes it is time for their teams to look towards the future.
New York Giants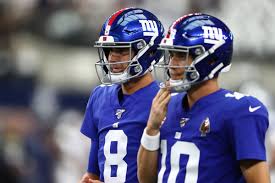 Early last week the Giants decided to make one of the toughest decisions for the franchise and that was to bench long time starter Eli Manning in favor of rookie Daniel Jones.  The Giants have needed to make a move at the quarterback position for years. The Giants selected Jones with the sixth pick in last years draft. Using a pick that high it is almost a given that he would play this season. It was a matter of when not if.
Jones made the most out of Week 3 start against the Tampa Bay Buccaneers. In his first career game as a starter Jones lead the Giants to a come from behind win beating the Bucs 32-31. He finished the game passing for 336 yards and two touchdowns. To cap it off  he rushed for 28 yards and two touchdowns, with his second one coming on a huge fourth down to win the game for big blue.
Even though it was only game Jones showed signs of being the next franchise quarterback. One of the biggest take aways from this game is that he did not crack under pressure. One of the biggest issues that Manning has had for the past few years is turning the ball over. In the preseason the biggest knock on Jones is that he could not hold on to the ball. That was true in this game since he fumbled twice, but at the same time he did not throw any interceptions.
Jones lead the Giants to their first win of the season, without star running back Saquon Barkley who was injured earlier in the game.
Pittsburgh Steelers
The Steelers were without their franchise icon Ben Roethlisberger this week due to a season ending elbow injury. So they turned to second year quarterback, Mason Rudolph as their guy for rest of the season. Rudolph needs to make the most out of this opportunity, since Big Ben is 37 years old the Steelers could be in the market for a new quarterback very soon.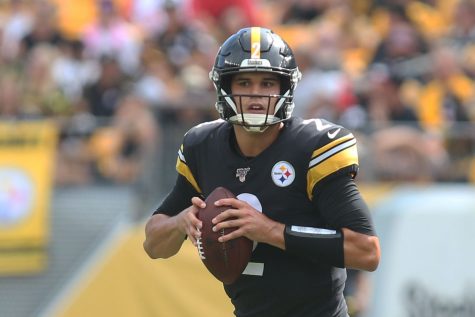 By selecting Rudolph in the third round it's clear that he potentially could replace Big Ben. The Steelers organization as a whole is in the need for some change. Rudolph came in during week 2 to replace an injured Roethlisberger. In that game he played fairly well to say the least.
This week Rudolph made his first career start in a losing effort against the 49ers. The Steelers lost 24-20 against the San Francisco. Rudolph had a tough day at the office only passing for 174 yards and two touchdowns, while only turning the ball over once. On the surface that is a far from impressive performance, but taking a step back and looking at the rest of team the blame can not be pinned on his performance.
Wide Receiver Juju Smith Schuster dropped four passes. While running back James Conner was only able to rush for 43 yards. These two players were supposed to step in and fill in the holes of the offense that formerly run by  Le'veon Bell and Antonio Brown.
As a whole the jury is still out on Mason Rudolph. He has shown flashes of being a potential starting quarterback once Big Ben does decide to hang it up. However right now is the perfect time for him to keep his name in consideration to be the eventual replacement if he is able to win a few ball games and grow as an NFL quarterback.
New Orleans Saints
The Saints are in a similar situation as the Steelers. Having a quarterback who is injured, however can still play when healthy. With Drew Brees being out for six weeks now is the time to see what they have. Initially when Brees went down they went to former Vikings starter Teddy Bridgewater, but that is not their only option at quarterback.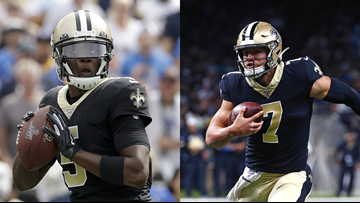 Taysom Hill has been used by the Saints as a utility player on offense even though he is naturally a quarterback. Bridgewater has proven that he can play at an NFL level as a starting quarterback and has proven that he is still cable of doing so. He lead the Saints to a 33-27 win over Seattle where he passed for 177 yards and two touchdowns. While Taysom Hill was used as a decoy and wide receiver where he caught one pass for five yards.
Right now the goal for New Orleans is to use both of quarterbacks as best they can until Brees comes back. The time table for his return is roughly about six weeks. So if Bridgewater can keep the team afloat in a weak NFC south until Brees can return he has a good shot at being the future starter once Brees calls it a career.
While Hill has to be ready to step in as the quarterback  if something were to happen to Bridgewater or if his play drops off. The Saints are in an interesting situation at the time. If the Saints offense performs like the Super Bowl contender they are, then do they make the switch and go back to Drew Brees?
Brees is going to be be a 40-year-old free agent at the end of the season. While Bridewater is also going to be a free agent at 27-years-old. This puts the Saints front office in between a rock and a hard place. Since both of their quarterbacks can hit the open market this off-season, the Saints have a tough decision to make.  Are they going to stay with a franchise legend and give it one more go at a title. Or are they going to move on and keep the younger quarterback in Bridgewater?
If Bridgewater performs and proves that he can still be a starter, then he is going to get paid, by either the Saints or another team desperate for a quarterback. Regardless, if Brees does not take a team friendly discount it will be extremely difficult for the Saints to keep both on the team. The next six games will impact the Saints for years to come, one way or another.