Funny, Meaningful and Empathetic: the Filmmaking of Joe Saulenas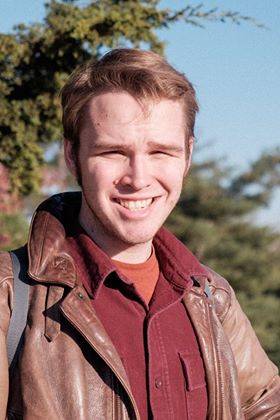 From acting in comedy sketches and writing skits to going on-air as a DJ for Brave New Radio and directing his own films, it might have been easier to ask Joe Saulenas which aspect of media production he hasn't touched.
Saulenas, a senior, is wrapping up that experience with a capstone project that questions the ability of television to do what he believes all entertainment should: create empathy.
"People having empathy in their lives is a big deal to me," he said. "I think that's what the whole art of entertainment is supposed to be. It's all an exercise of empathy, in finding people's experiences and telling people's stories as a way to experience them yourself as an audience."
His capstone, "Television Man," is a ten-minute film about a man in his 20s who loses his job and becomes so enthralled by television that the next morning, a man on TV begins instructing him on how to fix his life.
The lessons given by the television man are based entirely on TV tropes. Saulenas gave the example of traditional sitcoms, where problems are fixed after 30 minutes with a heartfelt conversation.
"It's about a man who is losing his ability to empathize, because he is forming a sense of the world that is based in fiction, and he's being taught by a man who's without empathy," Saulenas said.
He directed, wrote, filmed, acted in and is editing the film.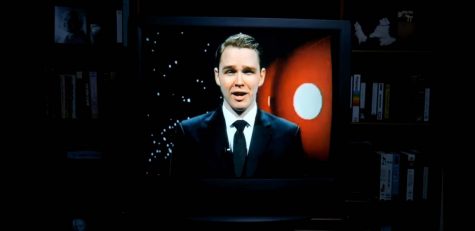 The inspiration behind "Television Man" is "I Should Watch TV," a song written by David Byrne. Saulenas said the song was influenced by Walt Whitman's poem "Song of Myself."
In "Song of Myself," he explained, Whitman imagines himself as a "disembodied figure" flying across America and identifying with all the different types of people in the country. "I Should Watch TV" questions whether watching television can achieve this because it is fiction.
Saulenas liked that idea. He initially scripted a few visuals for the song two years ago, which became a few scenes and ultimately became the project it is now.
"I was like, alright, this is all very good but I need a scene to go before it, so I started writing that scene, I was like, no no no, I need a few more scenes," he said. "So basically I wrote a whole film that ends with that music video, and I talked to my professor, and he said, 'why don't you just do the film?'"
"Television Man" was also inspired by the Talking Heads song by the same name, which explored similar themes about television.
"In the past few decades TV has been a huge part of our culture, and it's kind of shaped the way people view our reality, even though it's not an accurate descriptor of reality, so it can cause problems with people, socially," Saulenas said.
Saulenas has done a lot of research on Byrnes inspiration from past writers in work dealing with American issues and people for his honors thesis in the College of Humanities track.
"A lot of his music is about people finding ways to connect with each other in a more and more confusing world," he said.
It's also essential to Saulenas that he incorporates humor into his filmmaking.
"It's a sad story, but it's also very funny, because I have to do both," he said about 'Television Man.' "I can't not do both."
"Television Man" will be screened at the Student Film Festival on April 28 at the Hawthorne Theatre.
In the summer of 2017, Saulenas wrote and directed "Keg Warmer," a comedic silent film about a beer salesman who hopes to turn profit by creating warm beer.
That film was a product of a Super 8 Camera, eight millimeter film and a high school nickname for his friend Greg Warner.
Saulenas also enjoys writing comedy sketches and acting in comedy plays. Last semester, he performed stand-up comedy at Gotham Comedy Club in Manhattan.
Last month, he performed a sketch he wrote about a store that sells feelings at William Paterson's first comedy festival.
A short comedy video he directed, "Pocket," where people were interviewed about their pockets (despite one woman's lack of them), was also screened at the festival.
"I like comedy about me, I like it to be fun, and I like it to be not mean – at least not to anyone who doesn't deserve it," he said.
But even in his funniest, strangest work, there is always an underlying meaning.
"I hate watching a movie that doesn't mean anything," Saulenas said. "Even in Keg Warmer, I was able to extrapolate meaning – it was about a man that was against nature, against God, something no man should ever try."
After graduation, Saulenas plans to find work that involves video editing and spend his free time making more movies with friends.
"I like seeing a project come together," he said. "It's cool to see the different changes you can make with it, to see all the stuff you wrote in your script and how it's reflected in real life in the different stages of the project. It's great."
He is currently an intern at Z100, where he helps edit videos for the morning show. He is also the news director at Brave New Radio. In a year or two, Saulenas plans on applying to different film schools.
Saulenas has always enjoyed movies. He recalled watching a lot of movies with his family and spending a lot of time at theatres with his friends.
"I just watched so many movies that I liked the idea of making them; I liked telling stories. I'm into the humanities because I want to tell stories that mean something," he said.
In his senior year of high school, he enjoyed analyzing "The Godfather" for a paper. Going into college, he also knew he wanted a career in comedy, film, or television.
Saulenas decided to go to William Paterson after seeing and liking the TV studio.
In addition to Brave New Radio, he has also been a part of the Pioneer Players and the TV Club.
He credited Professor Williams and Dr. Guerrieri as the professors who helped him the most at William Paterson.
"I like [Williams'] style, he's very upfront about stuff. He believes in students as long as they put in the effort," he said. "I like Dr. Guerrieri because a lot of her teaching reminds us to have empathy."