One Decade Later – the Best Songs from 2009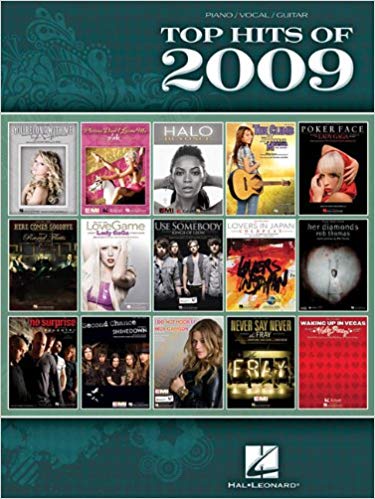 A decade ago, the country was an almost completely different place. The first African-American president was one year into his presidency, the New York Yankees won their first World Series since 2000 (consider it a drought) and the music scene was incredibly different.
In 2009, pop-sensation Justin Bieber was still a year away from his debut, Lil Wayne was the face of hip-hop and Taylor Swift and Lady Gaga just broke through in years prior. You weren't dating someone if it wasn't "Facebook official" and major apps like Instagram and Snapchat weren't invented yet. Times were different, but who could forget these songs that were at every middle school canteen, homecoming dance and party of 2009? I bet you remember exactly where you were the first time you heard them.
Here are the top songs turning 10 years old.
10. "Down" – Jay Sean feat. Lil Wayne
"Down" served as British singer Jay Sean's first single to release in America. He teamed up with label-mate Lil Wayne and together they made one of the best melodic songs in 2009. Sean's vocals flow smoothly over the lyrics without sacrificing enunciation. When "Down" reached no. 1 on the Billboard Hot 100 chart, it was the first time an Indian-origin solo artist achieved the feat in America. It also dethroned the 26-week run of the Black Eyes Peas "Are you down?
9. "I Know You Want Me (Calle Ocho)" – Pitbull
Although he was around since 2002, Pitbull's breakthrough came in 2009. "I Know You Want Me (Calle Ocho)" is daring and seductive with its lyrics. The music video was the most viewed music video on YouTube in 2009 with a total of 82 million views. An interesting part about Pitbull's hit is that it has rap-like verses and a pop-oriented chorus. The two work well together and give it a unique sound showing that Pitbull can do both. Switching back and forth between English and Spanish helps too.
8. "21 Guns" – Green Day 
Green Day was popular way before 2009. They have a dedicated fan base that follows them throughout all their musical changes. That said, there was a four year gap since their last commercial success. "21 Guns" was their highest song on the Billboard Hot 100 at no. 22 since "Wake Me Up When September Ends" peaked at no. 6 in 2005. The slow, rock ballad has calming chords that quickly change to a fast-beat chorus to change the mood of the song. Billie Joe Armstrong's vocal range turns this great track into a stellar one.
7. "Right Round" – Flo Rida feat. Ke$ha
Flo Rida consistently put out hits in the late 2000s and early 2010s and "Right Round" is no exception. The beat gets people dancing and the rookie singer Ke$ha works well with the electronic staccato section of the chorus. With an easy-to-sing chorus combined with Flo Rida's smooth verses, "Right Round" is one of the definitive songs from 2009.
6. "Run This Town" – Jay-Z feat. Rihanna and Kanye West
Jay-Z returned to the rap game in 2009 with his third installment in "The Blueprint" series. His final installment includes hits like "Empire State of Mind," "Young Forever" and "On to the Next One." However, "Run This Town" was the peak of the album. Side by side with Rihanna and Kanye West, Jay-Z created one of the biggest pump-up songs of the decade. The apocalyptic theme in the video compliments the lyrics marvelously.
5. "Party in the U.S.A." – Miley Cyrus
"Party in the U.S.A." was Miley Cyrus' first hit out of a Hannah Montana show. Originally written for Jessie J, this hit put Cyrus' name in the conversation as a legitimate artist and not just a Disney Channel actress. The chorus in "Party in the U.S.A." is simple and is repetitive which is a benefit to the song. Short verses with quick stories and emphasis on the great chorus is why this song cracked the top-5 on this list.
4. "Tik Tok" – Ke$ha
"Now the party don't start 'till I walk in…" You just started singing the chorus in your head. That's what Ke$ha did to her listeners when her major label debut album "Animal" came out. "Tik Tok" is far and away the pinnacle of the album. Her carefree attitude and party-first, ask no questions mentality resonated with just about every teenager in America. "Tik Tok" served as the lead single from "Animal" which bares a resemblance to Lady Gaga's debut album "The Fame" in that they both heavily relied on electronic-pop mixes and synths. "Tik Tok" would go on to be certified 5x platinum by the Recording Industry Association of America.
3. "Forever" – Drake feat. Kanye West, Lil Wayne and Eminem
It was the rap super-song of 2009. "Forever" came from Lebron James' "More Than a Game" documentary soundtrack. It was a rookie and the future of music teaming up with three hardcore, veteran wordsmiths. The debate continues today, but most tend to agree that the returning-recently-sober Eminem stole the show. The six-minute epic peaked at no. 8 on the Billboard Hot 100 list. This was Drake's highest debut on the charts and marked his third debut in the top-10. With a catchy chorus, memorable lines and an all-star lineup, this song is still one to listen to today.
2. "Bad Romance" – Lady Gaga
Lady Gaga made sure that when she broke onto the music scene in 2008 it wasn't with just one song. "Just Dance," "Poker Face" and "Paparazzi" were constantly on the radio. With a debut like that, she would even a good sophomore project would be considered underwhelming. So what does she do? She makes a great sophomore project and "Bad Romance" debuted at no. 9 and peaked at no. 2. Her dance, electro-pop genre is similar to that of her first hits and "Bad Romance" conveys the darker side of fame. In a Rolling Stone article ranking her songs at the time, Jody Rosen declared "Bad Romance" as her best song to date. The video is the only one of all of Gaga's to reach 1 billion views on YouTube.
Honorable Mentions:
"Whatcha Say" – Jason Derulo 
Derulo's debut single is one of the most relatable songs on this list. Revolving around the guy cheating on the girl and begging for a second chance, it is a story all-too common with today's relationships. The track liberally samples Imogen Heap's "Hide and Seek," especially in the chorus. But to keep it fresh, Derulo weaves in and out of the sampled lyrics flawlessly.
"Whataya Want From Me" – Adam Lambert
The American Idol eighth season runner-up struck gold with this discarded song by P!nk. That's right, this was originally P!nk's song and she gave it to Lambert. His vocals would earn him a Grammy nomination for Best Male Pop Vocal Performance. It peaked at no. 10 on the Billboard Hot 100.
"Fire Burning" – Sean Kingston
This is the song that proved Sean Kingston was not just a one-hit wonder with "Beautiful Girls." "Fire Burning" brings the Miami native back into the limelight with this major club hit. The heavy synth, percussive sounds and repetitive chorus all make for a huge dance hit. "Fire Burning" debuted at no. 29 and peaked at no. 5 on the Billboard Hot 100.
"Bedrock" – Young Money
This song introduced the entire label of Young Money to the world. Little did the world know that some of them would go on to be part of the future of hip-hop like Drake, Nicki Minaj and Tyga. The chorus is infectious and easily singable. Did us kids realize what it meant when we were 12 or younger? Probably not. "Call me Mr. Flintstone…"
"Bulletproof" – La Roux
The synthpop hit "Bulletproof" went under-appreciated compared to other mainstream music. It debuted at no. 1 on the Billboard Hot 100 in the United Kingdom and peaked in America at no. 8. Why didn't you hear from the duo again? They broke up before they could make a second album. "Bulletproof" is, and unless otherwise proven, always will be the group's biggest hit.
1. "The E.N.D." – Black Eyed Peas
I know, I know. An album as the no. 1 spot on this list? I'm sorry, you have no idea how hard it was to pick. While the Black Eyed Peas aren't exactly the first music act we think of on this list, every song that made it radio was a hit. "Meet Me Halfway," "Imma Be," "Rock That Body," "Boom Boom Pow" and "I Gotta Feeling" has racked up a total of 1.21 billion views on YouTube to this day. Their songs were at most major events throughout the year, and the parties didn't end until it closed with "I Gotta Feeling." 2009 belongs to the Black Eyed Peas.