Trae Young: Stepping Out of an Overwhelming Shadow
For the first three months of the NBA season, it was almost impossible to mention 2019's fifth overall pick, Trae Young, without being associated to the trade that went down the night he was drafted.
Despite being a very high-level talent, Young was immediately overshadowed by being traded for a standout rookie who was having a historic first season in Luka Dončic. Aside from the trade and them both being rookies, that's essentially the only commonality the pair share. Being compared to Dončic so early into the season was unfair for more than just the lack of connection between the two; as mentioned, Dončic was having a historic rookie season that would overshadow any rookie in the current class.
It didn't help that within the same first three months of the season, Young's shot was really inefficient and he was one of the league's worst defenders. Since the turn of the calendar year though, Trae Young has been nothing short of spectacular for his age.
Coming into the league, the comparisons of Trae Young to Steph Curry were made by many casual watchers, but there's much more to Young's game than just the outside shooting. The intangible trait of Young that was put most under a microscope in the drafting process was his size– or lack thereof. Trae Young is small, and cannot be very physical because of it; that isn't made to be hidden here. Despite being undersized, he still remains adamant to be aggressive around the rim. At 17.6 per game, Trae Young is third in the NBA in drives per game, ahead of rim destroyers like Russell Westbrook, Giannis Antetokounmpo and LeBron James (and well pretty much everyone else besides Harden & DeRozan). Though his finishing has regressed a bit since his hot start to the season, even the act of driving that often shows promise. The shooting around 53% from within 5 feet strikes red some flags for now, but guards to tend to find their rhythm inside with time.
Trae's early season "woes" have really been turned on their heads as the calendar year shifted to 2019. In the last two months, he has been the best rookie in the league.
There's a series of numbers Young has put up in this stretch that historically match up with some of the league's greatest players ever. Trae Young has been on a ridiculous scoring tear as of late, resulting in him leading the entire league in total points scored since the all-star break.
A three-game stretch in late February saw the Hawk post 35 points and five or more assists in three consecutive outings, putting him heights only Michael Jordan and Allen Iverson have ever reached as rookies. This streak climaxed with the standout game of the year when the Hawks lost to the Chicago Bulls, but not before pushing them to four overtime periods in the highest-scoring game of the season with the Bulls finally winning 168-161.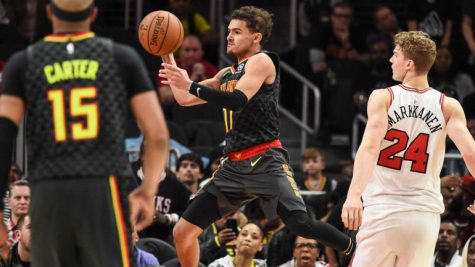 History has shown that marquee players experience a single game where the tide completely shifts a player from prospect to future star and that four OT loss might be Trae Young's single-game pivot. In the game, Trae posted a ridiculous 49 points, 16 assists and eight rebounds, which is a historic statline in a multitude of different qualifications. In the game, Young was the only rookie aside from Oscar Robertson to post 40 or more points and 15 or more assists in a single game, only rookie aside from Oscar Robertson and Michael Jordan to put up 40 or more points, 10 or more assists, and eight or more rebounds, and somehow most impressively, aside from James Harden, the 20-year old was the only person to ever put up his statline of 49/16/8 or better in the entire history of the league (regardless of years of experience).
This article is not meant to suddenly steer Trae Young's Rookie of the Year Award campaign. Young's game still has some major holes, primarily on the defensive side of the ball, and Luka Dončic is still a step above everyone in that race. That doesn't mean Trae Young should continue to reside in his shadow because the two were traded for each other. The Hawks young core of Trae Young, John Collins, DeAndre' Bembry, Kevin Huerter, and Taurean Prince already looks very promising, and quite frankly is probably a better fit with Ice Trae running the show. Trae Young and Luka Dončic can both be great parallel from each other without a direct, overhanging connotation between the two. And it looks to be that both Luka Dončic and Trae Young will be great for a really long time.