Pioneers Goaltender proving doubters wrong with strong first season
The score is 4-0 in the second period and the Toledo Cherokees are making a goalie change. A young Jeremy Hamerquist made his way to the net to get settled in.
The Cherokee's offense was stagnant until the change. Throughout the third period, Hamerquist was called on to make some big saves and Toledo rallied back to force the game to overtime. Nothing was resolved and Hamerquist was going to a shootout.
"I think it was like, fourth round, one of my buddies, Ricky, was coming up to shoot and I remember I was like 'Ricky, just please score and end this,'" Hamerquist said.
He scored, and Hamerquist had his first junior win. The Woodland Park, Colorado native had taken another step forward with that achievement. Starting at the very beginning of putting the goalie pads on at the outdoor rink just five minutes from his home.
"My dad would take me down there and it was one of those situations where someone's got to put the pads on so one day I did it," Hamerquist said. "At first it was like 'I love the pads, the pads are so cool' and then you feel that puck hit you, you're good at it and then it becomes 'yeah I kind of like this.'"
Now, Hamerquist, a freshman, is one of four goaltenders on the William Paterson roster. In his first collegiate season, he played the majority of the minutes, posting a 7-8-0-1 record with a 3.70 goals against average and a .905 save percentage. His journey to Wayne, New Jersey wasn't easy though and was sometimes deflating. He first played junior hockey in Toledo, was traded from Toledo to Colorado and then went to Florida to play with the Eels in the United States Premier Hockey League prior to moving to the Garden State.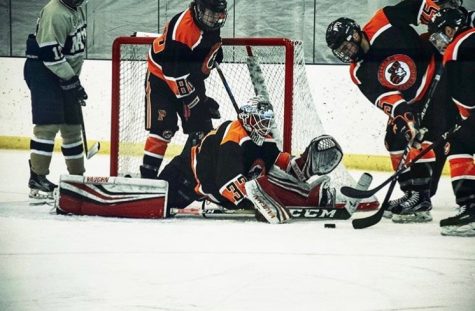 Along the way, there were other opportunities as well. With his original plan being "DI or bust," Hamerquist always was committed to getting to the next level of hockey. However, there were issues. In an attempt to get to the United States Hockey League, teams rejected him because he was too small at 5-foot 10-inches. Other teams like the Odessa Jackalopes of the North American Hockey League was an opportunity but another goalie younger than him got the spot. Politics of age is the reason Hamerquist ended up in Toledo and also why he got traded from Toledo. Not all athletes can say they've been traded and while it might sound interesting, it's not as glamorous as some may think.
"At first you're like, 'wow, I can be traded,' but then you sit there and think what did I do wrong?," Hamerquist said. "It's like saying bye to a family because hockey is a very close sport and it's tough because it's a group of guys you'll probably never see again together."
He traveled north of the border to Canada to try out for the Salmon Arm Silverbacks, however, he was rejected for his age. In junior teams in Canada, the younger the player, the better chance he'll be accepted, which put Hamerquist in a gray area. So he turned to Florida.
In Florida, Hamerquist met a general manager named Frank Scarpaci that made sure he would find a place for the goalie to play. Scarpaci had him send out "anywhere from 400-500 emails" to different coaching staffs. William Paterson Head Coach Joe Ballance was one that responded.
"He [Scarpaci] told me 'Hammer, this is a really good opportunity' and I left a couple DIII options," Hamerquist said. "When it came down to it, I just thought that to myself 'I want to play hockey and I want to have fun with it.' I was looking for the best opportunity and I was done with the politics of the game."
His first game at William Paterson was similar to his first win in junior hockey, they both went to a shootout. The Pioneers lost that game to West Chester University 5-4. Hamerquist went in thinking it was just another game to prove himself. While there were nerves, he made it like any other game. Before hopping on the ice, he dances, juggles and listens to music – in no particular order. He also calls an old goalie coach Matthew Wierzba before most games.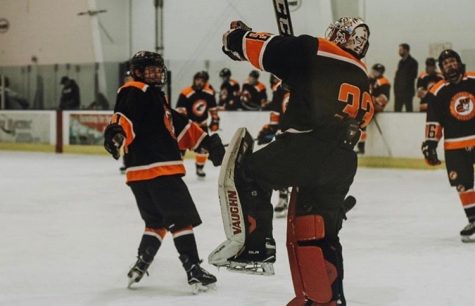 "Sometimes it's not even about the game, it's just a 'hey, how're you doing' or we'll crack a joke, it's just a trigger to remind me to have fun," Hamerquist said.
One part of the game that Hamerquist has dealt with from the very beginning of traveling is not playing in front of his parents. Most, if not all, that travel for hockey deal with this too, so it's a common issue. That said, with his parents no longer together, sometimes family comes to the front of his mind.
"It gets you here and there," Hamerquist said. "When you get on the ice for practice, that's what you're supposed to be doing, but sometimes it comes back here and there, it's stress."
Now, 1,795 miles from Woodland Park, Colorado, Hamerquist is blending in with his new hockey family. He and three other goalies could be problematic for the Pioneers because there are four people competing for one spot. Instead, the goalies are close and supportive of each other while still competing for minutes.
"Me and Nate (Leo) got along perfectly fine, he was supportive and helped me when I needed it," Hamerquist said. "At the end of the day, you're best friends with those guys, it doesn't matter who's playing, it matters if the team is winning or not."
William Paterson just wrapped up its first season of DI play in the American Collegiate Hockey Association on Saturday against Lehigh University. The promotion came in 2017 and the Pioneers capped off last year by winning the league title. With over 10 new faces as William Paterson entered DI, there was going to be an adjustment period. This year, William Paterson has played some of the best defense overall, not just in their division, the Eastern Collegiate Hockey Association. They rank first in goals allowed with a total of 84. The issue is, they've only scored a total of 82 goals. While the team did not gel overnight, they've played well together and improved as the season went on.
"Guys are still getting used to the way kids play so I think the longer this group is here, the better we're going to get," Hamerquist said.
As a freshman, Hamerquist took the opportunity head-on and had a strong first season, ultimately proving that his age, nor his height mattered in his skill. The Pioneers have him and three other options in net as they go into the playoffs which begin on Feb. 22 in West Chester, Pennsylvania.