University President, Paterson Mayor Combine Forces to "Propel Paterson"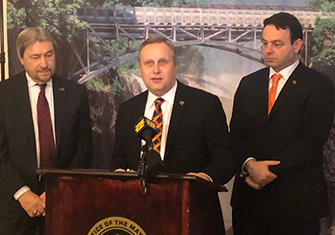 1550788379
Propel Paterson, a coordinated effort between university President Richard Helldobler and Paterson Mayor André Sayegh to improve the quality of life in Paterson and its surrounding communities, kicked off Friday Feb. 15 at the Student Center Ballrooms with a series of breakout sessions addressing healthcare, education, business, social services, arts, culture and tourism.
Each session resulted in a list of what needs to be done to improve the area, with specific plans on how to achieve positive change. Participating members were asked to look beyond traditional means of achieving the most effective policies for each issue at hand.
The literature at the event described the compiled lists for change as the "Blueprint for Propelling Paterson." This blueprint was put together and supervised by both William Paterson University faculty members and officials of Paterson, including WPU professors, associate deans, faculty from St. Joseph's hospital, the president of Passaic County Community College and various Paterson program directors and political figures.
The healthcare panel, led by Associate Dean Dr. Jean-Fuller Stanley, assistant professor Dr. Persephone Vargar and St. Joseph's Health VP Kenneth M. Morris, focused on expanding the definition of healthcare to try to find innovative ways to improve overall health in Paterson. The panel was encouraged to assess environmental factors, public health elements and other facets of healthcare.
The education panel, led by PCCC President Dr. Steven Rose, Associate Dean Dr. Dorothy Feola and professor Dr. Julie Rosenthal, aimed to talk about the many options for continued education. The panel was encouraged to discuss meeting the needs on non-traditional students that want to succeed in a trade, and helping students in general to take advantage of local and national opportunities.
Other panels focused on creating businesses and job opportunities in Paterson, ensuring the safety of children and assessing the system of social services in place and expanding art, culture and tourism in the city
According to President Helldobler, William Paterson University has been collaborating with the city of Paterson since its original founding in 1855 as the Paterson Normal School. It was Paterson's only higher education establishment at the time. WPU has ever since been working with Paterson through civic engagement, assisting in business development, faculty research and partnering with the city's educational efforts.
WPU is the only university in New Jersey with civic engagement requirements for students. In fact, WPU offers a wide range of programs and activities to Paterson, some of which include tutoring and mentoring in Paterson schools and after school programs, recreational activities with the elderly at Doctors Subacute Care in Paterson and environmental clean-up at the Paterson Great Falls National Historical Park.
Jazz students have performed in Paterson at an event called "Tuesdays in the Plaza," and tours of William Paterson University's art galleries and trips to WPU theater productions are held for Paterson's public school students as a way to increase enrollment in these higher education programs. William Paterson students and faculty work together with Paterson school teachers in after-school literacy programs as well. WPU has a Small Business Development Center in Paterson, which works in coordination with the Valley Road Center in Wayne and is dedicated to assisting aspiring entrepreneurs in Paterson.
The Propel Paterson initiative will continue to meet at WPU in the future to expand on the plans laid out in these first sessions.