Journalism Professor Converts Dissertation into a Book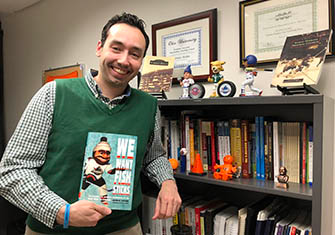 Walking into Dr. Nicholas Hirshon's office is like walking into a museum of personal artifacts. The assistant professor of communications has achievements like his Ph.D. from Ohio University framed, past press credentials hung on a cork board and the books he wrote on display on the top shelf of his bookcase.
He sits calm and collected in his chair, but exhausted from the past few weeks of advertising his latest book, "We Want Fishsticks! The Bizarre and Infamous Rebranding of the New York Islanders." The book, released on Dec. 1, follows the Islanders rebranding in the summer of 1995. The drastic change from the club's classic royal blue look is partly due to an embarrassing playoff elimination from their rivals, the New York Rangers one year prior. The once-storied Islanders franchise entered into an era of disarray, which started with the change to the bold look in the mid-90s.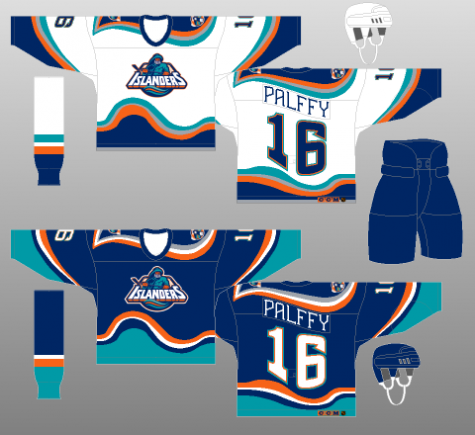 Hirshon became a fan in 1999, after the three years of the wave jerseys. Even though they moved on from the look, the Islanders were still a last-place team and were mocked by fans of other local teams. Of all the topics to write about, describes this as a "passion project."
"For me it was, if I have to write this, I'll be damned if it's just going to be a dissertation," Hirshon said.
Hirshon did take a risk with this topic. He purposely chose to omit the scholarly language typically used in a dissertation. Traditionally, a dissertation is very niche and the audience is small with its own jargon. In this instance, Hirshon was writing for more than just the committee he was presenting to.
"For the guy who's sitting next to me at Nassau Coliseum, I'm writing it for him, not for some ivory tower academic who is reading about the Islanders for the first time," Hirshon said.
To start the topic, Hirshon began research in 2014 starting by making a spreadsheet of all the players to ever wear the jersey. He scoured LinkedIn for contact information on anyone as well as googling people. He describes his process like a "journalist mentality" – to leave no stone unturned. Finding old articles, whether online or through physical archives, was another challenge.
Hirshon spent hours going through microfilm, a scaled down version of old forms of media to find original articles on the uniform. Through his searches, he found the first one ever written by a local reporter named Colin Stephenson. He was at The Daily News at the time and mocked the new uniform. Hirshon criticized him in the book for putting that pre-conceived thought into people's heads.
"If that's the first time you hear about this and it's presented to you by a friend as 'Hey look, isn't this a stupid logo?' then you're pre-conditioned to think it's lame and you don't have a moment to make up your own opinion," Hirshon said.
The promotion process is long and time-consuming. Hirshon has planned signings, meet-ups and several interviews. Despite it being tiring, he describes it as rewarding seeing who wants to talk about it. He's been on several podcasts and radio interviews since the book's release, including a radio interview with TSN across the continent in Edmonton.
There are some differences between writing a book and writing for journalism, which Hirshon is normally programmed to do. The journalism professor had fun writing the book because it gave him a chance to write more than normal.
"It's fun because now you can include longer quotes that you previously couldn't for a 500-word story," Hirshon said. "As a journalist, you're taught just the facts, as a historian you're trained more to give critical analysis."
There's also a different mentality when writing like how to keep readers engaged. For people interested in writing a book, getting a good publisher and taking time to do it, rather than doing it fast, are things he recommends.
"We Want Fishsticks" is not the only book Hirshon has written.  The first book is "Images of America: Nassau Veterans Memorial Coliseum"  and his other is "Images of America: Forest Hills." Both are historical books where it focuses on the area in the title. For instance, the Nassau Coliseum book focuses on the entirety of the building's history, not just the New York Islanders and their time at the arena.
What's so special about "We Want Fishsticks" is that the story of that time period has almost come full circle. Before the Islanders returned to Nassau Coliseum on Dec. 1, they re-released the navy blue fisherman jersey in stores due to the younger fans having an interest in the uniform. People from all generations can pick the book up and learn about that time period in the Islanders history. It's more than just the jersey though. Hirshon scores interviews with former players, designers and even the short-lived mascot, NYISLES. The interest can come from not just fans, but players too. Islanders defenseman Scott Mayfield tweeted about the book himself.
"Whether it's a famous player, a news outlet or the fans, it's nice to know that the work was appreciated because it takes a lot out of you," Hirshon said.