2018 World Series Champions: The 2014 Detroit Tigers
Like any front office executive, Boston Red Sox president of baseball operations and general manager, Dave Dombrowski, has always had World Series aspirations. The 2018 Red Sox World Series championship–their fourth in 15 years following an 86-year championship drought, is the second for Dombrowski, his first with an American League team; 30 years after he became the youngest general manager in Major League Baseball with the Montreal Expos in 1988.
Much like his first World Series championship with the 1997 Florida Marlins, who defeated the Cleveland Indians in seven games, Dombrowski leaned on a few familiar faces to turn bring his blueprint to the forefront.
Dombrowski was the a member of the Chicago White Sox front office from 1978-1986, working his way up to assistant general manager by the end of his tenure. Well regarded skipper, Jim Leyland was the White Sox third base coach from 1982-1985, prior to his first managerial gig with the Pittsburgh Pirates from 1986-1996.
Fast forward to 1997, Dombrowski now in his fifth year as the general manager of the expansion Marlins who were still seeking their first winning season, Dombrowski turned to a familiar face in Leyland who lead the club to a 92-70 record during the regular season and their first World Series victory. Even off-season acquisitions, outfielders Bobby Bonilla and Cliff Floyd had previous ties to Dombrowski–Bonilla, a Rule 5 selection by the White Sox in 1985 before playing for Leyland in Pittsburgh from 1986-1991 and Floyd who was drafted by Dombrowski during his tenure with the Montreal Expos in 1991.
After making the move to the American League in 2002, joining the Detroit Tigers as the president and chief executive officer before adding general manager to his title, Dombrowski turned to Leyland in 2006 to right the ship after Detroit lost 90 plus games in each of his first four seasons with the club. Leyland had spent 18 years with the Tigers organization, the first seven as a catcher in their minor league system from 1964-70, followed by a stint as the class-A manager from 1972 through 1981.
Under the eventual 2006 BBWAA Manager of the Year selection; Leyland's tutelage, the '06 Tigers would go on to win 95 games that season, their most since 1987, defeating the New York Yankees and Oakland Athletics en route to the their first World Series appearance since 1984, where they would fall to the St. Louis Cardinals in five games.
Prior to the 2008 season, Dombrowski traded for budding superstar, Miguel Cabrera, whom he signed as an amatuer free agent in 1999 amidst his tenure with the Marlins when Cabrera was just 16 years-old.
Although Cabrera never played for Leyland during his time in Florida, the two members of the Dombrowski executive tree flourished in Detroit–reaching three consecutive ALCS from 2010-2012 including a World Series birth in 2011. Cabrera was named to the AL all-star team in three of his first five seasons in Detroit, earning a pair of Silver Slugger Awards and taking home Triple Crown and MVP honors in 2012.
Following the 2013 season Leyland retired from managing, remaining with the Tigers organization as he assumed a role as a special assistant.
The 2014 season brought enense expectations to Detroit, following three consecutive AL Central division titles, the extensive financial commitment to players such as Cabrera and Justin Verlander with a payroll over $180 million and the burning desire of aging owner Mike Illitch to bring a World Series title to the city of Detroit.
Ian Kinsler, J.D. Martinez, Rick Porcello and David Price all have one thing in common. They were all members of the 2014 Tigers   and the 2018 Red Sox.
The 2014 Detroit Tigers are World Series champions. Well, some of them. In a plan that just came to fruition four years late.
In the 2013 offseason, Dombrowski acquired Kinsler from the Texas Rangers in a trade involving fellow all-star Prince Fielder, before signing J.D. Martinez to a minor league deal prior to Spring Training in 2014. Porcello had been drafted by Dombrowski  with the 27th overall selection in the 2007 first-year player draft out of Seton Hall Preparatory School in West Orange, N.J., fast tracking him to the big leagues, as the youngest player at the age of 21 in 2009.
Price was acquired in a three-team July 31 deadline deal, involving the Tampa Bay Rays and Seattle Mariners.
The foursome accounted for four of the top 10 in WAR for the 2014 Tigers who went on to win 90 games, securing their fourth consecutive division title, before suffering a division series exit on the hands of the Baltimore Orioles.  Kinsler paced the club with a 5.8 WAR, with 188 hits at a .275 clip with 17 home runs, 40 doubles, 15 stolen bases, 92 RBI and 100 runs scored, while being selected to the American League all-star team. Martinez and Porcello both accumulated WAR's of 4.5, good for fourth on the club. Martinez hit .315, slugging .553 with 23 home runs 30 doubles and 76 RBI, while Porcello's 15 wins and 3.43 ERA over 204 2/3 innings ranked second among qualifiers on the club. Price 1.7 (10th) picked up four wins with a 3.59 ERA, fanning 82 over 77 2/3. after making just 11 starts.
Dombrowksi was relieved of his duties following a 60-69 start through the first 129 games of the 2015 season, ending a 14 year reign which resulted in five postseason appearances and two American League pennants.
In the same 2015 season, two weeks later Dombrowski was named president of baseball operations of the Boston Red Sox–reuniting him with Porcello whom he traded to Boston following the 2014 season. In the 2015 off-season, his first as a member of Boston's front office, Dombrowski inked Price to a seven-year/$217 million contract after trading Price to Toronto before his mid-season departure. J.D. Martinez joined the reunion party prior to the 2018 season, signing a five-year/$110 million deal. Like Price in 2014, Kinsler was a mid-season acquisition–joining Boston in a July 30 deal with the Los Angeles Angels.
Martinez (6.4), Price (4.4) and Porcello (3.3) ranked third, fourth and seventh in WAR for the 2018 Boston club that won a franchise record 108 games during the regular season en route to an AL East division title. Martinez, the starting designated hitter for the AL in the mid-summer classic, lead the team in both home runs and RBI with 43 and 130, ranking second in the AL, while scoring 111 runs and  slashing .330/.402/.629. Price's 16 victories was good for second on the club behind Porcello's 17. The two combined to make 63 starts during the regular season, the most of any two Boston starting pitchers, with 8.9 K/9.  Kinsler made  37 appearances, accumulating 32 hits while winning the Gold Glove Award.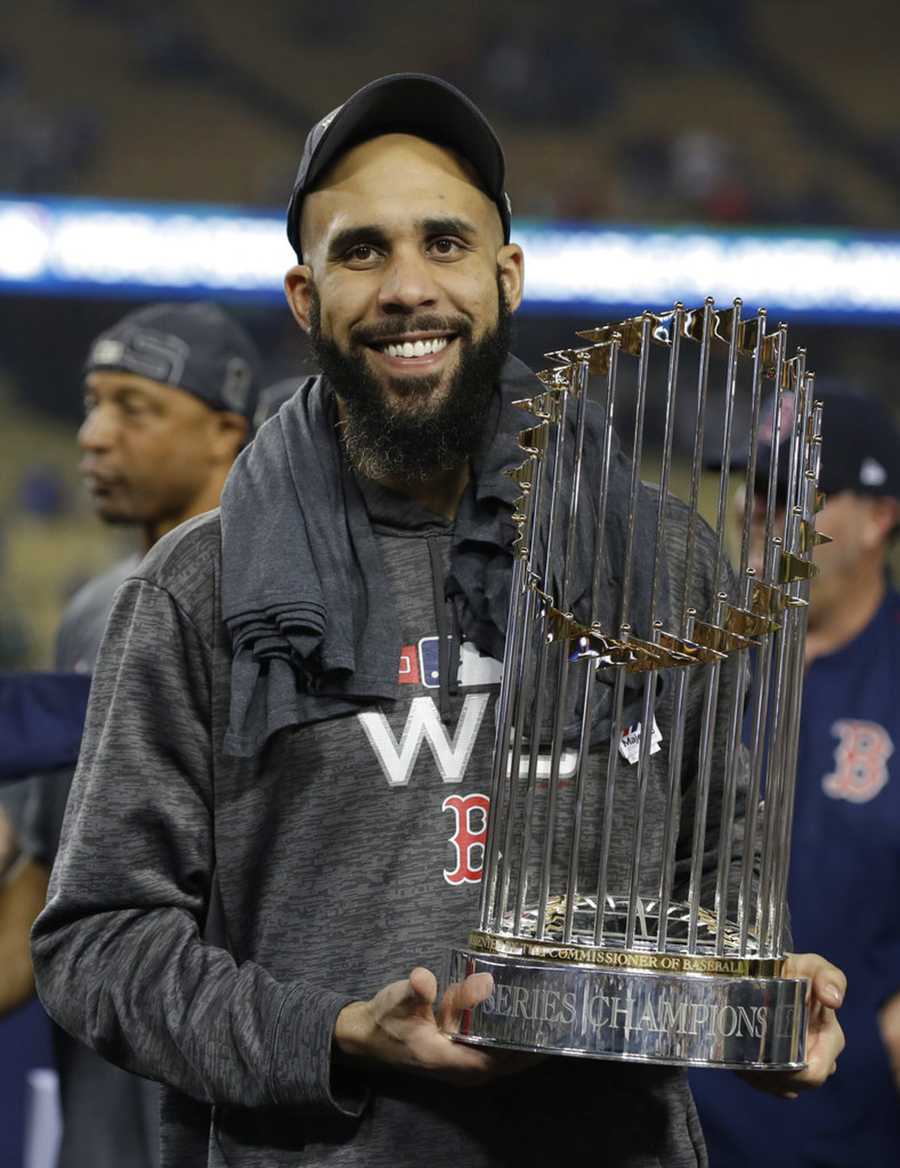 In the postseason, Martinez was a consistent producer–hitting an even .300 on 15 hits, hitting a home run in each round of the postseason, including a solo shot in the seventh inning of the Game 5 clincher against the Dodgers.  Pocello and Price were on the winning pitcher in all three series clinching games–Porcello, ALDS Game 4 over New York and Price in Game 5 of both the ALCS and World Series over Houston and Los Angeles (NL).  Kinsler hit .308 in the division series, including a RBI double in Boston's 4-3 series clinching victory in Game 4.
The 2018 Red Sox were AL East division champions after a franchise record 108 win season–the most of any team since the 2001 Seattle Mariners, The 2018 Red Sox had an utterly dominant postseason run, winning 11 of 14 games, ending in a duck boat parade down Lansdowne Street–their fourth in 15 years, but the 2014 Detroit Tigers are World Series champions.