WPU Rugby Eyes Conference Championship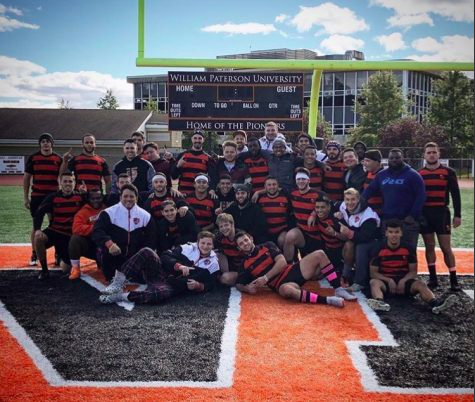 The WPU rugby team will put their undefeated season on the line as they take on Rensselaer Polytechnical Institute in the Tri-State Rugby Conference Championship on Sunday .  The Pioneers are a perfect 7-0 through regular and postseason play, outscoring their opponents by an incredible 304 points.
Throughout the regular season the Pioneers refused to allow more than 18 points and had an overall point differential of 141.  The next highest was their conference championship opponent R.P.I. at 42.  The team's loaded offense also produced the most points in the conference with 194 in five regular season games.
"This weekend you get a chance to do what no other teams here have done. We get to lift the cup," Head Coach Morne Pretorius said at the end of practice on Tuesday morning.
William Paterson played Molloy College after a first round bye in the playoffs and beat them 99-7.  The Pioneers dominated the second half scoring 60 points.
In the next round the men played the United States Merchant Marine Academy who they defeated 34-18 in week 5.  The playoffs were a completely different story as the Pioneers rolled to a 71-5 victory.
When asked about how he motivates his team Pretorius said he simply reminds them of how important each weekend is.
"Nothing is a given," Pretorius said. "Every weekend we have to go out and earn it."
This attitude has spread throughout the team and created an all-for-one attitude.  In the five regular season matches there were five different most valuable players.  The team plays with an unselfish style that makes them nearly impossible to defend.
"It doesn't matter to us who scores. All that matters is that we accomplish the goal we set out to, winning the conference," junior Ian Barrett said.
This was evident with the transfer of fifth-year senior Paul Diorio.  Diorio transferred in from West Chester a Division 1-AA school in the middle of the season.  The fit has been seamless, Diorio won most valuable player against rival R.P.I. in his fourth game with the team.
"Before transferring in for a graduate assistant athletic training position I heard about the rugby program during their appearance at the Division Ⅱ Collegiate 7's National Championship," Diorio said. "I didn't know much else until I showed up to a practice towards the end of the regular season and since I've been here the guys have been great and made me feel right at home."
Newcomers like Diorio have helped this team reach a new level, a level that Pretorius is quite excited about reaching.  A win this weekend and the team will start to move into the top 16 teams in the country and will put William Paterson on the map according to Pretorius.
R.P.I., the defending conference champions, cannot be taken lightly.  When asked about his biggest concern heading into the weekend, Pretorius was slightly worried about complacency.  Pretorius voiced his concerns to his team at practice Tuesday morning reminding them that the job is not yet done.
If there was anyone on the team thought they were going to coast to Sunday and enjoy a light week of practice they were mistaken.  The Pioneers were running through drills quickly, working their positioning, and laying some big hits at practice early Tuesday morning.  The players know what is at stake and are willing to do whatever it takes to win Sunday.
"We have two more practices this week and we have to make the most of them. Wasting time at practice or not working hard doesn't make us any better and won't help us on Sunday when everything is on the line," said Senior Zach Bonstein.
With a win the team will qualify for the Wildcard Round for the USA Rugby Men's Division Ⅱ National Championship.
"It's an opportunity of a lifetime and we're hungry to achieve something that our program has never accomplished before," senior Pat Minardi said. "This team has a lot of talent and all the hard work we've put in since August will hopefully pay off Sunday."
Pretorius credited his team for the work they have put in this season up to this point.  The job will not be done until Sunday when he hopes they get to raise their first championship.
"This weekend is all about them," Pretorius said. "Not the coaches, but about the players."
The match against R.P.I. will start at 1 p.m. on Sunday at Union College.