Switching Sides: World Series Skippers Cora, Roberts Among Those to Wear Red Socks and Dodger Blue
The 114th edition of Major League Baseball's fall classic, which is set to begin on Tuesday, Oct. 23 will feature two of the more decorated franchises in the history of the sport–the Boston Red Sox who won a franchise record 108 games during the regular season and the Los Angeles Dodgers who are the first repeat National League pennant winners since the 2008-2009 Philadelphia Phillies.
Both of these two clubs have been the beneficiary of a long lineage of extraordinary talent, including 26; 15 for Brooklyn/Los Angeles and 11 for Boston of those in the 0.01 percentile of MLB players who are enshrined in Cooperstown following their playing career.
The most notable player to play at home in front of the Fenway faithful as well as having the opportunity to don Dodger blue is Hall of Fame starting  pitcher Pedro Martinez. Martinez signed with the Dodgers as an ammeter free agent out of the Dominican Republic in 1988 before eventually making his MLB debut with the club were he made 67 appearances over the 1992-1993 seasons.
Following a four year stint with the Montreal Expos from 1994-1997, Martinez embodied himself in Red Sox lore as he put together one of the most dominant stretches for a starting pitcher in baseball history, posting a 117-37 mark with a sparkling 2.52 ERA and an American League best, 1,683 strikeouts–leading the league on three separate occasions, en route to winning a pair of AL Cy Young Awards while helping to end an 86 year World Series drought in the final year of his seven year tenure in 2004.
Historically, players to have worn the iconic navy cap with an ornate style "B" for Boston or the white interlocking "LA" for Los Angeles have typically had more success or have been best remembered for their time with the Red Sox organization.  This distinction resignates with Red Sox HOF inductees Nomar Garciaparra (BOS 1996-2004, LAD 2006, 2008) and Derek Lowe (BOS 1998-2004, LAD 2005-2008). A pair of Red Sox WS winning outfielders in Manny Ramirez (BOS 2001-2008, LAD 2008-2010) in '04 and '07 and J.D. Drew (LAD 2005-2006, BOS 2007-2011) in '07, and even Doug Mientkiewicz (BOS 2004, LAD 2009) who infamously caught the final out of the 2004 WS.
Exceptions to this include 1995 NL Rookie of the year Hideo Nomo (LAD 1995-1998, 2002-2004, BOS 2001), 2004 NL MVP runner-up Adrian Beltre (LAD 1998-2004, BOS 2010) and 2003 NL Cy Young Award winner Éric Gagné (LAD 1999-2006, BOS 2007) who recorded a MLB record 84 consecutive saves from Aug. 26, 2002 to July 5, 2004 as a member of the Dodgers.
Aside from becoming the first duo of minority managers to face one another in the WS, Red Sox manager Alex Cora and Dodgers skipper Dave Roberts are woven into the Red Sox-Dodgers almanac dating back to their playing days. Not only did they each play for both organizations, but they were teammates in Los Angeles from 2002 until the July 31 trade deadline in 2004.
Cora was drafted by Los Angeles in the third round of the 1996 first-year player draft, debuting for the club in 1998 and appearing in 684 games over the six seasons through 2004. After signing with the Cleveland Indians prior to the 2005 season, Cora was dealt to Boston where he would spend the next three and half seasons, which included being a member of the 2007 WS championship team.
Roberts made just 347 regular season appearences between the two clubs (LAD 2002-2004, BOS 2004) but managed to steal 124 bases in that three year span; 118 with Los Angeles, six with Boston and one in the postseason. The one postseason stolen base in Game 4 of the 2004 ALCS became the highlight of Roberts career.
Trailing the New York Yankees three games to none in the best five LCS, with New York clinching to a 4-3 lead in the bottom of the 9th inning, Roberts pinch ran for first baseman Kevin Millar who lead off the inning with a walk.  After three pick-off attempts by New York's closer, future HOFer Mariano Rivera, Roberts took off for second on Rivera's the first offering to Bill Mueller, sliding in just ahead of the throw from Jorge Posada. Two pitches later Roberts would score from second on a base hit up the middle by Mueller, tying the game at four.  Boston would go on to win the game 6-4 in 12 innings. Boston did not lose a game for the remainder of the postseason in 2004..and the rest is history.
Two pitchers that figure to play a pivotal role in this series also have their ties between the two clubs. Nathan Eovaldi, the projected game three starter for Boston and Rich Hill, the likely choice for Los Angeles in game four on Saturday night.
Eovaldi was drafted by the Dodgers in the 11th round of the 2008 first-year player draft, making his big league debut less than three years later in 2011 at the age of 21, remaining with the club through the 2012 season.
Following stops in Miami, New York (AL) and Tampa Bay–Eovaldi, now of the Red Sox, made just 12 appearances, 11 starts for Boston during the regular season after being acquired from TB in late July in the midst of his first season back following his second Tommy John surgery. The 28 year-old fireballer has been nothing short of spectacular throughout this postseason, pitching to a tune of a 1.88 ERA over 14 1/3 innings (three appearances, two starts), earning the series clinching victory in Game 4 of the ALDS over New York and Game 3 of the ALCS over Houston.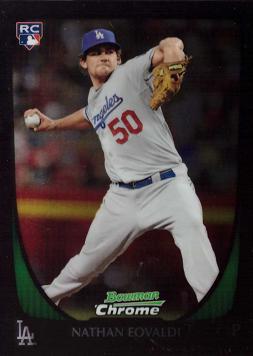 Regardless of the outcome of this series, Rich Hill, a Milton, Massachusetts native, will always pay homage to the Red Sox organization–for two things: a career revival and for an eventual third stint with the club that lead to him amassing nearly eleven times the amount of his career earnings.
Hill spent the first four seasons of his career with the team that drafted him, the Chicago Cubs from 2005 through 2008, before being traded to Baltimore prior to the 2009 season. Each of next six seasons he signed minor league deals bouncing from St. Louis (2010), Boston (each season from 2010-2012), Cleveland (2013), Boston…again (2014) before being traded to Los Angeles (AL-2014) being DFA'd and signing a mid-season minor league contract with New York (AL-2014), Washington (2015) and even the Long Island Ducks of the independent, Atlantic League of Professional Baseball.  Hill appeared in a major league game in each of these seasons, making 40 appearances with Boston from 2010-2012.
After clawing his way back to the major leagues, after signing a minor league deal in August 2015 with…yup, Boston–third time's the charm…Hill, then 35, started a MLB game for the first time since 2009, making four September starts going 2-1 with an impressive 1.55 ERA and 36 strikeouts to just five walks over 29 innings.
Following his four start audition with the Red Sox, Hill signed a major league deal with the Oakland Athletics for one year/$6 million prior to the 2016 season.  After making 14 starts, going 9-3 with a 2.25 ERA and 90 strikeouts in 76 innings, Hill was dealt to the Dodgers…FINALLY!!
Over six starts with the Dodgers over the final two months of the regular season, Hill continued to dazzle, finishing the season
with a 12-5 mark, 2.12 ERA and 129 strikeouts over 110 1/3 innings.
A free agent at season's end, Hill signed a three-year, $48 million deal to return to Los Angeles where he has had the most consistent stretch of success in his professional career.
Since 2016 Hill has pitched in 56 games making 55 starts with the Dodgers, accumulating a 26-15 record with a 3.30 ERA in the regular season, in addition to making 10 postseason appearances (nine starts), with a 2.85 ERA and a win in the over the Chicago Cubs in the 2016 NLCS.
Oh…and as for Hill's wallet, for those keeping score at home, the southpaw has made $54 million of his nearly $60 million career earnings following career reviving stint with Boston in 2015.