Seeing October Through Rose-Colored Glasses: The Pink Ribbon Problem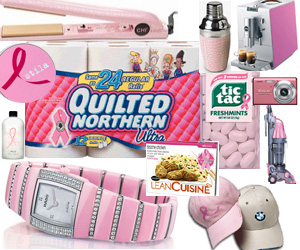 October has become the month of pink everything. People are told to '"think pink" and adorn themselves with shirts and hats that promote breast cancer awareness. The NFL has pink versions of all their merchandise for sale. The pink ribbon is stamped on everything from yogurt to laundry detergent. In a consumerist world, it is questionable if this is all to raise money for the cause, or to exploit good-intentioned people to put extra money in the companies' wallets.
This type of marketing is called "cause related marketing,"and a Duke University behavioral study confirmed that this type of marketing can strongly influence a consumer's choice and increase sales significantly. Unfortunately, the pink ribbon symbol is not regulated by any specific company or entity. This means that any company, even companies that sell products with ingredients that cause cancer, can put a pink ribbon on their product and have no obligation at all to donate to breast cancer research or awareness.
Some companies donate, but they donate a set amount no matter how many items are sold. Other companies will donate, but to a questionable charity that has not produced significant gains in research or awareness. Though the consumer feels as they are making a difference by choosing a pink product, in many cases they are doing nothing for the cause.
Not only is this a problem because of the lack of money the companies are giving, but also because it has a negative feedback on the likelihood of that person directly donating to the charity later. According to Dr. David Linden of "Psychology Today," the brain's pleasure circuits are activated by giving to charity. This is the "warm glow" feeling people report after being altruistic.
This research seems like a great thing for charities in general, but there is one mitigating factor to this benefit. In the scientific journal "Science Advances," Marijke C. Leliveld and Hans Risselada explain the psychological process of moral licensing, which indicates that if you behave ethically once, you feel more justified behaving unethically in the near future.
This applies to charitable giving directly. If people feel they have done their part to donate to a cause, whether they have or not, they feel justified not donating the next time they are asked. After purchasing pink ribbon products, many feel as though they have done their part, and they will not seek out a way to directly donate to a cancer research organization that is actually making a difference.
Another problem with pink ribbon marketing is that it is intended to spread awareness, but of what? The mere existence of breast cancer? Most brands in the grocery store that market with the pink ribbon do very little to distribute any type of literature or blurbs about breast cancer prevention, treatment, or strides in research. By this point, just about every American has been exposed to breast cancer marketing, but a much smaller percentage know the facts about the disease.
Educating the populace about knowing when getting a mammogram, the importance of regular gynecologist visits and feeling for lumps is effective. Still, these initiatives are barely visible through the pink veil.
The culture that surrounds the National Breast Cancer Awareness Month is also problematic for many reasons. Sometimes focusing on making everything pink is a way to euphemize the real pain in the stories of people who have been affected by breast cancer.
One of the official logos of National Breast Cancer Awareness Month is a dancing pink ribbon with red lipstick and a big smile on its face. The logo looks like a cartoon character that is selling cereal or make-up. This is just another distraction from the true devastation breast cancer has caused so many people. Breast cancer should be taken seriously so that people are serious about prevention and so that people understand the importance of funding research.
Lastly, the intense focus on the "survivor" narrative is alienating to so many men and women that will live with breast cancer for the rest of their lives. The word "survivor" is all over t-shirts and banners during breast cancer walks, and people wear it as a badge of honor.
Though it is amazing and brave to face a disease like that and be one of the lucky ones to make it through, not everyone is so lucky. Many who wear "survivor" on their clothes may not realize how alienating that word can be to those who still have cancer. The "survivor" narrative makes it seem like if the less lucky men and women had just worked harder or had a positive attitude, maybe they could have beat cancer like the survivors did.
Of course, this is simply not true. Many men and women really do die, and many have advanced stage cancer that they can only maintain, and never cure. They will never get the chance to wear that "survivor" badge.
The problems surrounding breast cancer awareness month are not a product of people not caring. So many people are trying to help in some way to lessen the pain that breast cancer causes in so many lives, and that includes students here at William Paterson.
The University has done twenty-two walks to raise money for breast cancer since 1996. Through a collaboration between Recreational Services, Counseling, Health & Wellness, and the Women's Center, spearheaded by Karen Hilberg, the Associate Director of Recreational Services, the average amount raised over the years was over $3000. The amount of participants grew from 30 to over 700 students and faculty members per year. The most money raised was $10,000. Right here on campus, students and faculty have shown their dedication to making a difference and proving that people care about breast cancer.
The problem only arises when businesses take advantage of the good intentions and big hearts of these people by trivializing breast cancer awareness as a way to sell a product. People are being misguided and misinformed, and that is a detriment to all aspects of the fight for better care, research, and awareness.