WPU Grad Student Walter Gorra Wins Downbeat Jazz Award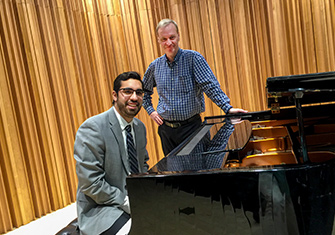 Walter Gorra had to keep the good news from family and friends for an entire week.
The 25-year-old William Paterson graduate student, who is pursuing a master's degree in jazz composition and arranging, had been told by professor Pete McGuiness, in front of a midday concert audience last spring, that he had won the prestigious Downbeat Jazz Award—which he had applied for last December—for his original work, "Bandwidth."
"I could not say anything publicly until about a week later when [Downbeat Magazine] was officially published," he said. "It was a very exciting moment for me."
Gorra, who was born in Glendale, California and raised in Glenwood Springs, Colorado, holds a master's degree in structural engineering from the University of Colorado Boulder, and two bachelor's degrees in both civil engineering and jazz piano.
He moved to Hawthorne, New Jersey in order to complete his master's at William Paterson. Gorra was drawn to what he calls the "world class program" for the chance to study with talented professors such as Director of Jazz Studies and Grammy-award winner Bill Charlap.
"I cannot say enough about how fortunate I am to have found such great people and wonderful musicians to surround myself with," he said.
"Leaving your home is never easy, but I am happy here, and I am enjoying the opportunities that come from being so close to New York City."
While Gorra is passionate about engineering, he developed an intense love for music from an early age.
Growing up, his parents played Cuban music (Beny More, Celia Cruz, Bebo Valdes and others) at home and in the car. Gorra was originally set on playing the trumpet, but a local piano teacher encouraged him to study the piano first. It was through playing the piano—an instrument that Gorra loves due to its versatility—at school that he started to get into jazz. Curiosity led him to composition and arranging.
"Playing in bands at school and through Jazz Aspen Snowmass' education programs, exceptional teachers such as Chris Bank and Terry Bannon introduced me to jazz," he said. "I was hooked on the sound of the music and its ability to accept any person's individuality."
Gorra's musical style is informed by various roots that makes his music fresh and uniquely difficult to categorize.
He has a healthy respect for Afro-Cuban music from his younger years. He enjoyed learning the standards from the Great American Songbook, along with works from jazz composers such as Wayne Shorter, Chick Corea and Herbie Hancock.
"My own music also reflects my interest in modern jazz from groups such as Maria Schneider's Orchestra, Miguel Zenon's quartet, Paquito D'Rivera's quintet and others," he said.
His recently released debut album, "In Due Time," blends United States jazz with Afro-Cuban, Brazilian and South American music.
Upon completing his degree, Gorra is considering remaining in the New York City area to pursue a career in both music and engineering.
According to him, both are gratifying career paths that allow for creative expression, and he aspires to land a job as a structural engineer in a consulting firm. However, he will continue to compose and play music.
"As soon as I can, I hope to record another album with more of my music and some larger scale works."