Mac Miller is still 'Swimming'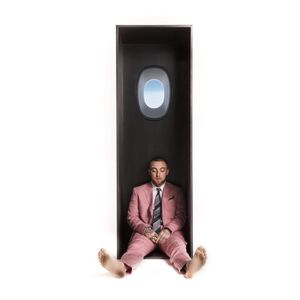 "I'll do anything for a way out of my head," said the late Mac Miller in his song "Come Back to Earth."
Life and death is such a strange thing when you think about it. One day you're alive and well, and then just like that you're gone forever.
When Miller suddenly passed away, it couldn't have been more devastating for his fans. While I didn't know Miller personally, he was someone that I felt knew me in a much deeper way than some of my peers did. You don't get to choose your demons, they chose you. However, even in your darkest time, it's imperative to remember you can make it through these bleak moments.
In his fifth studio album, "Swimming," Miller is diving deep into what it means to fight your demons, specifically depression and addiction. In this album, he also explores the impact of heartache and walking the line between living and letting go.
Despite Miller's previous albums highlighting a time in his life where addiction and depression were crippling him to a point of helplessness, on "Swimming" he's shining a light on his will.
"Swimming" starts with what sounds like Miller's last plea. "I just need a way out of my head. I'll do anything for a way out of my head," Miller sings. Right away we're presented with the theme of this album, which is swimming versus drowning.
Miller has consistently shown though past projects that his gift is to make beautifully painful music. For that reason, his sudden demise comes as a heartbreaking blow to so many fans. Throughout this album, Miller's verses over keys and funky sounds isn't far what fans have come accustomed to hearing from him.
This album is stacked with amazing verses and melodic sounds. However, three songs stand out the most. First is "Self Care," which reiterates the theme of the album. In this song, Miller discusses his curiosity behind letting it all go. Until the songs switches tempo and he talks about fighting back against that feeling and how living is so much more important. This is what the album is about, swimming versus drowning, meaning letting the pressures of your demons swallow you or fight them just enough to get to where you're going.
The second song is "Ladders." The beat is lively and funky. Once you get past the beat, the lyrics remind you of the truth about addiction. This song is Miller's way of confessing to the listener that he knows that drugs aren't helping, but the feeling is unlike anything else. He recognizes his future fate if he stays on this path, but his need for this feeling is overwhelming.
The third song, "2009," that is arguably one of the saddest songs on the album. It starts with a full minute of instrumentals, setting the tone of the song. This song gives illusion of someone staring in a mirror after an extended period of spiraling. Miller is facing himself and all of his demons. He is letting it be known that his destructive behavior can't continue. He longs for 2009 because that was a simpler and happier time. He's reminiscing about the days when he was a child while accepting his current reality. All great artists have a song that will make them immortal, and this is the one for Miller.
What we can take away from Miller's death is the importance of taking time check on your friends. It's important to be kind, because you never know what someone could be going through behind a feigned smile. Miller was evolving and finding the strength that his loved ones and fans wished for him and this was explained with his last masterpiece. He's gone but will live on forever through his music.