Ed Sheeran Performs at Metlife Stadium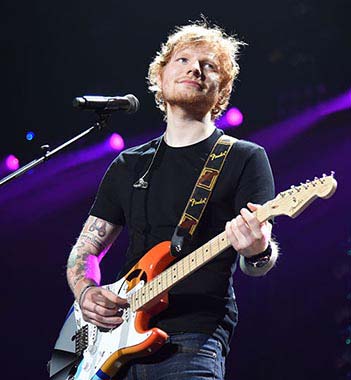 On Sept. 22 and 23, musician Ed Sheeran played two nearly sold-out shows at Metlife stadium, and fans have been raving. The 27-year-old British singer gave a moving and exhilarating performance under the night sky as fans said goodbye to summer and rolled into the fall. Taking tracks from his 2017 album "Divide" and mixing in old favorites, he put on a show that left the crowd begging for more.
Sheeran opened up the show with fan favorite "Castle on the Hill," and immediately the audience was roaring with applause. It was as if the music had already brought everyone together. Sheeran's energy and smile were infectious, he made everyone feel the warmth and joy that he so clearly possesses. Joking about the 98 percent of people who love the shows and the other two, being dads and boyfriends who were dragged along, he made a connection with his fans in an effort to make the concert experience even more memorable.
Throughout the night, Sheeran addressed the crowd with stories and funny remarks about his songs, his experiences in previous venues and even poking fun at himself. He joked to the adoring crowds about his lack of dancing abilities and encouraged everyone to scream at the top of their lungs and lose their voices.
"It's the weekend go crazy," said Sheeran. "If you're that person who likes to dance do it, I promise no one is looking at you, they're looking at the stage, not you."
No matter how many people were in that stadium, he connected with every person in that crowd, you just couldn't help but feel good around him.
Some of Sheeran's best-known tracks are the love songs he writes. From "Photograph" to "Thinking Out Loud," he played what have become anthems to ordinary people's love stories. Sheeran asked for the crowd to be silent and take in the moment during the song "Tenerife Sea," and you could see the kind and romantic soul that is Ed Sheeran.
The whole stadium lit up and sang along during his acoustic rendition of "Perfect," a moment that united the entire arena. His goofy and playful side came out during tunes such as "Galway Girl," "Nancy Mulligan" and his encore performance of "Shape of You" and "You Need Me, I Don't Need You," done in a half  New York Giants half New York Jets jersey.
Ed Sheeran is and always will be one of my favorite artists. This was one of the most unforgettable concert experiences. He is genuinely sweet and funny, and his talent speaks for itself. There's no crazy spectacle, no over the top effects other than a bit of lighting. It's just him, his guitars and his beautiful voice that anyone could listen to for hours. He connects with his audiences and gives them an experience that will stay with them long after the show is over.