Student Veterans Pay Homage to 9/11
WPU students keep the memory alive on the tragedy's 17th anniversary.
The Office of Veteran and Military Affairs (OVMA) honored the memories of fallen soldiers, first responders and civilians of the World Trade Center attack at this semester's club fair on the 17th anniversary of September 11.
Members handed attendees American flags to attendees who penned thank-you letters to Veterans before standing for a silent moment in respect. The OVMA pays annual homage to 9/11 which continues to bring pain to families and individuals affected nearly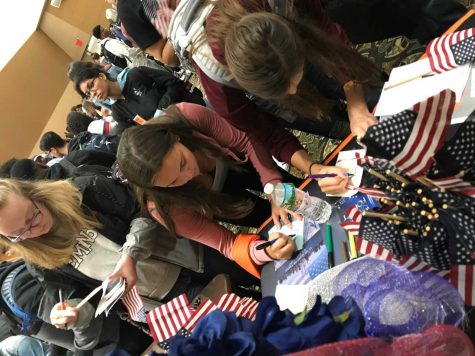 Ten years ago, many schools and news outlets reserved the day's agenda to honor the victims of 9/11. Recently, less news coverage and recognition on social media indicate a loss of touch and significance as time passes and a new generation too young to remember grows older.
Kevin Fego, a member of the OVMA, said the event drew a "mixed reaction," as some of the attendees were eager to commemorate, while others seemed too young to remember.
"A lot of them were a year old when that happened and they don't really understand it," he said. "It's up to them to educate themselves about 9/11."
The OVMA has plans to continue the legacy of that fateful day.
According to OMVA member Suni Brito, the group has plans for a more reflective, interactive program next year, and will play the images and names of first responders, veterans and civilians who lost their lives.
"We want to put a face to it so you'll acknowledge that was a real person that didn't come home that night…a real person who loved everything and paid the ultimate price for what we take for granted. We want to integrate that it's not just a veterans event because it affects everyone."
Last year, the club coordinated with Campus Activities, Service and Leadership and others to supply an event of special speakers and activities such as writing thank you cards, building care packages and raising donations for the families of first responders in their continuous efforts to show proper respects.
More than 2, 750 people died from the attacks on the World Trade Center, 412 of those people being first responders. However, the total death count continues to rise as many first responders continue to battle illnesses obtained from inhaling fumes and other toxins. In some cases, police officers, EMTs and construction workers have recently been diagnosed with PTSD or cancer.
PTSD and other mental illnesses also affect many veterans and military personnel who may feel alienated around people without military experience. Luckily, the OVMA offers a safe haven for reintegrate into life as a student and recognizes the dedication and sacrifices they have made serving our country.
The association offers resources including textbooks, information, and a cozy lounge filled with good company, fresh coffee, snacks and laughter.
"We really try to make college life a little easier and the transition from military to civilian life in any way shape or form," said member Cristian Reyes. "We have that brotherhood-type thing as well if anybody wants to come out and participate in that."
For more information on the OVMA or resources for veteran students, visit www.wpunj.edu/veterans.