What to Watch as Yankees Finish Regular Season
Amid their recent struggles, believe it or not–there actually are some things for Yankee fans to look forward to heading into the team's final 13 regular season contests.
For starters, New York will look to salvage its final home stand of the year despite dropping two of three to Toronto over the weekend.  The Yankees return to action Tuesday to kickoff a pair of three game sets against the Boston Red Sox and Baltimore Orioles before hitting the road for the final seven games of the season–a four game series with Tampa Bay, followed by a weekend series at Fenway.
New York's postseason expectations will come to fruition three days later; barring what would be a historic, yet nearly impossible collapse for both clubs–a matchup with the Oakland Athletics in a win-or-go-home Wild Card game.
Looking back on Yankees glory, the 2000 team which captured the franchise's 26th World Series Championship and third in as many years, finished the regular season with a dismal month of September in which they slumped to a 13-18 mark, while dropping 13 of their last 15 and seven games in a row to conclude the regular season.
So no matter how poorly the team has played as of late, dropping eight of 14 games this month–history is on their side, even if it happened when the majority of the current roster was watching Saturday morning cartoons or chasing down the ice cream man.
With that being said, here are five things for Yankee fans to watch for in games 150-162.
5. The Century Mark
New York can secure the franchise's 20th 100 win season, and first since their most recent World Series championship in 2009 by finishing 9-4 in their final tour of American League East foes.
4. Dellin Betances' Strikeout Streak
Not only has Betances eclipsed the 100 strikeout mark for the fifth consecutive season, doing so at a 15.8 K/9 rate–a career high, with every game that the right-hander records a strikeout, he extends an American League record for the most consecutive appearances with a strikeout which currently sits at 41.
3. The End of an Era?
Being that the Yankees just went through a rebuild–albeit the quickest of any team in recent memory, the conclusion of the 2018 season could mark the official end of the first phase in the post turn of the century dynasty era (though there is one World Series ring to show for it) of Yankee baseball.
Although the latest chapter in the Bronx began on Aug. 16, 2016, if we're being technical–following the forced retirement of Alex Rodriguez, and a pair of baby bombers in Aaron Judge and the since traded Tyler Austin, homering in their MLB debut, the unofficial end of the previous chapter is looming. The two longest tenured Yankees, Brett Gardner  (11 seasons, 2008) and C.C. Sabathia (10 seasons, 2009) are both set to become free agents at seasons end, which could make Sunday, Sept. 23 for Gardner and Friday, Sept. 21 for Sabathia their last appearance in home pinstripe threads.
Gardner, will be entering his age 35 season, and does have a $12.5 million team option with a $2 million opt-out, though based off his production this season (132 G, .237/.323/.366, 12 HR, 43 RBI, 87 R, 15 SB) it seems likely that New York will either move on or bring the home grown "Gardy" back for a diminished rate.  As for Sabathia, 38, who signed a one-year, $10 million deal to return to New York this offseason following the expiration of his previous then record-breaking seven-year, $161 million deal, has struggled of late logging a 9.28 ERA over 10 2/3 innings in three September starts.  While Sabathia has enjoyed a career resurgence over the last two seasons, it remains unknown if New York would be interested in his services beyond this season.
2. The Final Verse of the AL ROY Race–Getting Miggy With It
The pre-season pick, Shohei Ohtani (LAA)–the first half pick, Gleyber Torres (NYY) and the 2018 AL Rookie of the Year, Yankees third baseman, Miguel Andujar.  Yes, I crowned Miguel Andujar the rookie of the year, and deservigly so.
The prized international free agent in Ohtani who looked to fulfill the shoes of becoming the "Japanese Babe Ruth" is hitting a crisp .290, with 20 long balls and 55 RBI in just 283 at-bats (320 plate appearances), with a 4-2 record with 63 strikeouts in 51 2/3 over 10 starts on the mound has not dissapointed–that is when healthy, and even became the first player since Ruth himself in 1919 to pitch 50 innings and have 250 plate appearances, has appeared in just 102 games and has yet to log a defensive inning aside from his time on the mound (70 GS at DH).
Yankees second baseman, Gleyber Torres propelled New York to an eight game winning streak following his debut in late April, while his first half production was unmatched among rookies–.294/.350/.555, 15 HR, 42 RBI and a selection to the mid-summer classic, he has since spent time on the DL with a right hip strain and cooled to a second half line of .262/.345/.419, eight HR, 29 RBI.  Though his overall production of .279/.348/.495, 23 HR, 71 RBI in just 111 games is impressive, he is bested by teammate Miguel Andujar across the board.
It was Andujar, not Torres who surprisingly broke with the big league club after a strong showing in Spring Training and has ran with the opportunity, "Wally Pipp-ing" off-season acquisition Brandon Drury who has since been traded to Toronto, by hitting at a .298/.332/.519 clip with 24 HR, 83 RBI, 77 runs scored and 40 doubles…FOURTY! Just four shy of tying Joe DiMaggio's Yankee rookie record of 44 in 1936.  Andujar will also look to become the first Yankee to qualify for the batting title and hit over .300 since Robinson Cano in 2013.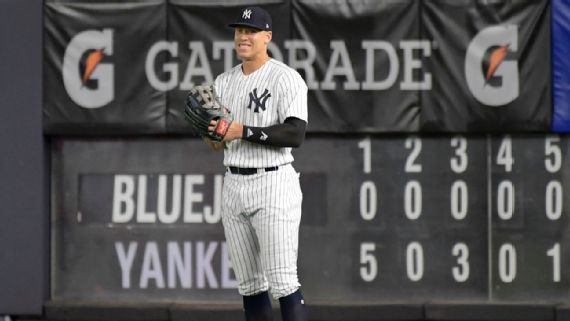 1. The Return of NUMBER 99…and Aroldis Chapman too
The homecoming of the heart and sole and best offensive player, plus the arrival of the anchor of a bullpen that has struggled in his absence, what's not to like?
The Yankees have been without reigning Rookie of the Year and AL MVP runner-up, Aaron Judge since he fractured his right wrist after being struck by a pitch back on July 26.  Although the original diagnosis of three weeks recover time left Yankee fans optimistic, it has turned into a prolonged eight weeks in which the club has turned in a 26-22 mark.  Judge, who at the time of his injury was hitting .285/.398/.548 with 26 HR and 60 RBI returned to right field for the final two innings of Friday's 11-0 win over Toronto, and took 11 live at-bats against three New York pitchers in a simulated game at Yankee Stadium on Monday.  Judge is in Tuesday night's starting lineup, batting second and playing right field.
Chapman who remains on the 10-day DL and has been out since Aug. 21 with left knee tendentious, joined Judge in a workout at Yankee Stadium Monday throwing 22 pitches to left handed hitters, Kyle Higashioka and Tyler Wade.  The left-hander looks to pickup where he left off after fanning 84 over 47 innings with 31 saves and a 2.11 ERA in 50 games.
Bonus: The MLB Debut of Justus Sheffield
Although MLB rosters have been expanded for nearly three weeks now, prior to Tuesday's game, the Yankees have finally called up top pitching prospect, 22 year-old southpaw, Justus Sheffield. Sheffield, whom the Yankees aquired along with Clint Frazier from the Cleveland Indians, made 25 appearances between Double-A Trenton and Triple-A Scranton Wilkes/Barre posting a 7-6 mark in 25 appearances (20 GS), with 123 strikeouts and a 2.48 ERA in 116 innings pitched while limiting opponents to a .195 batting average against and earning a selection to the 2018 MLB Futures Game. The former first round pick will likely see action out of the bullpen and make his highly anticipated debut in the upcoming Red Sox series.