'Blockers,' a Different Kind of Family Movie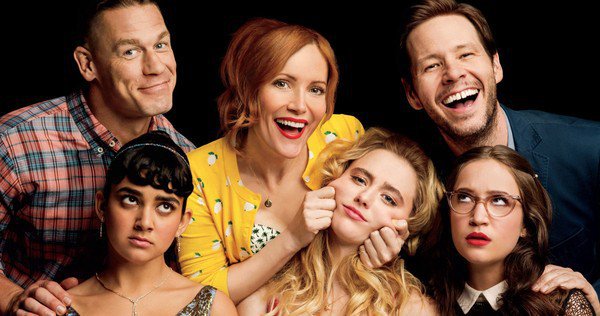 "Blockers" was directed by Kay Cannon who is making her directorial debut released on April 6.
"Blockers" is a sex comedy, where three parents team up to try to block their teenage daughters' pact to lose their virginity at prom. Lisa (Leslie Mann), Mitchell (John Cena) and Hunter (Ike Barinholtz), are the parental trio who became "BFF's" once their daughters' became good friends at school when they were little.
Now, it's senior year of high school and Julie, Lisa's daughter, tells her best friends Sam and Kayla that she wants to lose her virginity to her boyfriend Austin (Graham Phillips) at prom. Kayla pledges her allegiance imminently and decides she will also lose hers that night to her lab partner and school drug dealer, Connor (Miles Robbins). But Sam, a closet lesbian, doesn't know how to feel about the pact and doesn't know how to tell them she is gay. She decides to take her harmless friend Chad (Jimmy Bellinger) to prom and play along.
The cast was strong and had great chemistry with each other. Cena and Viswanathan have the best chemistry together because he is very protective, and they have a strong father-daughter relationship. In a scene where she was getting ready for prom, she came down from her room where her father began to cry.
This was Cannon's debut in directing, however, this was not her first film. Cannon is more than qualified for her work in other films. She wrote the "Pitch Perfect" films and was a writer and producer in "30 Rock." Cannon moved up to co-executive producer for the FOX series, "New Girl."  
One of the funnier scenes is when the parents try to get into the same after parties as their daughters. While they think everything will go fine, they end up getting into a chugging contest. A different kind of chugging contest. The funnel that is normally used to chug, went somewhere else when Cena played. Let's say the outcome wasn't pretty, to say the least, but this scene is one of the funniest in the movie.  
"Blockers" is a great movie to go and see with friends. It's a great movie to go and not stop laughing the whole time. There are lots of parts that I can relate to being a 20-year old college student. The whole prom and lose your virginity situation is relatable too.
High school is a tough time for people who are still trying to figure out who they are. I think there are good lessons in "Blockers" for kids and parents. Kids can learn that parents just want what's best for them in life and they don't want to ruin the fun. In return, parents can learn that you can't always protect your child and you just have to let them go.