Cardi B Invades the Charts with "Invasion of Privacy"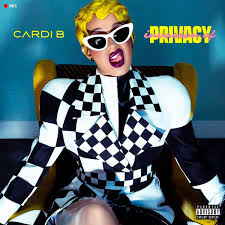 Cardi B dropped her new album, "Invasion of Privacy," on April 6 all over her Instagram. The rapper shared screenshots of some new songs featuring artists like SZA, Timbaland and Chance the Rapper. She thanked each of them for helping her make this album fire.
Cardi thanked SZA in an Instagram post by saying, "I want to thank @sza for getting on my album !!such a busy girl and still came thruuu and ate OMGGGGG .I love you !"
According to Billboard, industry prognosticators say Cardi B is bound for a No. 1 debut on the Billboard 200 with this new album. It features 13 tracks that all have a sound of their own.
As the "Invasion of Privacy" title hints, Cardi goes more in-depth on her life and the struggles she overcame to get where she is today. She addresses her past in erotic dancing along with the difficulties being taken seriously as a female rapper in a male-dominated industry. In her song "Best Life" featuring Chance The Rapper, she says she 'Had to talk to God, dropped down, and prayed for this/ To my surprise, He replied, said, "You made for this".'
"Bodak Yellow" and "Bartier Cardi" are two songs that flew up the charts on this album. In a list of Cardi B's songs throughout her career on Google, "Bodak Yellow" is the most popular song with "Bartier Cardi" coming in third. Her feature on "Motorsport" on Migos' "Culture II" album holds the second spot.
One that differs from the rest is the first song on the album, "Get Up 10." It tends to have more of a ballad feel to it with less background sound and has much more of a serious message. It is a bold song to start but the album is meant to be bold so it fits the theme well.
"Invasion of Privacy" is subwoofer friendly and tends to go bass-happy in a few of the songs like "Bickenhead," "Be Careful," "She Bad," and as some already know, "Bodak Yellow."
The album cover features Cardi B sporting a bright yellow pixie wig, a pair of white clout glasses and a black and white checkered jacket. She is sitting on a yellow throne with a blue backdrop looking like a queen, licking her teeth and ready to dominate the charts.
Throughout the album, she addresses all the hate and has made it clear that she will stop at nothing to be at the top. According to the Guinness Book of World Records, Cardi B's "Invasion of Privacy" has now made music history by breaking Beyoncé's record for Most Simultaneous Billboard US Hot 100 entries by a female with a total of 13 tracks. This beat Beyoncé's album "Lemonade" which held the spot since May 2016 with a total of 12 tracks.
Earlier in January, she also became the Most Simultaneous Billboard Hot R&B/Hip-Hop Top 10 entries by a female in one week. The list began with the help of two songs from this album: "Bartier Cardi" and "Bodak Yellow." As of right now, Cardi B has more record titles than fellow female rapper Nicki Minaj.
In an interview on the Tonight Show with Jimmy Fallon, Cardi B explained how she developed her stage name. She said, "My sister's name is Hennessy and everyone used to call me Bacardi. So I just shortened it to Cardi B."
It is safe to say that Cardi B's influence on the music industry isn't leaving any time soon. As said in the album, "if you like hot sauce on your chicken," the "Invasion of Privacy" album is definitely for you.