Big Hug's Big Break: Alternative Duo Braves Braveathon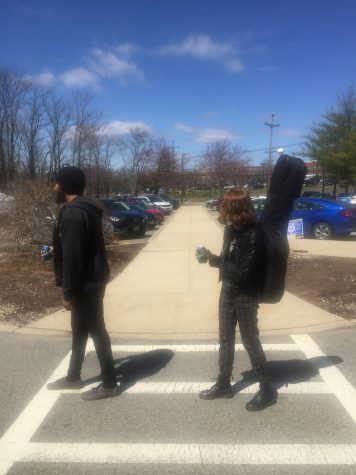 Lennon-McCartney, Simon and Garfunkel, Sonny and Cher. A trio of duos with a shared passion for writing and playing music. For years, they have inhabited the Mount Rushmore of music lore, their domain untouched by lightweight 'rock' acts of today. But could their quiet dominion suddenly be in peril? Could a new, fresh, revolutionary, innovative, (insert overused adjective used to describe something groundbreaking here) twosome be afoot, ready to secure an elusive position in song stardom?
While all signs are pointing to a vigorous, uninhibited "YES", these new kids on the block are more likely to greet their rock 'n' roll elders with a 'big hug', rather than a sneer of indifference.
Indeed, the aptly titled alternative rock duo Big Hug, founded by William Paterson alumni Anthony Brown and Tiffany Vargas, wants nothing more than to jam out in local dives, fighting the supersonic wails of impassioned club-goers as they belt out their repertoire of tightly-written tunes, well into the wee hours of the morning, when those who once shared their youth with inspirations such as Nirvana, Pearl Jam, and Soundgarden are fast asleep in bed. For the duo, this has been a lifelong dream.
"I started watching a lot of early music stuff on TV and seeing people playing guitars, which I thought was cool." Said Brown. "I got my first guitar when I was ten and then started writing songs a couple years later..and then it just stuck."
To the group, much of this passion can be attributed to their idolization of the music giants of their youth.
"As I matured more, I definitely felt inspired by Amy Winehouse and Connor Oberst of Bright Eyes, who I felt were incredible." Said Vargas "I also always loved grunge like Soundgarden, Nirvana and Pearl Jam, with Eddie Vedder definitely being one of my favorites.
To the duo, Braveathon was hardly their first exposure to the public.
"We have a mix of darker and lighter stuff that's on Bandcamp. Just go to Bandcamp.com and type in 'Big Hug' or Today Is… at the ellipsis, 'Big Hug' will pop up." Said Brown. "We also have a new song coming up and we played it for the radio."
Like John and Paul, who the duo mention a liking of, Brown and Vargas split work in the band 50/50.
"It's pretty even", said Vargas. "We both write basically the ideas for our own songs and work off of each other. Anthony's helped me with lyrics before and I've helped him. It's pretty much a team effort."
But unlike the iconic partnership, Brown and Vargas' styles blend together perfectly.
"I think we definitely blend well together." Said Brown. "It's especially because we're really into the same music, so we mesh really well."
After their successful performance on Braveathon, the duo intends to continue their passion for making music. To the two, it doesn't matter if they become bigger than the band that became bigger than Jesus, or continue to rock out in alternative avenues.
"I don't know if we want to be as big as the Beatles" said Vargas. "To have our name at least in the local scene would be awesome. Maybe we won't become internationally big, but I can see us having a steady stream of shows here, with people here at William Paterson listening to us and following us."
Above all else though, Brown and Vargas make it clear that while money from Fab Four-level stardom would be great, ultimately, they play for the fun of being musicians. Whether they're at Lollapalooza next year or still hanging out playing guitar at school, they'll be happy.