Retro Review: Blues Brothers (1980)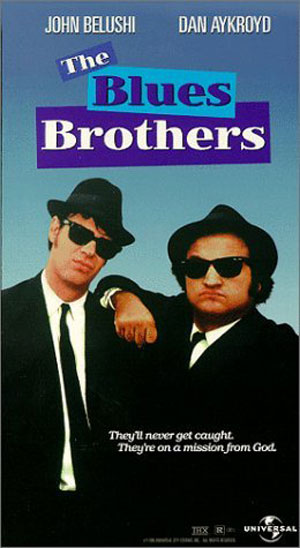 Nowadays, if someone walked into the board room of Warner Bros. and proposed a movie based entirely around the blues tunes and legends of old, such as Cab Calloway, Ray Charles, James Brown and the like, they'd probably lose their job faster than a cheetah on Red Bull. But in 1980? Nah, that was totally in vogue.
The aptly named Blues Brothers, which stars the late John Belushi and still kicking Dan Aykroyd, was adapted from a sketch of the same name from the comedy series Saturday Night Live. Featuring the two comedians dressed in identical black suits, fedoras and sunglasses, they played a variety of songs, such as the hit single "Soul Man" and "Everybody Needs Somebody." While this made for an entertaining five or so odd minutes in front of the tube, nobody thought this would be suitable for a feature length film.
Apparently, director John Landis didn't get the memo. The first feature-length film based on an SNL sketch, Blues Brothers, starring the aforementioned Belushi and Aykroyd came out in 1980 and left everyone in the theaters not only howling with laughter but howling along to the endless repertoire of tunes that fill the feature. But could a film made 38 years ago centered around a niche genre of music still hold up today?
Our story begins with the first half of the titular duo, Jacob Blues (Belushi) being released from prison after having served a few years in the pen for armed robbery. Immediately reunited with his brother Elwood (Aykroyd), the two go to visit their childhood church, run by the mysterious Penguin.
After being informed that it will be closing down in 10 days if it doesn't raise enough money to pay off overdue taxes, the duo decides that the best way to succeed in their "mission from God" is to round up the old blues band that they once played in. As they proceed on their quest, they run into angry country singers, deranged ex-fiances and a whole slew of other eccentric characters. Will they make it to the tax processing office and save the church in time, or will they be jamming out to the jailhouse rock inevitably?
Even if I inadvertently gave away the answer just now, the Blues Brothers are certainly worth checking out. While much of today's youth probably isn't very familiar with or interested in blues music, the hilarious storyline, combined with several death-defying car stunts and an all-around emphasis on fun is enough to spend a Saturday night Netflix and chillin' with it. The leads give incredibly funny performances, the songs are hum-worthy and there's never a dull moment. If you don't take my recommendation and watch this movie ASAP, then the only thing that'll be blue is you!