Sexual Assault Victim Shares Rewards and Challenges of #MeToo
James Landrith offers male perspective on pros and cons of public disclosure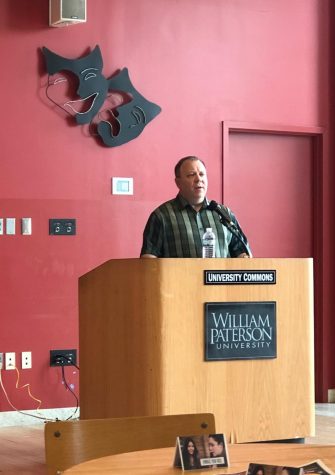 Amidst the presence of #MeToo, sexual violence survivor James Landrith shared his story from a silent group's perspective.
Landrith visited the University to discuss the rewards and challenges he faced after publicly sharing his story as a male survivor during the seminar "#MeToo: The Pros and Cons of Speaking Out Publicly" on Thursday, April 12. The advocate offered words of wisdom to students interested in doing the same and explored the variety of ways victims and non-victims can advocate for change.
Landrith shared his story with students, where he survived both praise and backlash from the public eye. In 1990, Landrith was assaulted by a "friend of a friend" after he tried to assist her getting home after a night of clubbing off of his military base. Landrith, who was underage at the time, suspected the woman had drugged a drink she had given him after he began to feel strange. The woman, who was pregnant at the time, assaulted Landrith after he helped her return home safely. While he could have defended himself physically, her pregnancy, his military status and other factors rendered him scared and powerless.
"In those situations, it is not exactly fear for your life, it's fear of what's going to happen if I do," he said. "I was thoroughly trained in combat, but I was not prepared to be raped."
Like many survivors, Landrith repressed his experience and chalked it up to a bad experience. It wasn't until he disclosed his story to a trusted friend that she validated his experience and he began to heal.
"When you tell your story and someone tells you it's not your fault, that you're not overreacting, what happened to you is not okay, that means the world," he said.
After the talk, Landrith decided to go public with his story to advocate for other victims silenced by their situations. He told his story on blogs, in schools and in interviews with CNN, PBS, The Huffington Post and more. He engaged in other advocacy work, including moderating Facebook groups for rape victims and becoming the Vice President of Men Recovering from Military Sexual Trauma.
In response, countless victims sent appreciation and personal stories to Landrith, who made them feel validated. Unfortunately, online trolls bullied him and invalidated his story. For this reason, Landrith said his path worked for him but is not the answer for everyone. He also urges people looking to advocate or share their story to find their own method that is productive, helps other people, and makes them happy.
Speaking out has many benefits: perpetrators are exposed, and victims are invited to disclose to loved ones and find their own support system. Unfortunately, cons such as ignorant comments and online invalidation are expectable. For this reason, individuals should first ask themselves why they are speaking out, choose their medium of communication, and plan to deal with haters and "bad days" through predetermined resources, said Landrith.
Victims should avoid finding validation in the comments section because "the internet has no adult supervision," Landrith said. While there are trolls, there are also victims empowered by other's stories-many of whom sent positive testimony to Landrith.
An audience member, who remained anonymous, said she was most interested in hearing the perspective of a male civilian as they are less commended in the media.
"People are going to me more likely to shoot [non-celebrities] down and not say how brave you are," she said.
Landrith is the first male speaker chosen by Campus Victim Services, who aims to present a variety of guest speakers and documentaries during Sexual Assault Awareness Month, said Campus Victim Service Coordinator Theresa Bivaletz. Bivaletz advises victims to continue searching for someone they trust to confide in and to "move on to the next person" if they are invalidated by someone. While disclosure does not eliminate the problem, it makes it more manageable.
"Don't think that you have to fix the person," said Bivaletz about confidants. "They're just looking for somebody who can help them get this off their shoulder.
Friends of victims can respond to disclosure by asking them what they need, how they can help and by not making the situation by themselves, said Landrith.
"If you are hearing from someone…. Just letting them know that you hear them means more than you can possibly comprehend."
For a full listing of rape crisis centers and contact information, visit the New Jersey Coalition Against Sexual Assault (NJCASA) website.