Guest Speaker Maysoon Zayid Speaks at WP to Shed Light on Disability and Islam
Hang on for a minute...we're trying to find some more stories you might like.
The actress and comedian Maysoon Zayid spoke at William Paterson University on March 27 for an event hosted by the Muslim Student Association. Zayid is of Palestinian-Muslim descent and a disabled comedic speaker well known for her Ted Talk, "I got 99 problems and palsy is just one."
During her performance, Maysoon joked about her disability "I have cerebral palsy, which means I shake all the time," she said.  "It's exhausting! I'm like Shakira-Shakira meets Mohamed Ali."
At a young age, her dream was to be featured on the soap opera called "General Hospital" after noticing that she did not see many disabled people or people of color on the television. After seeing so many different kinds of individuals such as Ellen, Rosie O'Donnell, and Richard Pryor take on an important role in the entertainment industry later on, she was inspired to represent her disability, her ethnicity and her religion through comedy.
Born and raised in North Jersey, Maysoon always had easy access to New York City in which she found herself auditioning and even discovered a stand up comedy class called Caroline's Comedy Club.
"I took 6 week stand up comedy class, I made my stage debut at graduation and I lucked out and got paid work from my very first stand up comedy show," she said.
Two years after Maysoon performed her first show, 9/11 took place. In order to counter the negative images placed on Arabs and Muslims worldwide, she partnered up with Dean Obeidallah, a Palestinian comedian and together they founded the New York Arab-American Comedy Festival.
"That became a huge hit because we weren't just Arabs trying to be comics, we were comics who happened to be Arab," Maysoon said.
While her audiences listen to her humor, Maysoon also manages to teach them about her disability and religion not through lecturing, but through laughter. As a comedian, her only goal is to keep her viewers happy and laughing.
Maysoon helps people understand that disability is nothing to fear while also encouraging those with a disability to be brave, achieve their dreams, and to understand that it's okay to ask for help. As for Islam and Palestine, a place which she holds close to heart, she urges that all people regardless of their background fight for equality and justice for all.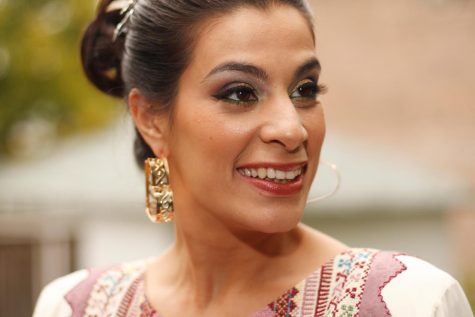 Sarah Tawfeek, Opinions Editor
Sarah Tawfeek is a Broadcast Journalism major at William Paterson University. Sarah is the opinions editor of her school's news publication The Beacon...