Johnson Planning on 'Bringing the Juice' as New Football Coach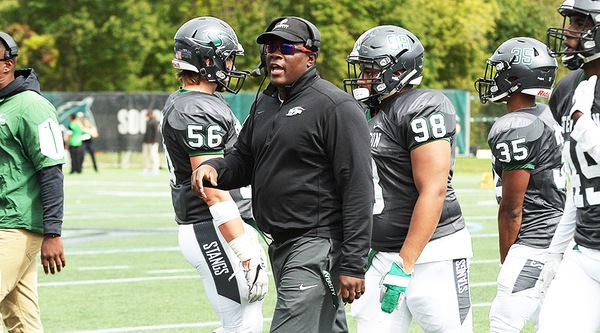 The William Paterson athletic department named Dustin Johnson, the defensive coordinator at Stevenson University for the past four seasons, as the new head football coach on Friday, March 23, officially ringing in a new era of Pioneers football.
The announcement marked the conclusion of a nationwide search that began once former head coach Jerry Flora stepped down after ten years at the helm on February 6. Shaun Williams, the team's defensive coordinator for the past five seasons, was serving as the team's interim head coach.
Once the process as complete, Athletic Director Sabrina Grant notified Johnson, who was in a staff meeting at the time and had to remove himself, of his selection over the phone. He had to withhold the news initially because a few players were in the room with the coaches.
"It was a very exciting time for me," he said.
Johnson felt as prepared as possible for the position, and was excited to begin working with his players. The team has had two days of spring practice so far, and he liked what he saw from his student athletes. He's made a point of bringing positive energy—"juice," as he likes to call it—to the program in an attempt to turn things around.
"One of the things we talk about with our coaches is making sure you're energy is contagious to the program and to the players," he said. "Student athletes can tell when you're dragging and you're not really all the way into it.
Turning the Pioneers around will be easier said than done. The team went a combined 41-73 over the past decade, with its three most recent seasons having been worse than usual with a combined 4-16 overall in 2015 and 2016, and a 2-16 in NJAC play over that span, while adding this year's season to the suffering.
The 2017 season was the worst on record for William Paterson in 20 years, as the team went 0-10 for the first time since 1997, including a 0-9 record in the NJAC.
One way the Delmar, Maryland native plans to turn things around is by recruiting more talent from the Northern New Jersey area, which he did successfully while at Stevenson. According to Johnson, Stevenson recruited the area heavily due to the strong academic backgrounds and high SAT scores that the prospective athletes had, and he realized the importance of establishing William Paterson as a strong presence in the area and state as a whole.
"Those are the type of guys that we'd like to get in this program," he said.
It'll be a challenge to compete for that talent with teams in-state, such as Montclair State, Rowan University and Kean University, as well as NJAC powerhouses Salisbury, Wesley and Frostburg State who have had a better track record than the Pioneers recently.
There are four high schools in Wayne alone that have consistent playoff football teams, and Johnson believed that local players might not realize the positive things happening because William Paterson is in their backyards.
"I feel like a lot of thee young men just need to step foot on campus here, walk around, meet some of the faculty and students that are here, and really hear what William Paterson has to offer," he said.
Johnson, who played three seasons as a quarterback, wide receiver and defensive back for the Amarillo Dusters and Bossier-Shreveport Battlewings in the Arena Football League, made a name for himself around Division III football for his hand in establishing one of the top defenses in the nation during his tenure in Baltimore County, Maryland as Stevenson's defensive coordinator.
The unit propelled the Mustangs to their second Middle Athletic Conference championship in the program's sixth year of intercollegiate competition in 2017, leading the conference with 30 takeaways and 26 interceptions. Johnson served as Stevenson's defensive backs coach from 2010 up until 2012, when he became the special teams coordinator before being named defensive coordinator in 2013.
The 2017 Pioneer defense finished the season ranked a respectable 100th out of 243 teams in Division III in total defense, having allowed 350 yards per game and 55 total touchdowns. Johnson, however, planned to focus on the program as a whole rather than the defense, and develop philosophies with his coaches that all coordinate.
"This'll be my first experience as a head coach, so I'd really like to oversee a lot of the program and trust my coaches," he said.
As a four-year starting quarterback and two-time captain at Salisbury, Johnson became the program's second all-time leading rusher with 3,215 yards and sixth with 2,204 passing yards. Before coaching at Stevenson, Johnson coached defensive backs at Salisbury from 2008 to 2010 and served as the team's assistant strength and conditioning coach and facility coordinator before that.
He earned a bachelor's degree in interdisciplinary studies in 2006 and a master's degree in athletic administration at Concordia University this year.
Turning the William Paterson football program around won't be simple or immediate, but Johnson is up for the task. He wanted to create a culture of accountability, discipline and focusing on the little things, but above all, he wanted to help his players form strong friendships and truly care about one another.
That, combined with an injection of energy and positivity into the program that Johnson planned to provide, will hopefully lead to more long-term success.
"Just having some new excitement around the program will be great."