CBS Anchor Andrea Grymes to Speak at next Hobart Reality Check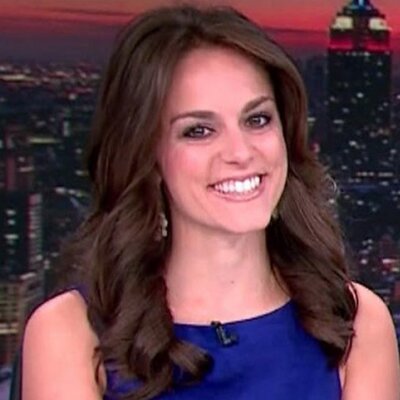 The latest installment of the Hobart Reality Check: Insights from Insiders series will feature Andrea Grymes, a CBS 2 News anchor who has spent over a decade reporting on local news in New York City and Long Island.
Grymes, who is entering her fifth year at CBS where she began as a general assignment reporter and now co-anchors the weekend and morning newscasts, hopes to share helpful tips and information with students and faculty at the event, which will take place on either March 19 or 21 at 6 p.m. in the Martini Room at Hobart Hall.
"For me it's kind of like giving back because I just remember sitting in your shoes not too long ago and being excited to hear people who were actually in the business their stories and how they got where they are," she said.
Throughout her time at CBS, Grymes has covered numerous national stories, including Pope Francis' trip to New York, the capture of the Chelsea and Seaside Heights bombing suspect, the deadly Amtrak derailment in Philadelphia and the Mets playoff run in 2015. In 2017, she traveled to Italy and Israel to cover President Trump's first foreign trip, and has also reported live from the White House and the U.S. Capitol.
Grymes started her reporting career at News 12 Networks in 2006.  She spent nearly seven years working for News 12 The Bronx, News 12 Brooklyn and News 12 Long Island, covering a range of assignments that included Bernie Madoff's sentencing, the Miracle on the Hudson, Pope Benedict's trip to New York, the Nixzmary Brown murder trials and Superstorm Sandy.
Grymes not only anchored and reported, but she shot and edited almost all of her own pieces as well. She emphasized the importance of being able to do a little bit of everything in today's news industry.
"I feel like the lines today are way more blurred than they used to be between print and broadcast and online and social media," she said.
Previously, Grymes was reporting for WNYW-TV in New York since March 2013. Some of her most memorable assignments were post-Superstorm Sandy rebuilding efforts, Prince Harry's visit to Harlem and NYC local security efforts after the Boston Marathon bombings.
Born and raised in Queens, Grymes wanted to pursue a career in journalism from an early age. She was always interested in reading the news and finding out what was going on in the world around her.
When she was in elementary school, Grymes and her classmates started a school newspaper, where she got to interview the principal for a story. Her Dallas high school had a television station, and it was from there where she and her fellow classmates reported live on the 9/11 terrorist attacks in New York City and Washington, D.C. That day solidified her passion for journalism.
Her level of involvement, even at such a young age, made all the difference in her career.
"I was always looking to do anything I possibly could to get the experience," she said.
That experience included multiple internships while attending Southern Methodist University, including a week-long stint as a production assistant for "The View" while the show's cast was in Dallas, as well as an internship as a product assistant at Fox News, which led to her first job upon graduating.
She hopes to push the necessity of getting as much hands-on experience in school as possible with William Paterson students on Wednesday.
"That's going to set you apart so much when you graduate," she said.
Grymes will be the latest guest in what has been a talented lineup of professional journalists to share their insights and experiences in the field, including Long Island Railroad spokesperson Sarah Armaghan, amNewYork journalist Lisa Colangelo, photojournalist Anthony Del Mundo of the Daily News and Journal News investigative reporter Tom Zambito. Business Insider's Meryl Gottlieb was scheduled to appear at the February 7 event that was postponed due to inclement weather.
As the first broadcast journalist and one of some celebrity to appear in the series, Grymes is looking forward to providing a unique perspective that former guests may have not been able to.
"Being a broadcast journalist comes with its own set of challenges and differences," she said.
Everything from writing to Grymes' wardrobe to her on air speaking voice when she's reporting has to be considered. Broadcast journalists often have limited time to explain a complex issue or story, while print journalists sometimes have a whole page or more to write a story. Unlike with print, people who tune in to watch Grymes broadcast on weekends often don't have the chance to go back an re-watch the segment if they don't understand it the first time.

"A big difference between print journalism and broadcast journalism is that for broadcast you really need to learn how to drill something down," she said.
What stood out above all else is the joy and passion Grymes exudes an unequivocal joy for journalism from talking about it alone. She's been able to parlay her natural talent and work ethic into a successful career, and remembers being a student and how exciting it was to listen to someone in the business speak, soaking up each and every word. On Wednesday night, she'll be looking forward to being on the opposite side.
"I just think anytime that you can take the time to speak with students who are interested and passionate about journalism, that's exciting to me."