2018 William Paterson University Baseball Preview
WAYNE, N.J.- With Opening day right around the corner, the William Paterson University baseball team enters the season ranked 5th in the New Jersey Athletic Conference baseball coaches poll. Lead by head coach, Mike Lauterhahn, who is entering his 11th season at the helm, holding a 209-176-5 mark, the Pioneers welcome 17 newcomers this season, which includes 11 freshmen. With just 13 returning players, the Pioneers will look for senior leadership from outfielder, Anthony Hoagland, pitchers, Bryan Kopko and Adam Miller and catcher, Jorge Solodkin.
After a 6th place finish in the conference last season, securing a NJAC playoff berth at 8-10 (15-21-2 overall) the Pioneers look to revamp in 2018.
Last season, the Pioneers were eliminated in the NJAC tournament after losing back to back games to TCNJ and Ramapo College.  The new look Pioneers are going to need a lot of production from their underclassmen at key positions around the diamond, while leaning on an experienced pitching staff  in order to stay in games.
Catchers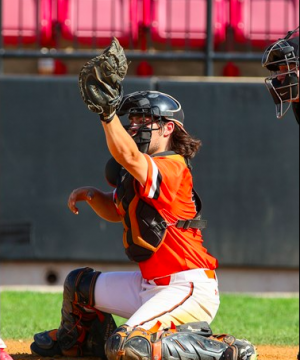 A defensive oriented catcher who sported a .967 fielding percentage to go along with 15 assists behind the dish, Solodkin turned his best offensive season in his three years with the Pioneers, starting 19 of his 25 appearances in 2017, while setting career highs  in hits (23), at-bats (67), batting average (.343) and RBI (11). Solodkin is slated to be the primary backstop for the Pioneers going into the 2018 season as he provides senior leadership on the and off the field having been named Academic All-NJAC honorable mention for the second consecutive season last year.
Sophomore, Eric Bruen, started in 12 of his 18 appearances as a freshman playing a multitude of roles. Last season Bruen started two games in left field, three in right field, three as the designated hitter and just one behind the plate, collecting 8 hits in 47 at bats.
A 2017 graduate Passaic County Technical Institute, freshman Steve Zukofsky is expected to serve as the third catcher on the Pioneers roster. Zukofsky has the potential to see his fair share of time behind the plate this year if Bruen assumes additional roles at the DH and corner outfield positions.
First base
The Pioneers have plenty of options at first base this year as they come in with four new players who are capable of filling the void. Freshman, Carson Weis (Pascack Valley Regional H.S.) will likely share a portion of  the load with junior, Shane Adams. Adams, a transfer, who spent the last two seasons at Atlantic Cape Community College, hit .405 with 36 RBI and seven home runs in 2017.  Sophomore, DeAngelo Descorbeth, a transfer from St. Thomas Aquinas College, is the biggest power threat on the Pioneers squad, and could see additional at-bats as the team's DH and is a viable option as a pinch hitter in high leverage situations. Fellow transfer, junior, Jack Benson (County College of Morris)  is the lone two-way player on the Pioneers roster as he is also listed as a RHP. In his final season at CCM in 2017, Benson hit .274 with 17 hits and 13 RBI.
Second base
Sophomore, Matt Ferrara, will assume the starting second base role after starting in all 34 appearances last season. As a freshman, Ferrara posted a .233 batting average with 30 hits and seven RBI with a .943 fielding percentage, recording 93 assists.
Classmate, Vin Dorio, had 15 hits in 69 at-bats last season during his freshman campaign.
Shortstop
With plenty of depth on this rejuvenated Pioneer team, there will also be plenty of competition; especially on the left side of the infield.
At  shortstop, freshman Greg Cuevas and Tyler Kulisz will battle it out for the starting job. Cuevas, a 2016 graduate of  St. Mary H.S. in Rutherford, hit .636 his junior season with 34 RBI, earning North Jersey Interscholastic Conference Player of the Year, first-team all-county and second-team all-state honors. Cuevas could also see time at third base and second base.
The slick fielding Kulisz hit .309 with 11 stolen bases during his senior season at Watchung Hills Regional H.S.
Third base
Sophomore, Carlos Perez, who is considered a veteran in comparison to his infield counterparts, is expected to start the season at the hot corner.  However, with the amount of depth on roster, Perez could see the majority of his at-bats serving as the team's DH. Perez established himself as a power threat in the middle of the Pioneers lineup last season, slugging at a .391 clip.
Freshman, Chris Liriano posted a .417 batting average with 22 RBI and 15 stolen bases en route to amassing the 100 career hits mark during his senior year at Bergenfield H.S.  Liriano has the potential to see plenty of action at third this season, depending on how well the talented freshman can adjust to the college level.
Outfield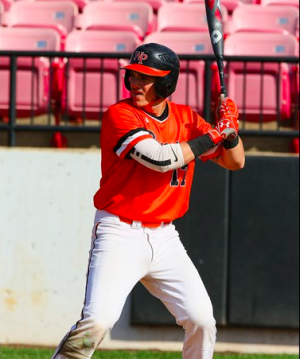 The Pioneers will have a predominately new look outfield this season, headlined by Hoagland, their lone returning outfielder, who will make the move from right field to left field. Hoagland is the most accomplished position player on the Pioneers roster having been named an All-NJAC Honorable Mention in 2017 after hitting .318 with 22 RBI, 30 runs scored and a .417 on-base percentage.
The rest of the Pioneer outfield consists of four freshman: Dan Carter, Steve DiGirolamo, Frank Deane and Evan Smith.
Fresh off his senior season at Bloomfield H.S. in which he was named County Player of the Year after hitting .488 with 20 RBI and 20 stolen bases, Carter will start the season in right field and will likely find himself somewhere in the middle of the Pioneer lineup in order to utilize his combination of power and speed. DiGirolamo, one of five Pioneer's who are graduates of Dumont H.S., including fellow outfielder, Deane, is expected to start the season in centerfield. The speedy, left hander hit .517 while adding 28 RBI and 26 runs scored in his senior season at Dumont.
Starting Pitching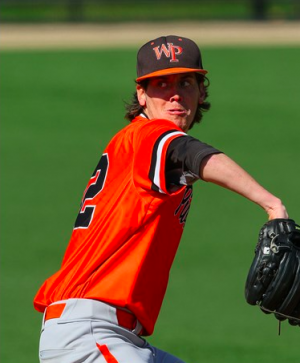 The Pioneers starting rotation will be headlined by junior southpaw, Chris Babb. The team's ace went 3-4 in last season, posting a sparkling 2.88 ERA  along with 53 strikeouts.  Behind him will be redshirt junior, Corey Martinez. The hard throwing right hander, had a team-high four victories last season recording 35 strikeouts to just 9 walks with a 4.86 ERA. Following will be senior right hander, Adam Miller in the midst of his second tour with the Pioneers (2013, 2017-present) will look to transition to a full time starter after making a pair of starts last season.
Sophomore Zach Polzer and classmate Kyle Weiner will be in competition for the final spot in the rotation.  Polzer was used as left-handed specialist out of the bullpen during his freshman year with the Pioneers, posting eight strikeouts in 11 2/3 innings pitched.  Weiner is a transfer from Misericordia University.
Bullpen
The Pioneers will have a lot of experience in the back end of their bullpen, headlined by Kopko and  junior's Eric Rosenberg and Jeff Lombardi Jr.
Rosenberg is expected to transition from the starting rotation to the closer's role this season. Rosenberg is familiar with having the ball late in games, having been the closer for Paramus H.S. during his senior year in 2015.
Senior Bryan Kopko will be the team's "relief ace" and first option out of the bullpen.  Kopko currently is 4th on the WPU all-time saves list and needs just 18 appearances to become the new record holder for the appearences category. Lombardi, who served as the Pioneers long reliever last season, could assume the same role, in addition to getting the opportunity to limit opponents late in games.  The right-hander recorded 17 strikeouts to just five walks over 18 innings last season.
The rest Pioneers staff includes returning sophomore, Jack DeFouw (two starts/seven appearances), junior transfers, Benson Doug Olsece (CCM) and Ryan Tomao (Bucks County Community College) along with freshmen, Andrew D'Ambrosio (Dumont H.S.), Jake Kavanagh (Midland Park H.S.) and Christian Smith (Keyport H.S.).
The Pioneers will kick off the 2018 season on Saturday, Feb. 24. with a non-conference matchup with Stevens Institute of Technology.