Pioneer Spotlight: Shaney Lara
High school senior, Shaney Lara, found herself stuck upon her future. Like many other students, Lara didn't know what she wanted to do or where she wanted to go. She visited several universities before stumbling on to William Paterson University.
Lara is currently a senior with a major in broadcast journalism and a minor in professional sales. During her first two years, she wasn't involved in school clubs or organizations; working was her main priority. She expressed that as a commuter, it was challenging to get involved as well. In her junior year, Lara realized she was forgetting that her goal was to have a career after graduation. This realization caused her to put school first.
In the beginning of her junior year, she joined the on campus, student-run radio station, Brave New Radio. She trained her first semester with the organization. Lara became an on air personality her second semester and after a year, she started her own show called, "The Shoe Box."
"It is a show where we speak about sneaker and hip-hop culture. And how they both have gone hand and hand," said Lara. "Specifically how the sneaker culture influencers are artist, not athletes anymore, it's shifting."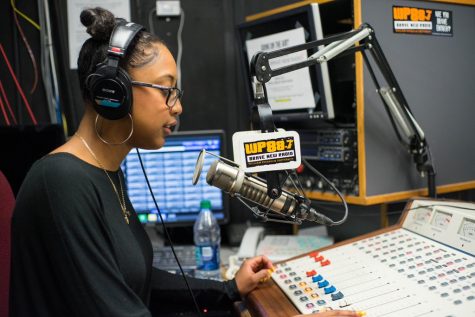 For the future of the show, Lara plans to interview "up and coming artist." She wants to target hip-hop artist on campus to give them a voice and a platform.
In addition to being an on air personality, Lara is the social media director for Brave New Radio. She is in charge of updating and interacting on social media platforms such as Twitter, Facebook, and Instagram. In order to maintain an active presence, Lara currently has a partner who helps her.
"We are both constantly engaging. We are liking, we are retweeting," said Lara. "Social media is a 24 hour job. There are no days off."
Lara explained the importance of the kind of content on each social media. Instagram stories are more to keep viewers updated. The actual posts consist of group pictures and important events. The content on the social media represents the brand of Brave New Radio. Brave New Radio has won three Intercollegiate Broadcasting Systems awards for the nations number one college radio station. It is currently nominated for ten different nominations this year. Lara is very proud that one of the nominations is for best use of Instagram.
While juggling school, work, and Brave New Radio, Lara is a permanent intern at the Luis Network. Luis Jimenez, a morning radio host on X96.3, owns it. Her title is the digital media intern. She is responsible for the social media of two accounts, a podcast and radio account and she manages the website. Lara has conducted interviews at events such as Sofrito and the Independence Day concert. All the interviews are uploaded on top of the networks YouTube channel. Her favorite interview, till this day, is Cardi B at the Barclays Center for the Sofrito Fest in 2017.
"I come up with the questions on the top of my head," said Lara. "I am very uncensored. I ask the questions you don't want to be asked. I like making it fun."
Whenever it is needed, she answers the phone, runs errands, and contacts potential artists and people to bring on the show. She is given the opportunity to bring out her creative side by coming up with jingles and writing her own songs for the show.
During the winter break, students, faculty and staff from the communications department traveled to Puerto Rico to help rebuild Radio Vieques. When asked by the station manager at Brave New Radio, who would be interested in going to PR, Lara jumped at the opportunity to give back to a community in need. Lara volunteers at Oasis, a haven for women and children, where she created a drive called "Helping women have a happy period." She collects feminine products and donates them to Oasis.
"I didn't even care if it was credits, how much it was," said Lara. "I just told the station manager that I would love to do this."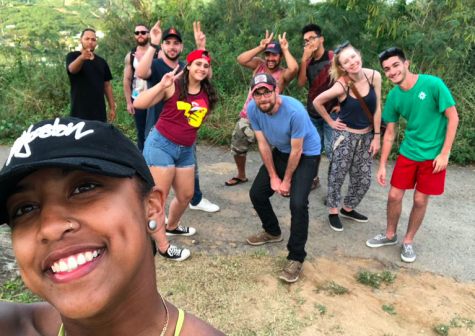 Everyday in PR was spontaneous for the students. Lara recalls meeting, speaking, and making connections with so many people. She says it was very inspiring. They had to take cold showers and they barely ate but it was all worth it. The students handed out food to the elderly, went horse back riding, and had a couple of local residents with them. The kids were teenagers around the ages of 17-18. Lara gained a little brother out there in PR, Oscar.
"We clicked the moment we met each other the first night I got to Puerto Rico," said Lara. "It was weird because I'm not the type of person to open up so quickly, especially with someone I never even met before, but there was something about this kid. I saw a drive. I saw ambition in his eyes. And I saw that he was passionate about what he wanted to do."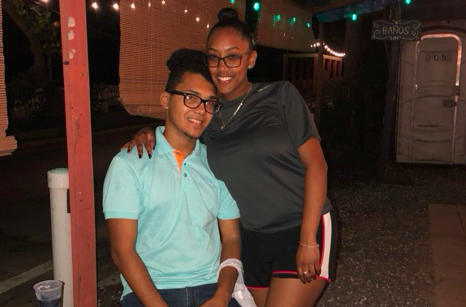 Lara saw her self in Oscar. They are still in contact and speak often.
After graduating in May, Lara's goal is to go back to Puerto Rico and help Radio Vieques. She hopes to help them start up their social media since she has the experience. Not only that, but Lara wants to go out there to help other kids like Oscar.
She expressed her love of WPU.
"I love this school. I like how it's so diverse," said Lara. "I came from Dumont where it was predominately white people and I come to a school where I see Spanish, African American, Indian, a spectrum of Latinos. It's not just one type, you see everything. "
Shaney Lara: Loving, Ambitious, Outgoing