Black History Month: Remembering the Black Aces
Highlighting the career of baseball's newest "Black Aces" C.C. Sabathia and David Price.
In 2017, Major League Baseball celebrated the 70th anniversary of Jackie Robinson breaking baseball's color barrier, ending 60 years of segregation of America's pastime. At the conclusion of Robinson's 10-year career in 1956, MLB had an African-American population of 6.7 percent, a number that continued to increase until it peaked at 19 percent in 1986.   
Last season, there were just 63 players (7.7 percent) on Opening Day rosters, including the disabled list, across MLB who identified as African-American.  Of those 63 players, just 14 of them were pitchers, including seven starting pitchers and seven relief pitchers. That's 1.6 percent of all MLB pitchers for those keeping tabs.
While the question of why a continuing downward trend of African-American representation in the game at both the youth and professional level is a topic for another day, recognizing a certain level of excellence is something of importance.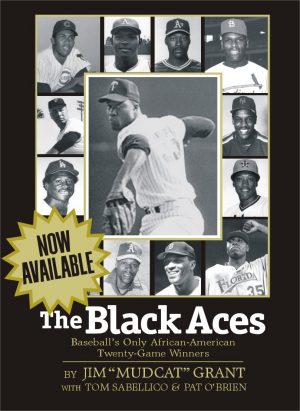 A level of excellence such as a pitcher winning 20 games in a single-season, for example.  There have been 209 pitchers to accomplish this feat in MLB history, and only 15 of them are African-American.
Enter the Black Aces: a group of African-American pitchers to win at least 20 games in a single season.
The pioneer of this ideology was former Major League pitcher Jim "Mudcat" Grant.  Grant, who became the first African-American pitcher to win 20 games in a season in 1965 with the Minnesota Twins, coined the term "black ace" with the publication of his 2006 book titled, "The Black Aces: Baseball's Only African-American Twenty-Game Winners."
The book gives a historically accurate description of the lives of the then 13 "Black Aces": Vida Blue (1971, '73, '75), Al Downing ('71), Bob Gibson ('65, '66, '68-70), Dwight Gooden ('85), Grant ('65), Ferguson Jenkins ('67-72, '74), Sam Jones ('59), Don Newcombe ('51, '55, '56), Mike Norris ('80), J.R. Richard ('76), Dave Stewart ('87-90), Earl Wilson ('67) and Dontrelle Willis (2005).  The book also recognizes 10 additional African-American pitchers who Grant himself believed would have been 20-game winners had it not been for segregation.  Of the original 13, only Gibson and Jenkins have been elected into the National Baseball Hall of Fame.
In the time since, one of the most unique brotherhoods in sports welcomed two new members in southpaws C.C. Sabathia and David Price.  
Here's my attempt at picking up where "Mudcat" left off…
Carsten Charles "C.C." Sabathia Jr. 2001-present CLE (2001-2008), MIL (2008), NYY (2009-present)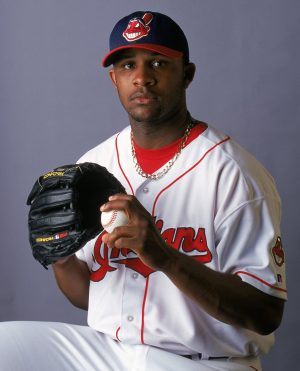 An imposing figure listed at 6 feet 6 inches tall and 300 pounds, Carsten Charles Sabathia Jr. of Vallejo, California was drafted out of Vallejo High School by the Cleveland Indians with the 20th overall selection in the 1998 draft.  Sabathia made his MLB debut in 2001 at the ripe age of 20, making him the youngest player in the league. He finished the season with a 17-5 record and 171 strikeouts en route to finishing in second place in the American League Rookie of the Year voting.
Over the next five seasons, all with Cleveland, Sabathia was named to his first two career all-star selections (2003-2004), while amassing 64 wins and 762 strikeouts.
In 2007, Sabathia established himself as one of the premier starting pitchers in the game ,posting a 19-7 mark with a 3.21 ERA and 209 strikeouts over a league leading 241 innings.  In doing so, Sabathia earned his third career all-star selection and garnered 19 first place votes in the AL Cy Young Award voting. In doing so, Sabathia became the sixth African-American to win the award, joining Newcombe (1956), Gibson ('68), Blue ('71), Jenkins ('71) and Gooden ('85).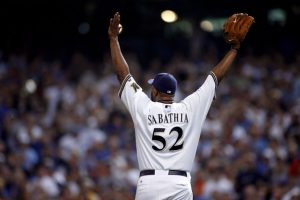 The following year, after making 18 starts with Cleveland, Sabathia, a free agent at seasons end, was traded to the Milwaukee Brewers ahead of the July 31 deadline.  Sabathia took the Senior Circuit by storm, posting an 11-2 mark with a 1.65 ERA and an MLB-leading 251 strikeouts (CLE & MIL). Despite making just 17 starts, often on short rest, Sabathia lead the NL with seven complete games, three of which were shutouts.  On the final day of the season, Sabathia pitched the Brewers into the postseason with a win over the Chicago Cubs, marking the club's first postseason birth since 1982 and its first as a member of the NL.  Although Sabathia and the Brewers fell to the eventual World Series champion Philadelphia Phillies in the NLDS, Sabathia was rewarded by finishing fifth in the NL Cy Young Award voting and sixth in the league MVP Award race before signing a seven-year, $161 million deal with the New York Yankees. It was the largest contract for a pitcher in MLB history.
In his first year in the Bronx, Sabathia, 28, did not disappoint, fanning 197 batters to go along with a 3.37 ERA over 230 innings, while leading the league in wins (19) en route to a fourth place finish in the league's Cy Young voting. After finishing the regular season with a 103-59 mark that ld to the team winning its first AL East division title since 2006, New York, lead by Sabathia, swept the Minnesota Twins in the ALDS and edged the Los Angeles Angels in the ALCS. Sabathia won series MVP honors against the Angels after winning both of his starts while surrendering just two runs over 16 innings. Although Sabathia did not win a game in the World Series, he posted a respectable 3.29 ERA over 13 ⅔ innings (two starts) as New York prevailed over Philadelphia in six games.
2010- C.C. Sabathia: The Black Ace 
In his tenth big league season at the age of 29, Sabathia earned his "Black Ace" stature after leading the league in wins again, this time eclipsing the 20-win mark and setting a career high with 21.  Sabathia, who garnered his fourth career all-star game selection and finished third in AL Cy Young Award voting, was among league leaders in games started, 34 (1st), innings pitched, 237 ⅔ (2nd), strikeouts, 197 (6th), ERA, 3.18 (7th) and WHIP, 1.19 (10th).
Over the course of 16 starts, all of which were quality starts, from June 3 to August 22, Sabathia went 13-2, with New York winning his only no decision, to the tune of a 2.32 ERA and 97 strikeouts in 116 ⅓ innings.  On September 18, Sabathia secured his 20th victory, taking the mound at Oriole Park at Camden Yards and twirling seven innings while surrendering three runs on seven hits in an 11-3 route of Baltimore.  Sabathia would earn his 21st victory ten days later at Rogers Centre in Toronto, this time lasting 8 ⅓ innings with eight strikeouts in a 6-1 win.
2011-present
In the two proceeding seasons, Sabathia earned two more all-star game selections, making that six for his career in addition to another top five Cy Young Award finish in 2011 (4th).  The next three seasons from 2013-2015 were considered down years in the career of Sabathia, largely in part to a series of nagging injuries which began with a torn meniscus in his right knee following the 2010 campaign.  Following the 2015 regular season in which he posted a 6-9 record and 4.73 ERA over 29 starts, on the eve of the Yankees Wild Card playoff game with the Houston Astros and first postseason appearance since 2012, Sabathia checked himself into an alcohol rehabilitation center.  In the two seasons since Sabathia has reinvented himself, he has posted a 23-17 record with a 3.81 ERA in 57 starts.  
After becoming a free agent for the first time since prior to the 2009 campaign, Sabathia, 37, signed a one-year, $10 million deal with the Yankees for the 2018 season.  Sabathia currently has 237 wins and his 2,846 strikeouts leave him just 154 shy of 3,000 for his career.
David Taylor Price 2008-present TB (2008-2014), DET (2014-2015), TOR (2015), BOS (2016-present)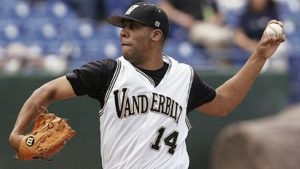 A native of Murfreesboro, Tennessee, David Taylor Price was a 19th round selection by the Los Angeles Dodgers in the 2004 first-year player draft out of Blackman High School.  With an academic scholarship on the table from Vanderbilt University, Price chose to attend the university. As a three-year member of the university's baseball team, Price not only transformed into one of the best college pitchers in the history of the sport, but also elevated his draft stock as the most highly touted prospect ahead of the 2007 draft. He took home both the Dick Howser Trophy and the Brooks Wallace Award following his junior season, the first and only player to ever do so.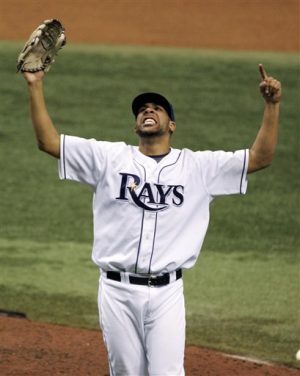 The Tampa Bay Devil Rays selected Price with the first overall pick of the 2007 draft, signing him to the second-largest signing bonus in MLB history at $5.6 million. After speeding through the Rays minor league system during the 2008 season posting a 12-1 mark in 19 starts across the A-AA-AAA levels, Price made his MLB debut that season in the midst of a September postseason run.  After making just five appearances during the regular season (one start), Price was on the member of Tampa Bay's inaugural postseason roster, playing a pivotal role as a late inning reliever, finishing off five games (5 ⅔ ip 8 K, 1 SV) for the eventual American League champions.  Price, who had not earned a decision during the regular season, picked up his first career win in the postseason after pitching the final ⅔ in Tampa Bay's 9-8 extra inning (11) win over the Boston Red Sox in Game 2 of the ALCS.
In 2010, Price's first full season as a starter, the 24 year old earned himself his first career all-star selection, in which he was the game's starting pitcher, while finishing second in the AL Cy Young Award.  Price was near the top in many major statistical categories, finishing tied for second in wins (19), third in ERA (2.72), fifth in opponents batting average (.221) and eighth in strikeouts (188). The following year, Price earned himself another all-star selection, eclipsing the 200 strikeout mark for the first time in his career (218).
2012- David Price The Black Ace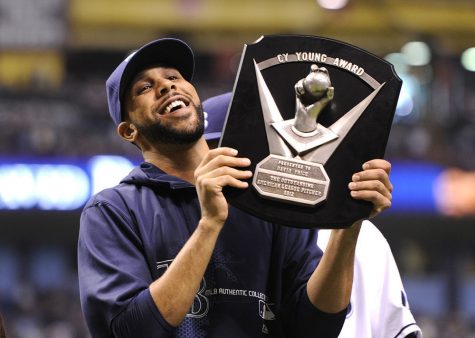 In just his fifth season at the age of 26, Price became the first 20-game winner in Tampa Bay Rays history and the 15th and most recent "Black Ace."  In doing so, Price became just the third "Black Ace" to win the Cy Young Award (14 first-place votes) in the same year as their first career 20-win season, joining Blue ('71) and Gooden ('85).  In another all-star season, Price lead the league with a career-high 20 wins and a sparkling career-low ERA of 2.56. Price also finished fourth in opponents batting average (.226) and WHIP (1.10), and sixth in strikeouts (205).  
After suffering his fourth loss of the season in just his 12th start on June 13, Price went 12-1 over his remaining 18 starts to the tune of a 2.26 ERA with 127 strikeouts in 127 ⅓ innings.  Over that same stretch, Price fanned double digits three times while striking out seven or more in eight additional starts.  Price got his highly coveted 20th win of the season on September 30 in the Southside of Chicago at U.S. Cellular Field in his 31st and final start of the regular season, limiting the opposition to just two runs on five hits over seven innings in a 6-2 win.
2013-present
During the 2014 season, Price was dealt at the trade deadline from Tampa Bay to the Detroit Tigers.  Price was again a member of the AL all-star team, the fourth selection of his career, and over a combined 34 starts between the two clubs, Price led all of MLB with a career-high 271 strikeouts.
The following season, Price was named to his fifth all-star team, but was again dealt prior to the deadline, this time to the Toronto Blue Jays.
Like Sabathia in 2008, Price, who was set to be a free agent at the end of the season, was the best pitcher in the game during his 11 starts with the Toronto Blue Jays, posting a 9-1 mark over 11 starts while striking out 87 over 74 ⅓ innings. He was a key cog in helping propel Toronto to their first division title and postseason appearance since 1993.  Although Toronto eventually fell to the Cleveland Indians in five games in the ALCS, Price picked up his first postseason win, again as a reliever, since his rookie year. Overall, Price turned in a phenomenal season between Detroit and Toronto, securing 18 victories to go along with a league leading 2.45 ERA.  Price's efforts saw him finish runner-up in the Cy Young Award voting for the second time in his career.
In his first time on the free agent market in his career, Price signed a seven-year, $217 million contract with the Boston Red Sox.  Although his 228 strikeouts in 2016 were the second most of his career and he lead the league in innings with 230, Price's first two years in Boston have been considered subpar in relation to his previously set standards. In 2017, he began the season on the DL with elbow inflammation.  Although he returned in May, he landed back on the DL with further discomfort in July before returning to a relief role in September.  In two years with Boston, he has posted a 23-12 mark over 51 appearances (46 starts) with a 3.84 ERA.
Who's Next?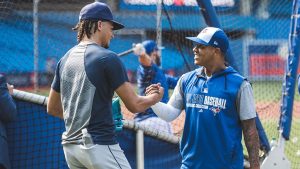 Who is the next "Black Ace"? It's tough to tell, though two of the game's best starting pitchers in Chris Archer and Marcus Stroman reside with Sabathia and Price's AL East counterparts in Tampa Bay and Toronto respectively.
Archer, 29, set a career-high in wins with 12 in 2015, while Stroman, 27, set his career mark this past season with 13. However, with the way the game is trending with more of an emphasis on "bullpenning" and less of a dependency on starting pitching, it seems as if 20-win seasons are becoming less and less likely with every passing season.
Hypothetically, assuming the wins category remains relevant, other up and coming talent with the potential of becoming the next "Black Ace" includes MLB current and/or former top 100 prospects Amir Garrett (Baseball America: 81 pre-2017) of the Cincinnati Reds organization, Dillon Tate (Baseball America: #69 pre-2016) and Justus Sheffield (Baseball America #41 pre-2018) of the Yankees organization, Touki Toussaint (Baseball America: #90 pre-2016) of the Atlanta Braves organization and the first overall selection of the 2017 first year player draft, Hunter Greene (CIN- Baseball America: #29 pre-2018).