Weak Economy Tests Vieques Strength
There is an island approximately 1,081 miles from the coast of Miami, FL where the sunsets are breathtaking and wild horses gallop aimlessly . The locals greet each other with soft nods and bright smiles while music wafts its way from white sand shores echoing through luscious green hills. In February, the temperature ascends to within 80 degrees during the day and a cool breeze sweeps across the island at night.  However, 137 days after Hurricane Maria crushed Puerto Rico, most of the island of Vieques is still without electricity, food or medical aid. Despite a long history of economic exploitation, the people of Vieques refuse to become suppressed victims of the most ferocious hurricane in the island's history.
The Damage
While statistics vary between sources keeping track of the destruction caused by Hurricane Maria, those living on the island are experiencing extreme living conditions. Although power has been restored to multiple towns on the main island, many Viequenses still depend on generators for electricity. The lack of power on the island has strained transportability which the island relies on as most supplies come by ferry. Economists believe damages may cost Puerto Ricans $30 billion in repairs. Islanders are forced to work outside of their ordinary businesses for income despite being limited by an average median income of $17, 535, according to the U.S. Census Bureau.
Cheo Peralta reflects the resiliency of Viequenses, having lost most of his possessions, along with his job, due to the hurricane. Before Maria, Peralta was a fisherman selling fresh seafood to local restaurants and hotels. Since the storm made landfall, Peralta has depended on his sea-favoring craftsmanship for money, fixing and rebuilding boats around the island. On his off days, Peralta fills his day with community service helping fellow islander in need. Greeted with curious smiles and inquisitive stares, Peralta delivers prepared lunches to dilapidated houses and flood-stained residences around the island.
"Vieques should be the most beautiful island in the Caribbean. We have everything necessary to be a true traveling destination except for the help of our government," said Peralta.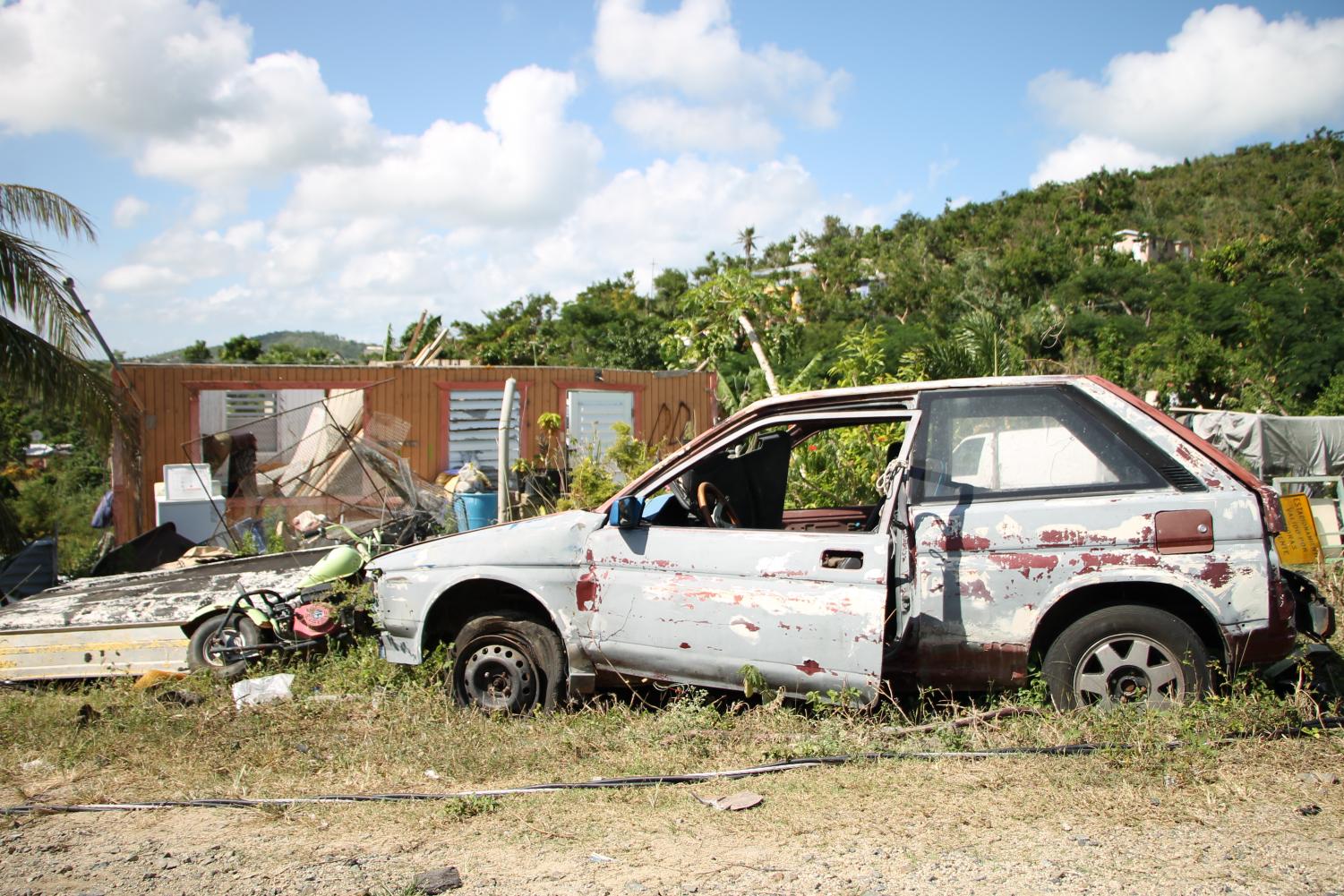 Jacob Martinez
Government Assistance
Since the departure of the U.S. Navy from Vieques in 2003, the island has had difficulties rebuilding its economic status. A poverty rate of 39 percent coupled with limited natural resources has kept the island dependent on busy tourist seasons. Low education levels are yet another quandary in Vieques. Anyone seeking collegiate level education must travel to the mainland as there is no college on the island. Of the 9,000 residents on Vieques, only 19 percent of its population has a college degree.
Gypsy Cordova, president of the Vieques Municipal Legislature, blames Vieques' troubles on a lack of effort from the government. Although multiple agencies took instant action to provide relief, others saw a disconnect between made assurances and action. An article published in Oct. 2017 by The Washington Post detailed President Trump's travels to his New Jersey golf club and his few mentions of Puerto Rico as the hurricane unfurled. According to Cordova, his attempts to coordinate with officials on the mainland to provide relief to Vieques continue to be "dismissed or simply ignored." Yet, the people of Vieques, just as Cordova, continue towards rebuilding what Maria washed away.
Reynaldo Valdez opened up about his experience of Hurricane Maria as though it were an everyday occurrence. Valdez is a taxi driver who has struggled as of late picking up tourists from Luis Muñoz Marin Airport in San Juan as tourism to the island has slowed. Valdez, like many Puerto Ricans, displays a confidence bolstered with experience gained through a lifetime of hurricane seasons. After Hurricane Maria left his two-level house in Levittown, Toa Baja nearly under water, Valdez held onto the one thing that has gotten him through past hardships; hope.
"The storm subsides and the waters return back to where they belong but many have retreated along with those waters and drowned in their own pity. Not me," said Valdez.
Unable to recover from a lengthy recession, Puerto Rico filed for bankruptcy in May 2017 with more than $120 million in debt. The move has essentially frozen all forms of relief before Maria even made landfall. As the island struggles to put itself together, others such as World Central Kitchen continue to volunteer their efforts for those in need. Several William Paterson students visited the island in January to help with relief efforts. Recently, New York Governor Andrew Cuomo has asked Congress to approve a $94 million relief package for the 400,000 without power in Puerto Rico.