Flora to Step Down as Pioneers Head Football Coach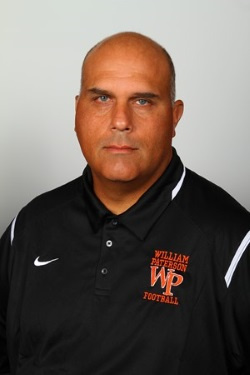 WAYNE, N.J.- According to the William Paterson University Athletic Department, it was reported Tuesday that the Pioneers head football coach Jerry Flora will be stepping down from his duties following an 0-10 record in 2017.  Flora will join the Recreational Services Department with responsibilities for club sports, intramural sports and other related programs and activities
Flora, 47, had been on the Pioneers coaching staff for 16 years, serving as the recruiting coordinator, strength and conditioning coordinator and passing game coordinator before moving into his role as the head coach and offensive coordinator prior to the 2008 campaign.  
Under Flora's lead, the program has produced more than 30 All-New Jersey Athletic Conference players, while his 33 career wins rank second in program history, just two wins shy of the leader Gerry Gallagher, who was at the helm from 1989-1996.
"We appreciate Jerry's commitment and dedication to our students during his 16 years with the William Paterson University football program, including the past 10 years as head coach, and look forward to the contributions he will make in his new role," said Miki Cammarata, vice president for Student Development (per wpupioneers.com).
Current assistant coach and defensive coordinator, Shaun Williams, who has been a member of the WPU football staff since 2009, following a nine year NFL career, will serve as the interim head coach as a nationwide search is underway.