Breaking Down the Blake Griffin Trade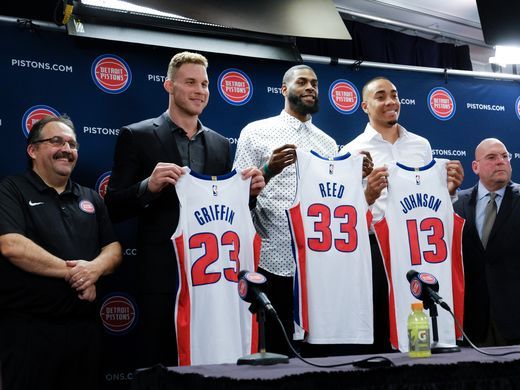 As the NBA trade deadline closes in, the announcement of trades should not surprise fans. However, the trade that sent five time all-star, Blake Griffin, to the Detroit Pistons Monday night was a major shocker to fans and players from across the league, and even surprised Griffin himself.
After multiple reports came out claiming the Clippers were looking to move both former All NBA First-Team center DeAndre Jordan and Sixth Man of the Year frontrunner Lou Williams before the deadline, the last thing people expected was the newly resigned, max contract, 2009 first overall draft pick in Griffin that has been the face of the "Lob City" Clippers to be moved before the pair. It's truly shocking as to how quick this all went down. Not only was there practically no speculation of Griffin being moved, the talks of the Pistons wanting to trade for him only sparked on Sunday. From there, the trade became serious and was official by Monday night.
Alongside Griffin, the Clippers traded away Willie Reed and Brice Johnson in exchange for Avery Bradley, Tobias Harris, Boban Marjanovic, the Pistons' 2018 first round draft pick (protection on 1-4 selections,) and the Pistons' 2019 second round pick. Now in order to break down what this trade means for both teams, we must analyze what both teams were before the trade, and what they are trying to be after the trade.
The Clippers had a strong start to the season, but the team was riddled with injuries. Players like Milos Teodosic, Danilo Gallinari, Austin Rivers, Patrick Beverley and even Blake Griffin himself have all missed (or are going to continue to miss) a significant amount of games already this season. Because of that and the team trying to create a new identity after their team leader Chris Paul was traded to the Houston Rockets, the Clippers have had a hard time finding success in the tough Western conference. At the time of the trade, the Clippers were sitting at ninth in the conference, just short of a playoff spot with a high payroll, consisting of several long-term contracts. It's pretty obvious players on the team were going to be moved in an attempt to secure younger talent for the future, but moving a player who they just signed to a 5-yr, $173M contract just seven months ago is strange.
It seems as if the franchise resigned him in the offseason hoping the Clippers would succeed without Paul, and upon noticing the season is destined to end in disappointment, they knew they could make an attempt to move his contract, which was the case in this trade. Even though they moved their most expensive contract, did they really free a lot of cap space? Even with the team probably parting ways with the expiring contract of Avery Bradley, the Clippers aren't projected to have a lot, if any cap space for next season. For next season, they currently have player options for DeAndre Jordan, Austin Rivers, Milos Teodosic, and Wesley Johnson, all of which will likely be picked up. With that, the 2018-2019 Clippers will have 11 roster spots filled for a whopping $104 million. If the team is planning on rebuilding, they have to wait it out another year when they currently have only two players with guaranteed money for a measly $24 million. Doc Rivers has gone on record saying he doesn't want to "rebuild" the Clippers, but considering the position they are in, the rebuild might be necessary.
Enough of the Clippers' fiances, let's take a look at the players they received. The main focus of the trade on Los Angeles' receiving end was Tobias Harris and the 2018 Pistons' first-round pick. Harris is playing the best basketball he has played in his career so far. He is averaging a career high 18.2 PPG on a career high 3-point percentage at 41%. It's not like he is barely spotting up from behind the arc either. Harris is shooting a career high amount of three pointers a game as well at almost 6 treys per contest. While on the subject of career highs, it's only fair to add that Tobias Harris' efficiency field goal percentage and win shares per 48 minutes are at an all time high as well. Did I mention he is still only 25? He has gotten better every year he has played, and has yet to enter the typical prime years the majority of players experience. If they can resign him after his contract expires next year, the Clippers will have a very reliable guy that will be part of the eventual core of the team.
The additions of Avery Bradley and Boban Marjanovic should not go without mention either. Bradley's part in the trade was most likely a contract filler to make this trade possible. Bradley has had a seriously down year compared to how well he played in Boston last season. With him being a marquee unrestricted free agent this offseason, the Clippers won't have the money to resign him. That's a real big shame, though because seeing even a glimpse of him playing alongside Beverley would've been one of the best defensive backcourts in the history of the league. Marjanovic hasn't been a consistent rotational player since he entered the league in 2015. Without a single season playing more than 10 minutes a game, that trend won't change in Los Angeles unless DeAndre Jordan is traded (except if he's traded for another center). So the pickups of Bradley and Marjanovic don't mean much after this season.
The one thing there is to understand is that as fans, we will not be able to determine if a trade was good until years after the impact was made- but then again, we as fans are also very impatient so we say if a trade was good or not right now. To determine right now whether it was a good trade for the Clippers, again, we have to recognize what they were before the trade and what they are trying to be after the trade. Before the trade, the Clippers were a middle-of-the-road team, most likely going to miss the playoffs. Chris Paul's departure was the beginning of the end of an underachieving team; it was time to change the direction of the organization. After the trade the Clippers look like they are in a better position than prior. Without a massive contract holding down their financial freedom for the distant future, they will experience a huge opening in cap space in as little as a year to hopefully rebuild and make another (better) run at being contenders once again. As of now, the Clippers seem to have done well in this trade.
After obtaining Blake Griffin, the Detroit Pistons have created one of the most talented power forward/center duos in the league. Andre Drummond has had the best year in his career, and now that he has adapted to the game and learned how to pass at a level he was never able to before. Prior to this year, Drummond has never averaged more than just 1.1 assists per game. This season, he is averaging 3.8 assists per contest, which is fifth in the league among centers. He has also tripled his previous career high in assist percentage (an estimate of the percentage of teammate field goals a player assisted while he was on the floor), and is on pace to get more assists this season than he has had in the rest of his career COMBINED. Now matching him up with Blake Griffin, who himself is one of the best passers in his respective position, might make for an impressive tandem. The pair combines for 9.3 assists per game, the highest combined average between a forward/center duo in the entire league. Considering the relationship Griffin had on the court with DeAndre Jordan in their time playing with each other in Los Angeles, Drummond seems like a perfect fit alongside Blake. As far as playstyle goes, Drummond plays very similarly to Jordan. With Griffin constantly expanding his range, Drummond might just be the perfect guy to put next to him. Drummond isn't just having a career year passing the the ball, he is also having a career year on the boards as well. Drummond is having a personal best season in rebounding the ball at 15.3 per game, which also just so happens to be the most in the league. Drummond's offensive rebounds will really make a difference when matched up with Griffin's offense. Well in that case, it's probably a good thing that Drummond is second in the league in offensive rebounding, second in the NBA in chances created from offensive rebounds, and leads the league in points scored off of offensive rebounds. So basically the two are meant to be matched up with each other and can form one of the most dangerous frontcourts in the league, but if only it was just that simple.
Blake Griffin has been consistently susceptible to injury throughout his career.He has only played more than 67 games in three seasons since he was drafted in 2009, and has already missed 16 games this season so far. On the other hand, he has been an all-star in each of the 5 seasons he qualified, so he is a proven star when healthy. If he can stay healthy, him and Drummond can be a very dangerous pair. That is a big "if," but even if he does, the team's biggest issue is their financial problem.
The Pistons have the tightest budgets in the league, which wouldn't be a problem if they weren't in the position they are in. Most teams that are this far over the salary cap are contenders, but the Pistons were out of the playoffs, sitting at the time of the trade. Just to explain how tight their budget is, the Clippers payroll will have $110+ million in guaranteed contracts (including the very likely pickup of Luke Kennard's player option) with just SEVEN players on the roster. Some of the money includes the immovable contracts of Griffin getting paid $34 million as a 32-year old, average starting point guard Reggie Jackson getting $18 million a year, rotational big man Jon Leuer securing $9.5 million in that season, and another $5.4 million tossed out the window for Josh Smith, a player who hasn't played for the organization in 4 years. Without any cap space to sign any free agents for the next two years (at least), no great young assets or picks to be traded, and irrational contracts that no other team wants to swap for, what are the Pistons destined to be until then? With a speculated departure from LeBron James, are the Pistons the next team to step up and become contenders? Probably not. Unless the Pistons have the most perfect chemistry we've seen since a Popovich-ran championship team, there are at least five teams in the eastern conference that have brighter futures than they do. So what's the point in trapping yourself in a financial corner for the next several years without being an initial contender. Was this done just to slip into the playoffs and avoid a full-blown tank to get seats filled? The Pistons have been in the bottom-six in the league in total attendance in each of the last 6 seasons, so perhaps. Pistons' President of Operations and Head Coach Stan Van Gundy has actual plans of winning right now.
"We've said since I've been here, we're trying to win now, but we're not gonna give up our draft picks and young players, and that's a very, very difficult thing to do, to walk that tightrope," Van Gundy said. "We don't feel like any of our moves have strapped us to where we can't make other moves going forward. Now, if we can get a star — which isn't easy to do — but if there's some way to get one of the top 20 players in the league, I think we'd be all-in on that," (via Detroit News.)
Based off his statements, it seems as if Van Gundy has a tenuous grasp as to how serious the financial issue the Pistons could suffer in the immediate future.
Again, when determining how a team did at the time of the trade, the two things to consider are where the team was before the trade, and what they are trying to become after the trade. Before the trade the Pistons were a team that might barely slip into the playoff race with a very likely first round exit if they made it. But even with that, at least they had upcoming cap room this season to maybe draw in a decent free agent, and a potential star-in-the-making in Tobias Harris, but they threw that out the window. Now, the Pistons look like they will probably float around in a similar spot in the playoffs for the next few years, with little chance anything aside from maybe attendance and jersey sales will change. Who knows, maybe in a five years we'll look back at the trade and laugh about how wrong this article was, but for now, the Pistons may have just dug themselves in a hole to deep to climb out of.